The trailer for Blumhouse film The Vigil has debuted. The film has picked up distribution overseas from Vertigo in the UK but is still looking for distribution in the US. The film features Adam Margules, Dave Davis, Menashe Lustig, Malky Goldman, Lynn Cohen, and Fred Melamed, and Keith Thomas directs the film. This is yet another religious horror film, dealing with demonic possession. It feels like we have gotten a lot of these this year already, but that doesn't mean we won't watch another one does it horror fans? The Vigil does look pretty sinister, and the film's setting makes it feel a bit more unique. You can read the synopsis, see the poster, and view the trailer for The Vigil down below.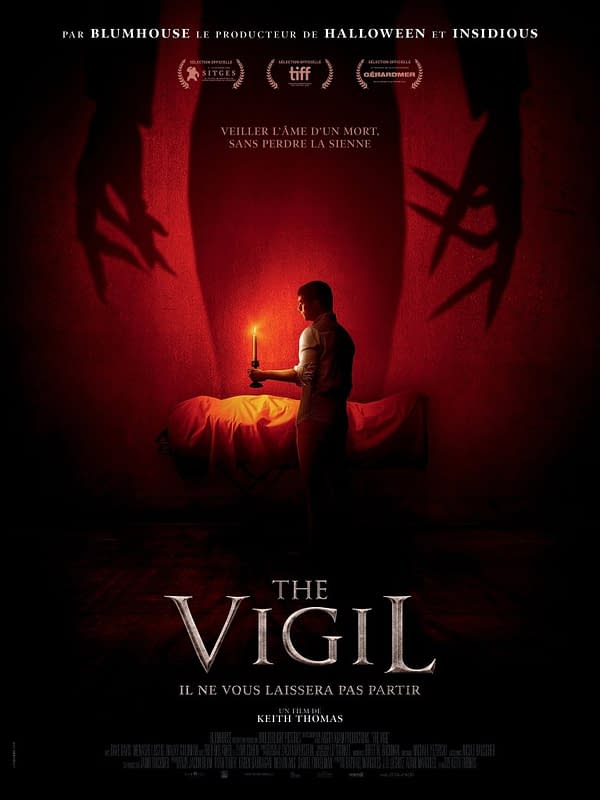 The Vigil Synopsis & Trailer
"Set over the course of a single evening in Brooklyn's Hassidic "Boro" Park neighborhood, The Vigil follows Yakov, a former Hassid, as he accepts a position as a shomer, hired to "sit the vigil" and watch over the body of a deceased community member. Having lost his faith, Yakov isn't eager to go back to the insular religious community; he only recently fled. But when Reb Shulem, a rabbi and confidante, approaches Yakov after a support group meeting and offers to pay Yakov to be the shomer for a recently deceased Holocaust survivor, he reluctantly accepts the job. Shortly after arriving at the dilapidated house, Yakov realizes that something is very, very wrong. This will not be a quiet vigil."
Demonic possession is not really my favorite horror lane, but I will watch anything Blumhouse. This has promise, though, and was a festival hit when it debuted, so hopefully, The Vigil gets distribution here soon.
Enjoyed this article? Share it!