Deadpool 2 Assaults 7-Eleven Customers with Marketing Campaign, Slurpee Cups
Deadpool is teaming up with convenience store chain 7-Eleven to promote the upcoming Deadpool 2 with a massive marketing campaign, a press release from 7-Eleven revealed today. As the film's release approaches, whenever you're trying to just grab a coffee or a hot dog from your local 7-Eleven, you'll have to weave through Deadpool fans using their smartphones to try to scan hidden QR codes and use Augmented Reality apps to experience Deadpool Easter eggs in the store. Doesn't that sound like fun?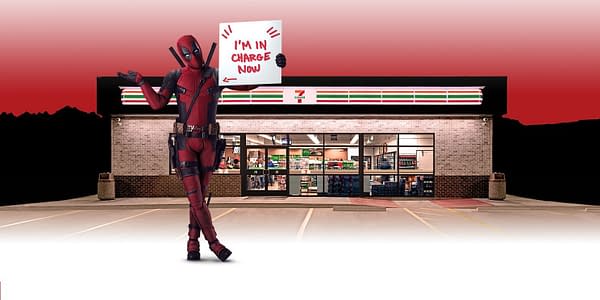 "Deadpool fans can come to our stores and find fun collectibles and different augmented reality experiences unlocked each week through our app," said 7-Eleven Chief Customer Officer Sean Thompson. "We hope people will play along with us – virtually and in real life – and share their experiences with friends and family on social media."
"Fans can interact with Deadpool and have fun experiences in the 7-Eleven app, unlocking different experiences each week exclusively in the stores nationwide and in Canada," said Chief Digital and Chief Information Officer Gurmeet Singh. "The fans will also be able to share their interactions with Deadpool inside a 7-Eleven store with family and friends. We think Deadpool fans will love seeing him come to life in our stores.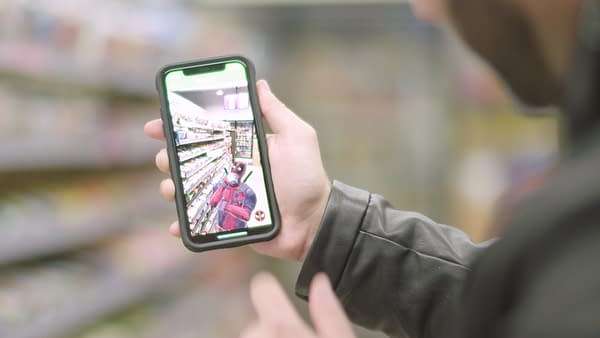 Additionally, 7-Eleven locations will be "blanketed with messages, doodles, and thoughtful musings from everyone's favorite hero." Additionally, there will be "exclusive Deadpool-branded items from collectible Slurpee® cups and straws to chimichangas, Monster Mutant bottled energy drinks, Mike's Harder Watermelon Lemonade and Trolli Sour Brite Tiny Hands candy for sale in 7-Eleven stores. Customers can earn 7Rewards loyalty points by participating in Deadpool shenanigans in the stores and buying the products."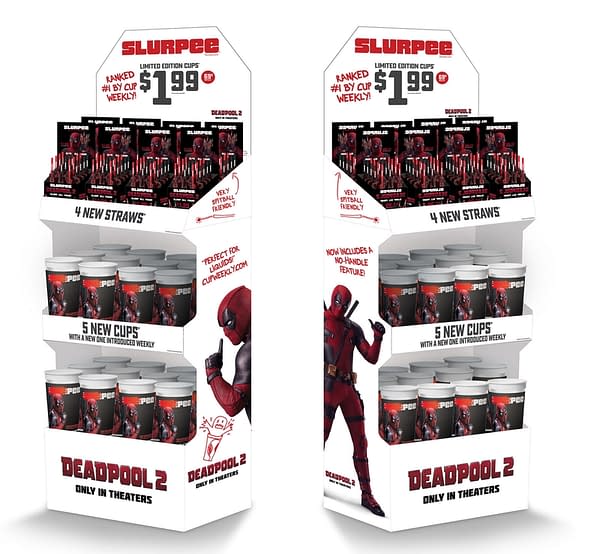 Here's the details on all the promotional items:
Monster makes a comeback at the Slurpee machine with Mutant Red Dawn flavor. This is the first time in a decade that a Monster energy drink flavor will make a splash on the Slurpee machine.
Monster Mutant Red Dawn Slurpee drinks – say that five times fast.
Cups! Five collectible cups, each with Deadpool striking a different pose along with a colorful comment. A different cup will be released each week and can be used for both Slurpee and Big Gulp® drinks.
Suck on this. Nothing completes a Monster Mutant Red Dawn Slurpee in a Deadpool cup than straws with tiny Deadpools climbing up the side.
Chimichangas! Deadpool says he loves saying chimichanga in multiple languages. 7-Eleven has delicious chimichangas that people will love in every language – and two sizes for all size appetites.
Look for mini chimis in the hot foods case and Deadpool on the package of larger 7-Select™ Chimichangas in the cold case. Available in two varieties, chicken or steak and black bean, the 7-Select Chimichanga has a special limited time offer – two for $2.50. Regular price is $1.99.
Deadpool drinks. Look! He's in the vault on bottles and cans! Monster Mutant energy drink and Mike's Harder Watermelon Lemonade also get in on the Deadpool 2 action with limited-time packaging.
Tiny hands! Deadpool's tiny hands scene in the first movie has become a gif sensation. Deadpool fans can make their own gif using Trolli Sour Brite Tiny Hands candy. Or just eat them. They're delicious. Available exclusively at participating 7-Eleven stores. Suggested retail price is $1.99.
Deadpool 2 hits theaters on May 18th, and 7-Eleven will also be advertising on the movie screen as part of this promotion.
https://www.youtube.com/watch?v=Qk2m3fiSe6w