If you were a kid growing up in the 1990s, then you were probably at least aware if not a massive fan of the Teenage Mutants Ninja Turtles. The series was massive back in the day and has remained part of the pop culture conversation ever since. We've had a few animated series and two live-action movies that didn't exactly blow anyone's minds in terms of critical reception; they were massive at the box office. Nickelodeon rebooted the series on TV in 2012 that brought a whole new generation of fans to the table.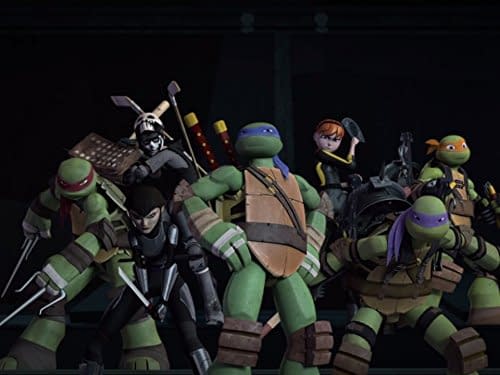 Now that the live-action movies appear to be done, Nickelodeon is bringing the CGI animated turtles to the big screen yet again. According to Deadline, Nickelodeon is working on a new CGI animated movie starring the Teenage Mutant Ninja Turtles and some names you might not be expecting to go along with a kid's television. Point Grey Pictures is involved with Seth Rogan, Evan Goldberg, and James Weaver, producing with Rogan and Goldberg more known for their work on things like Preacher than kids TV. They are also bringing in Jeff Rowe, who worked on Gravity Falls, to direct and Brendan O'Brian, who wrote Neighbors: Sorority Rising, to work on the screenplay. Paramount Pictures is set to distribute.
"Adding Seth, Evan and James' genius to the humor and action that's already an integral part of TMNT is going to make this a next-level reinvention of the property. I'm looking forward to see what they do, and I know that Ramsey Naito and her team are excited to take the Nick Animation Studio into another great direction with their first-ever CG-animated theatrical." said Said Brian Robbins, President, Kids & Family for ViacomCBS.
At the moment, we don't have any sort of release window for this new Teenage Mutant Ninja Turtles movie, but this is an animated film; it's either going to come out very quickly or very slowly. Nickelodeon and Paramount know that if these movies are done right, they can bring in massive numbers. The series has been round in some capacity since 1984 with the original comics, so we are talking something that parents could very easily bring to their kids to enjoy. That kind of cross-generational fandom is essential when it comes to the staying power of franchises.
Enjoyed this article? Share it!