Trailer For Sci-Fi Film Volition Debuts, Available To Watch July 10th
Volition is a new sci-fi thriller from Giant Pictures that will hit streaming services, including Apple TV and Amazon Prime Video, on July 10th. The film stars Adrian Glynn McMorran, Magda Apanowicz, John Cassini, Frank Cassini, Aleks Paunovic, and Bill Marchant. It is directed by Tony Dean Smith, who also wrote the film with Ryan W. Smith. It involves precogs and what role having that power would have in your life, starting all the way back in childhood. It looks intriguing, and should probably be on your radar when it is released. Check out the trailer, poster, and synopsis for Volition down below.
Volition Synopsis and Poster
"When you know your world is predetermined, it's hard to care about your choices. This is true for James Odin. On a rain-soaked night in 1991, two cars collide, leaving all drivers dead on the scene, including the mother of the lone survivor — a child — James Odin. It's a tragedy. But what's more tragic is that seven-year-old James foresaw the accident happening two months prior. He tried to prevent it, but who's going to believe a kid who claims to see the future?"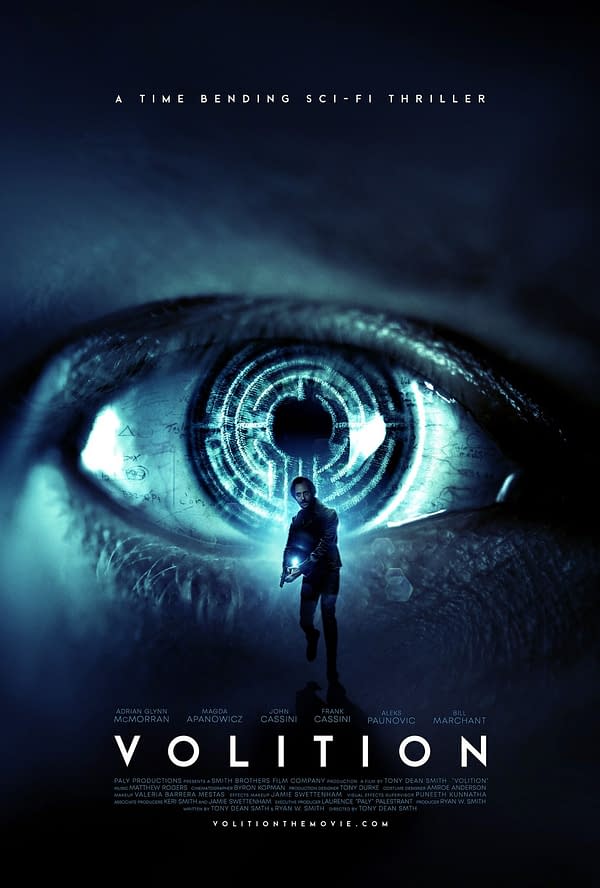 "Twenty-plus years later, James is a product of the failed foster care system. Knowing that the events of his future are predestined, he's getting by, using his ability for petty crime and cheap thrills. But when a pre-sentient vision reveals to him his own imminent murder, James must go on the run. Together with a new friend, Angela, he must change the fate he knows is fixed. VOLITION is directed by Tony Dean Smith, written and produced by Tony Dean Smith & Ryan W. Smith, and executive produced by Paly Productions Inc. in association with Smith Brothers Film Company."
Again, this looks like it could be a solid little watch. Genre stuff like this can be a little hit or miss, but Volition may buck that trend. Seek it out on July 10th.