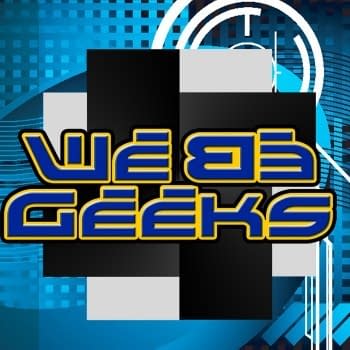 [audio: http://webegeekspc.com/podcasts/Episode_149_Work_In_Progress.mp3]
Bleeding Cool welcomes back We Be Geeks, hosting a variety of guests and covering a wide range of geek topics.
In this episode, the gang starts off by discussing a big reveal on the latest episode of Supergirl. *SPOILER WARNING*. With The Force Awakens so close to finally coming out, the discussion quickly turns to all things Star Wars. Among the Star Wars tidbits discussed, we talk about main villain Kylo Ren, and Carrie Fisher's claim to girl power, before moving on to an in-depth discussion about Stormtroopers and their origins.
Speaking of Carrie Fisher, we discuss the J. J. Abrams' reasons why Leia did not follow the path of the Jedi, and then discuss a recent interview with Fisher that proved to be quite interesting. We finish up by discussing the endorsement of The Force Awakens by George Lucas himself before bringing on our guests for the episode. This week, our guests are Tracy Eliott and Patty Jean Robinson, the two main actresses in the webseries, Becky and Kate, Works in Progress.
Follow us:
Twitter: @webegeeks, @JulzHendricks, @nesofgeek, @geek_happenings
Facebook: We Be Geeks
Superheroes by day, Podcasters by night! The We Be Geeks Podcast is hosted by Mike Ehmcke (@webegeeks) Along with Julz Hendricks (@JulzHendricks), Derrick Nadeau (@nesofgeek) and Brett Dasilva (@geek_happenings) as Co-Hosts, this podcast is on fire! You can find us on Facebook as well as the We Be Geeks official site. Check out our Patreon and support the show.
Enjoyed this article? Share it!