No, we still don't have an actual trailer for Terminator: Dark Fate yet, but director Tim Miller teased us all with a glimpse of the editing process for it ON MOTHER'S DAY.
"I like to spend every #TerminatorDay in a dark room thinking dark thoughts & our edit bay is the perfect place! We're here putting the finishing touches on our FIRST TRAILER-we're just weeks away from releasing this fucker into the wild & we're very, very excited." -Tim Miller pic.twitter.com/Eh0gcCRi61

— Terminator: Dark Fate (@Terminator) May 12, 2019
Every year, we post our fare share of memes featuring famous mothers [cue Daryl Hammond's SNL Sean Connery "My day has some!"] from across science fiction, drama, action, and fantasy, usually led by none other than Terminator badass Sarah Conor.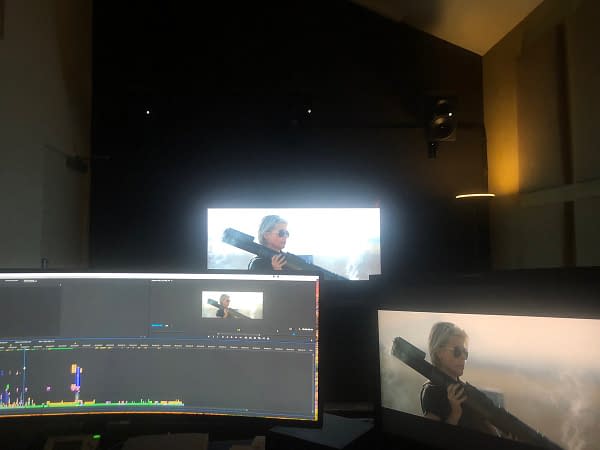 Sarah Conor is many things- soldier, freedom fighter, survivor- but perhaps the biggest thing across the 6 films in the James Cameron, Gale Anne Hurd, William Wisher Jr. created franchise; mother.
Obviously that is not what defines her, but it is part of who she is. Mother's Day would have been the PERFECT drop date for a trailer, but, we're willing to wait if the product is good.
"I didn't want it to look like a shameless money-grab, I wanted the script and the story where going to be worthy of carrying on the tale," Hamilton told Variety on the red carpet during CinemaCon in Las Vegas earlier this year.
She continued, saying the story is what eventually pulled her back in.
"The script wasn't finished, or really even started, but I thought it would be really interesting with all those years in between, so many different ways we could enrich the character and the character's experience, piled on top, and that it might be a nice time to return."
"Linda Hamilton (Sarah Connor) and Arnold Schwarzenegger (T-800) return in their iconic roles in Terminator: Dark Fate, directed by Tim Miller (Deadpool) and produced by visionary filmmaker James Cameron and David Ellison. Following the events of Terminator 2: Judgment Day, Terminator: Dark Fate also stars Mackenzie Davis, Natalia Reyes, Gabriel Luna, and Diego Boneta."
Tim Miller(Deadpool) is directing, and JunkieXL (Mad Max: Fury Road) will be doing the score.
Expect to see Terminator: Dark Fate in theaters on November 1st, 2019.
Enjoyed this article? Share it!