X-Men: Ryan Reynolds "Crashes" Reunion for Charity
With Hollywood making the best of its time during quarantine, cast and crew found a way to still put on a "show" for fans even if it's staged in the form of reunions. Most of the cast of Fox's X-Men Cinematic Universe gathered to benefit Global Citizen, which is a social action platform for a global generation that aims to solve the world's biggest challenges. Participating in the Zoom conference call are Hugh Jackman, Patrick Stewart, Halle Berry, James McAvoy, Sophie Turner, Leiv Schreiber, Ian McKellan, and Famke Janssen. That makes for Wolverine (Jackman), two Charles Xaviers (Stewart and McAvoy), Storm (Berry), Sabretooth (Schreiber), Magneto (McKellan), and two Jean Greys (Janssen and Turner). As the guests started filing to exchange pleasantries, Ryan Reynolds, who plays Deadpool in three of the X-Men universe films, popped in to join the call.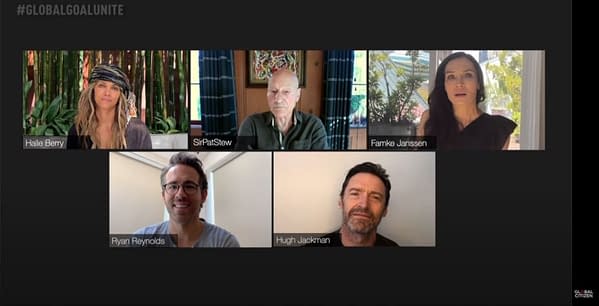 As the Merc with the Mouth actor "crashed" the reunion, the X-Men, who appeared first, started "bowing out" with reunion excuses of their other franchises. Turner said she has a Game of Thrones reunion to go to. Stewart "claimed" to have a Star Trek one to go to, and McAvoy does the same for Split. Janssen said she had a Bond reunion to go to. That left "frenemies" Jackman and Reynolds. Joining the two was Schreiber marking an X-Men Origins: Wolverine reunion. Not counting to all-too-brief cameo in Deadpool 2 from the First Class cast, Reynolds never shared any screen time with any of the other X-Men actors present at the reunion. While the Canadian actor's Marvel future is solidified into the Marvel Cinematic Universe, Jackman and Stewart remain retired officially. Berry and Janssen likely won't return after their stories finished with their cameos in Days of Future Past (2014). Given Marvel Studios' uncertain plans with the X-Men beyond Deadpool, it's also likely McAvoy and Turner's roles are recast. You can check out a glimpse of the call below.
The Global Citizen conference call benefitted the Unite for Our Future concert on June 27, hosted by Dwayne Johnson. Funds raised were for the development and equitable distribution of COVID-19 therapeutics, tests, and vaccines for everyone. Participants in the concern include Shakira, Usher, Jennifer Hudson, Justin Bieber and Quavo, Miley Cyrus, Chloe x Halle, J Balvin, Yemi Alade, Christine, and the Queen, and more. You can check the concert below.