Cartoon County by Cullen Murphy, a Lush Artistic History [Book Review]
[rwp-review-recap id="0"]
Cartoon County by Cullen Murphy is a lush artistic history of the author's father, John Cullen Murphy, the artist who drew such comic strips as Prince Valiant. The book is filled with photos, reference drawings, finished comics, and paintings. The book describes the life of a cartoonist of the era, as well as the foibles of such a life — particularly in the '30s and '40s — and the changes in life and employment that occurred after the second world war.
Unlike other books, Cartoon County's author has a treasure trove of first-hand memories and memorabilia from his childhood and his father's works, giving him a great deal of insight that later writers simply wouldn't have. You can't beat being there, and first-hand experiences.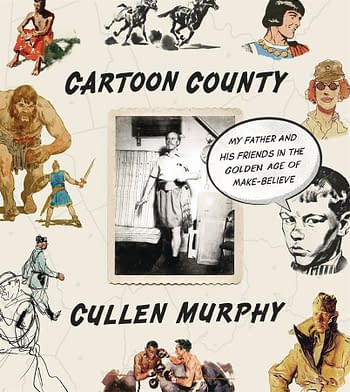 In addition to such topics as the "Cartooning Tribe", those peers of John Cullen Murphy who also created works and provided lasting friendship and camaraderie, the book also delves into the economics of the time — the stresses of working for others and trying to keep a family together under trying times. Cullen Murphy humanizes what could easily become a listing of peoples and accomplishments, pointing out how work-for-hire as a career can impact one's family and social life, as well as eating up time one would like to do more fun projects, such as painting. People are friends, colleagues, and as times go on, fellow soldiers during the war, then people back home dealing with the after-effects of military experience.
I loved this book. It was an easily readable, enjoyable, and educational delve into the life and times of a comic strip creator when the format was making its mark.
[rwp-review-ratings id="0"]
[rwp-review-form id="0"]