Margaret Atwood's 'MaddAddam' Trilogy Being Adapted to Series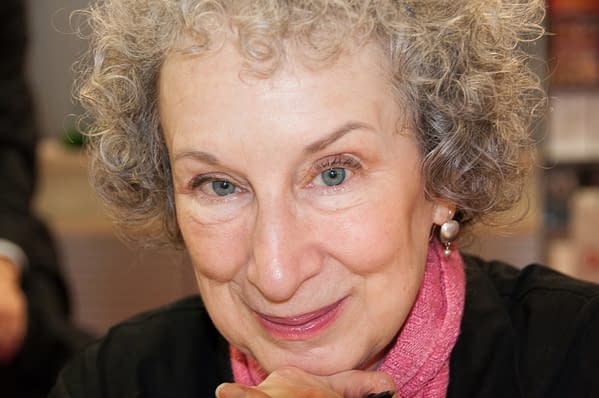 Looks like 2018 is starting off to be as good a year as 2017 was for Margaret Atwood, with the author's "MaddAddam" novel trilogy set to be adapted to series by Paramount Television and Anonymous Content after a bidding war for the rights. The series will be executive produced by Anonymous Content's David Kanter and Bard Dorros along with Rock Paper Scissors Entertainment's Angus Wall, Linda Carlson and Kent Kubena. "MaddAddam" will be produced through Rock Paper Scissors' first look deal with Paramount TV and Anonymous Content.
"I am very happy with the vision described to me by Angus, Kent, David, Bard and Amy, as well as the stunning visual presentation they put together. I very much look forward to working with them." – Atwood
First published beginning in 2003, here's a rundown of the three books in the "MaddAddam" series: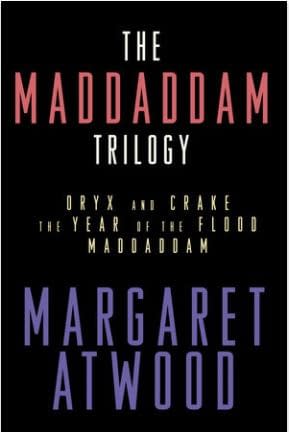 Oryx and Crake is at once an unforgettable love story and a compelling vision of the future. Snowman, known as Jimmy before mankind was overwhelmed by a plague, is struggling to survive in a world where he may be the last human, and mourning the loss of his best friend, Crake, and the beautiful and elusive Oryx whom they both loved. In search of answers, Snowman embarks on a journey–with the help of the green-eyed Children of Crake–through the lush wilderness that was so recently a great city, until powerful corporations took mankind on an uncontrolled genetic engineering ride. Margaret Atwood projects us into a near future that is both all too familiar and beyond our imagining.

The Year of the Flood: The times and species have been changing at a rapid rate, and the social compact is wearing as thin as environmental stability. Adam One, the kindly leader of the God's Gardeners–a religion devoted to the melding of science and religion, as well as the preservation of all plant and animal life–has long predicted a natural disaster that will alter Earth as we know it. Now it has occurred, obliterating most human life. Two women have survived: Ren, a young trapeze dancer locked inside the high-end sex club Scales and Tails, and Toby, a God's Gardener barricaded inside a luxurious spa where many of the treatments are edible.

Have others survived? Ren's bioartist friend Amanda? Zeb, her eco-fighter stepfather? Her onetime lover, Jimmy? Or the murderous Painballers, survivors of the mutual-elimination Painball prison? Not to mention the shadowy, corrupt policing force of the ruling powers…

Meanwhile, gene-spliced life forms are proliferating: the lion/lamb blends, the Mo'hair sheep with human hair, the pigs with human brain tissue. As Adam One and his intrepid hemp-clad band make their way through this strange new world, Ren and Toby will have to decide on their next move. They can't stay locked away…

MaddAddam: A man-made plague has swept the earth, but a small group survives, along with the green-eyed Crakers – a gentle species bio-engineered to replace humans. Toby, onetime member of the Gods Gardeners and expert in mushrooms and bees, is still in love with street-smart Zeb, who has an interesting past. The Crakers' reluctant prophet, Snowman-the-Jimmy, is hallucinating; Amanda is in shock from a Painballer attack; and Ivory Bill yearns for the provocative Swift Fox, who is flirting with Zeb. Meanwhile, giant Pigoons and malevolent Painballers threaten to attack.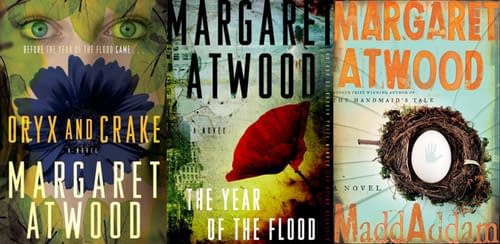 "Margaret Atwood's unique and singular literary voice speaks to the greater issues facing our current climate and resonates with fans worldwide; the Maddaddam Trilogy is no exception. These stories are perfectly suited for portrayal on television and we are thrilled to once again bring a literary masterpiece to life with our partners at Anonymous Content, Angus Wall and Rock Paper Scissors Entertainment."

– Amy Powell, President, Paramount TV
Aside from this announcement, Atwood's work has also found huge success on Hulu with their series adaptation of The Handmaid's Tale. Premiering in April 2017, the series would go on to win eight Emmy awards and helped elevate Hulu's value in the competitive streaming/broadcasting market. The Canadian Broadcasting Corporation (CBC) debuted a miniseries version of Atwood's Alias Grace in September, with the show premiering on Netflix in November.
Anonymous and Paramount has been running the table recently when it comes to book adaptations, including: Catch-22 with George Clooney on Hulu; 13 Reasons Why at Netflix; TNT's The Alienist; and Anne Rice's The Vampire Chronicles.