Posted in: Current News, CW, DC Universe, Editor's Picks TV News, Movies, TV | Tagged: action, adventure, Amunet Black, arrow, barry allen, battlestar galactica, Blacksmith, cable, comic books, Comics, cw, dc, dc comics, dctv, DCTVU, dcu, Emily Betts Rickards, Felicity Smoak, Iris West, katee sackhoff, season 4, streaming, television, the cw, The Flash, tv
---
'The Flash' Season 4: Katee Sackhoff Offers First Look At Amunet Black
While it's no secret that Katee Sackhoff (Battlestar Galactica) is coming to The CW's The Flash, she surprised Twitter users on Saturday with their first look at her Amunet Black ahead of her November 7 episode "Girls Night Out." The photo was also included with The CW's official photo set previewing the episode, which also included images of guest star Emily Betts Rickards as Arrow's Felicity Smoak, who's in town at Central City for a bachelorette party.
Sackhoff tweeted out the first official photo of herself as the villainous black-marketer before the formal preview release:
"First look at #AmunetBlack Coming soon to @CW_TheFlash She makes Evil look So Good!"
First announced as a guest star on The Flash's fourth season in August 2017, Sackhoff's Black (a.k.a. Blacksmith) is the head of a super-villains black market operation who's willing to use "every means possible, including the long list of metahumans under her thumb, to ensure her illicit enterprise thrives." Interestingly enough, Sackhoff is just the latest example of the Battlestar Galactica/The CW connection: Aaron Douglas (Chief Galen Tyrol) played the villain Turtle on The Flash; while fellow Galactica cast members Tahmoh Penikett, James Callis, and Rekha Sharma have appeared on Arrow. Here's what The CW has to say about "Girls Night Out," directed by Laura Belsey; and written by Lauren Certo & Kristen Kim:
Having received an ominous threat from her old boss, Amunet (guest star Katee Sackhoff), Caitlin (Danielle Panabaker) fears that her past time as Killer Frost may be back to haunt her. Felicity (guest star Emily Bett Rickards) comes to Central City to help the girls celebrate Iris's (Candice Patton) bachelorette party, while Cisco (Carlos Valdes), Joe (Jesse L. Martin) and the guys take Barry out for a night on the town. The Flash airs Tuesdays at 8:00 pm ET on The CW. Here are some additional images from the episode: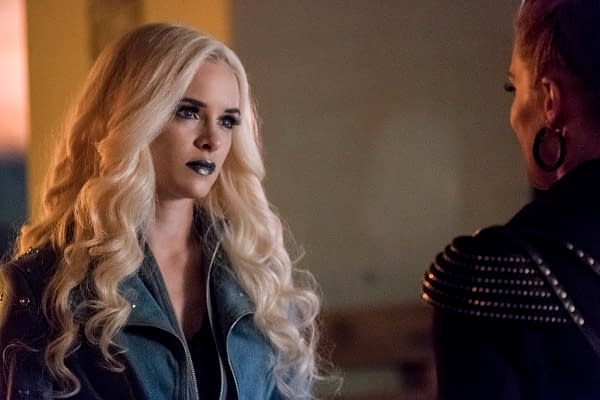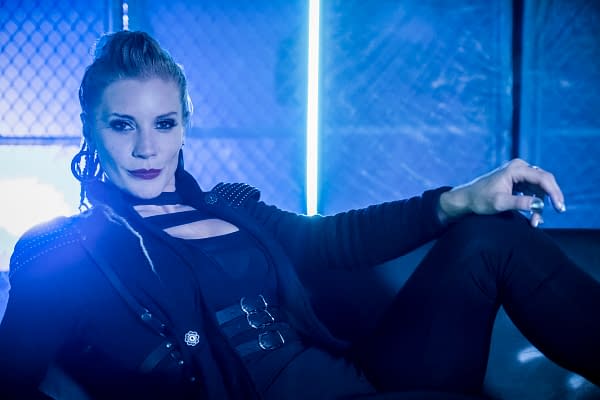 ---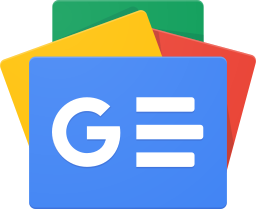 Stay up-to-date and support the site by following Bleeding Cool on Google News today!