The Kickass Women of Silicon Valley Comic Con 2018
[Editor's Note: this Silicon Valley Comic Con girls rule piece comes to us from Bleeding Cool contributor Dana Han-Klein of The DHK, who moderated numerous panels for the event in 2017 as well as this year.]
Who run the con? Girls!
The third annual Silicon Valley Comic Con brought in a bevy of female star power in various fields. In attendance was Star Trek's own Nichelle Nichols, who broke barriers as the first Black woman to be featured in a major television series in the United States. She was joined by real-life astronaut (and first woman of color in space) Dr. Mae Jemison. Their panel together was a strong reminder of why having strong female figures on screen can lead to strong female figures in real life.
Some of the other inspiring women in attendance were Katee Sackhoff (brilliantly moderated by Bleeding Cool's own Mary Anne Butler) who is probably most famous for completely redefining a role originally played by a man in the original Battlestar Galactica. Sackhoff delved into how she had to separate herself from the expectations of the original series, with Starbuck originally being a male character.
I found myself lucky enough to get to moderate the panels for Krysten Ritter, Jewel Staite, and Martha Higareda. Ritter (who is about as funny and delightful as her character on Marvel's Jessica Jones is dark and intense) stars in the first female led of the Marvel Netflix series. The second season of the show was directed by all women — a feat that shouldn't be headline-making yet is, given the lack of women at the helm of movies and television right now.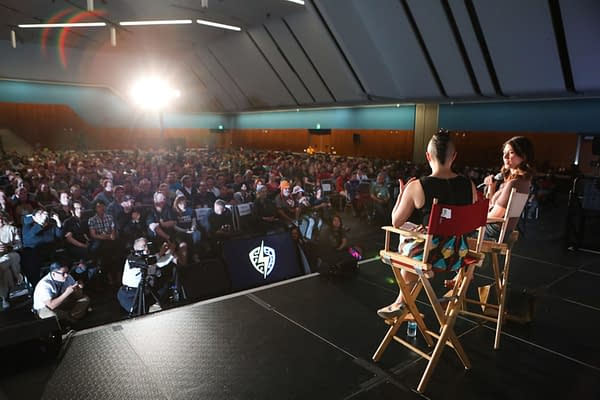 Staite, probably best known for her portrayal of Firefly mechanic Kaylee Frye and Stargate: Atlantis's Dr. Jennifer Keller, was another great example of how having women in onscreen roles that show diversity and an affinity towards tech and STEM can have a positive impact in the real world. If the number of women and little kids cosplaying as Kaylee was any indicator, it seems safe to say that she remains an inspiration.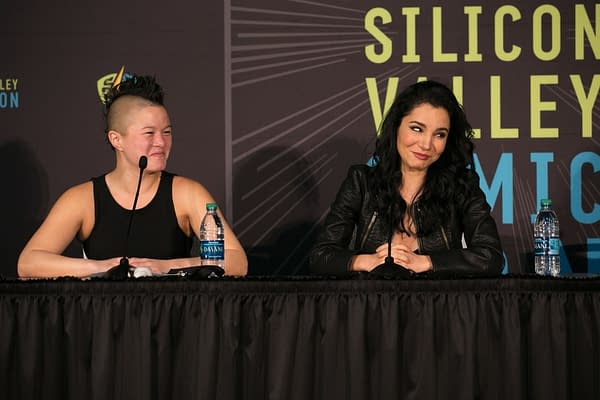 As Detective Kristin Ortega, Higareda can be seen kicking ass, taking names, and reminding us the importance of family on Altered Carbon. Higareda and I were also able to discuss the importance and significance of a show like Altered Carbon, which portrays a future in which who you are historically and culturally on the inside is much less likely to match who you are on the outside.
We spoke about how it's important to not only have gender diversity but racial diversity on screen, especially in the age of streaming services like Netflix (where Altered Carbon lives) content is reaching a global audience. Higareda also regaled us with some hilarious on set stories, and an ever growing list of some of her favorite films/TV (she loves sci-fi).
The convention was also host to Christina Ricci (Z: The Beginning of Everything, Casper), Freema Agyeman (Doctor Who, Sense8), Judy Greer (Archer, Two and a Half Men), Ann Robinson (War of the Worlds TV series), and more. While there was overall a generally balanced mix of guests, it was great to see the influence these wonderful women have on audiences.
Silicon Valley Comic Con has not announced dates for 2019 yet, but there are plans for a fourth event.