Ashley Eckstein Shares Her Universe of Advice at SDCC 2018
Words and Photos courtesy of Bleeding Cool's Erin Wilhelm:
If San Diego Comic-Con had a prom queen, in 2018 it would be Ashley Eckstein. As the founder of Her Universe, the voice of Ahsoka Tano in the newly revived The Clone Wars, MC of the Her Universe Fashion Show, and author of a brand-new book of advice based around Disney characters, Ashley's SDCC 2018 schedule has more panels than Ballroom 20.
Early Saturday morning, in one of the first panels of the day, Eckstein took the stage with Nerdist Executive Editor and Women of the Galaxy author Amy Ratcliffe to talk about Ashley's new book It's Your Universe. The book, half memoir and half inspirational advice book, is about how to achieve your dreams. The book is illustrated through personal stories of Eckstein's lifelong connection with Disney (her father was a Disney cast member) and the lessons she learned from Disney movies and a life in acting.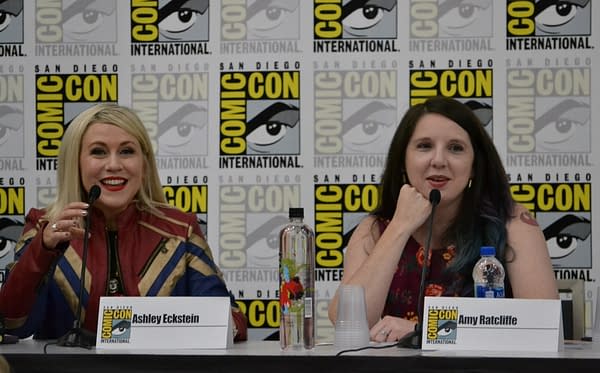 In her book and in her panel, Ashley broke her advice on how to achieve your dreams into six steps: Dream, Wish, Believe, Do, Transform, and Trust. First, she made everyone write down a dream and instructed the audience to share that dream with someone, emphasizing that once you share that dream and have someone hold you accountable for it, you are more likely to achieve it.
Second, Ashley explained that when she was nine years old, her parents gave her a hat that said "Don't dream it, be it" and explained that the wishes she had been making were great, but no one was going to just hand Ashley her dreams — she had to do it. She talked about how it is important for parents to teach their children how to break down their goals into steps, and then to encourage them to do one small thing every day towards achieving their goals.
Third, Ashley encouraged everyone to believe in the impossible in order to train your brain to think it is possible. She said that the resurrection of The Clone Wars had seemed impossible for years, yet she continued to believe, and now it has actually happened. Fourth, you have to actually do the things necessary to achieve your dream. But in order to do something, you need a plan, so Ashley talked about the "Alphabet Plan," i.e. having a Plan A, Plan B, Plan C, etc. And she talked about how that plan would change, that by the time you get to Plan Z, your goal might not be exactly the same as it was at Plan A.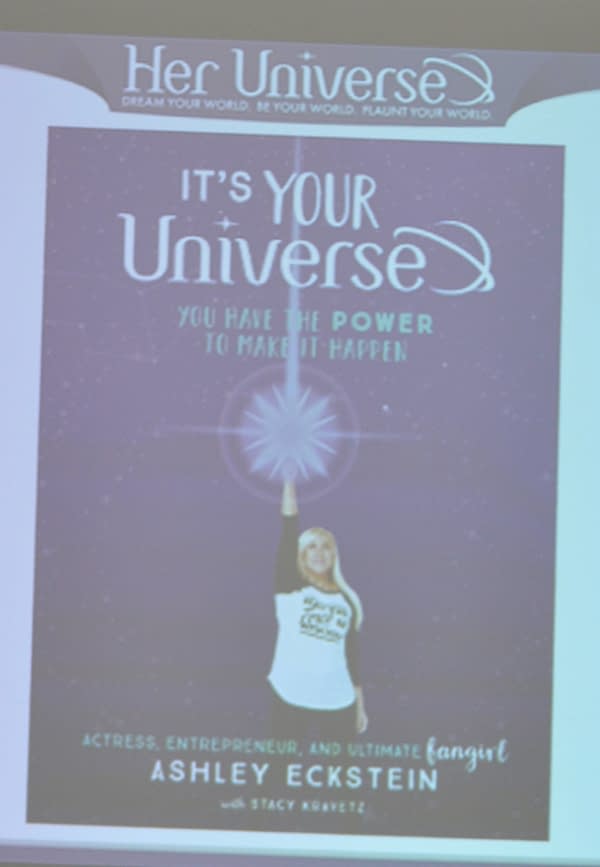 Fifth, Eckstein explained that change is inevitable, in fact, it can be a good thing. Your dream may transform, but in order to make sure you are staying true to yourself and your true goals you have to find your "why" — your reason for wanting to achieve your dream. She also explained that through her career and her process of starting Her Universe, she realized that it wasn't about her — it was about the fangirls who wanted clothes of their own. And when she kept that in mind, it became easier to deal with everything else.
Finally, Ashley talked about the importance of trusting yourself, trusting your gut, and trusting the process. Its okay to fail, and to have a moment of self-pity (or a pi-tea party, as she likes to say), but then you have to never give up hope. For her, when she is feeling down, she watches Star Wars, because for her Star Wars is about hope.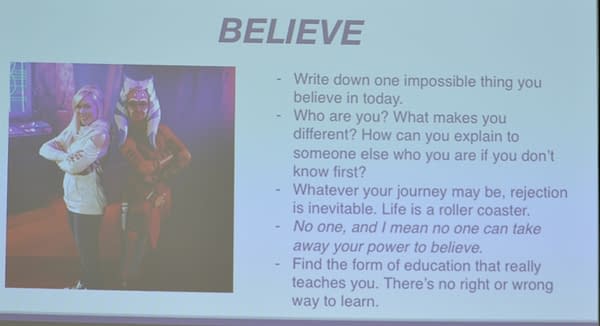 Despite a room that was only about half-full, Ashley was open, honest, (admittedly) cheesy, energetic, and hopeful, and I saw many parents with daughters in the room that were leaning over any reinforcing these messages in their ears. Maybe not her most action-packed and high-profile panel of SDCC, but Ashley Eckstein definitely brought some Star Wars-style hope to the room.