It's no secret that I miss ABC's, Once Upon a Time dearly and would love to fast forward to the fall so I can watch the new season. I peruse Instagram daily staring at all of the fan accounts, and I'm pretty sure we all share the same pain. So, what happens when we get a little taste of something to feed our OUAT addiction? Pure happiness. I couldn't help but blab about this amazing SDCC exclusive that will be available this year. I'm talking about an Evil Queen Regina Funko POP Vinyl!
I had seen teasers for a bunch of Once Upon a Time POPs a while back, but it was one of those pictures that only showed the illustrations. What I've posted below is an actual photo of the Queen in all of her glory! I'm sure these will be difficult to obtain, because most things at SDCC are, but I highly suggest you try Oncers!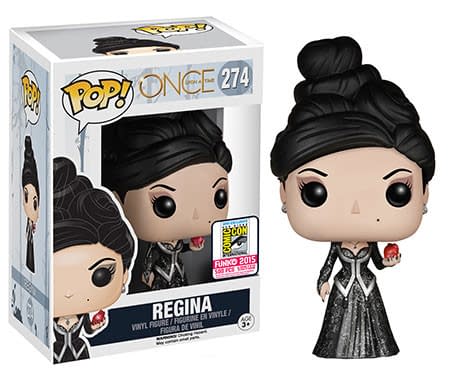 For those of you who don't know, Once Upon a Time is a TV show that takes the term "fairy tale" to a whole new level. Mixing classic characters into our modern world, and throwing a lot of chaos and confusion in for good measure makes for a really great, addicting show. The first couple seasons are available to stream on Netflix. If you're looking for something to binge this summer, I would definitely recommend that.
Christine Marie is a Staff Writer at Bleeding Cool, and bibliomaniac with a love for all things creative. She hopes to one day be a Superhero/Disney Princess/Novelist. You can find her on Twitter and Instagram @AWritersWay or on her blog writerchristinemarie.wordpress.com.
Enjoyed this article? Share it!