Keeping It Fresh 8 Years In, Rose City Comic-Con 2019
(Please note this interview was conducted the week before Rose City Comic-Con and due to technical issues we haven't been able to publish it until now. Any and all questions and answers that follow were obtained before the convention and do not cover anything that happened after the interview at the convention, 9/13 – 9/15/2019, or after the convention. The author offers his apologies for the delay.)
Bleeding Cool: Ron Brister is the founder and organizer for Rose City Comic-Con and RCCC is happening again in Portland, Oregon this upcoming weekend, September 13th through the 15th. RCCC is in its 8th year now, so let's discuss what keeps you still excited about the convention and wanting to keep going?
Ron Brister: What keeps me excited? That's a great question I think about this every year and I think it's actually everybody else's excitement that gets me excited! I love how the fans enjoy meeting their favorite creators, spending time with their families and how excited some fans get when they meet their favorite celebrity. It's almost overwhelming the level of excitement some have, so it just brings me a lot of joy to see that.
BC: Can't deny feeding off other people's excitement can be very contagious and energizing, but in particular what are you looking forward to the most?
RB: I'm really looking forward to the Weird Science reunion along with The Princess Bride reunion. I'm such an 80's kid so those groupings with those guests are just a lot of fun for me. I'm also really excited about hosting the Stumptown (television) premier. As you know Greg Rucka is a local and is the creator of Stumptown so being able to show his creation to the Portland public for the first time, a show based in Portland, is really cool! I think the fans are really gonna love it. I'm also excited for the Count Crowley reveal the Dark Horse is doing. I'm also excited for creators like Mark Brooks, and I'm really excited about having Adam Kubert, who has never been to RCCC before. Just so many great creators in our artist's alley this year and that's very exciting.
BC: Can you share more details about the Stumptown premiere? When, where, who?
RB: The panel is on Saturday, the 14th, at 3:20 PM on the main stage and afterward we will have a Q & A session with some of the cast. Information on which cast will be there is available on our app and website, https://rosecitycomiccon.com/
BC: Any idea on Oni's plan to promote or treat this event as special at the convention?
RB: I know they will trades and all their advertising is 100% on Stumptown.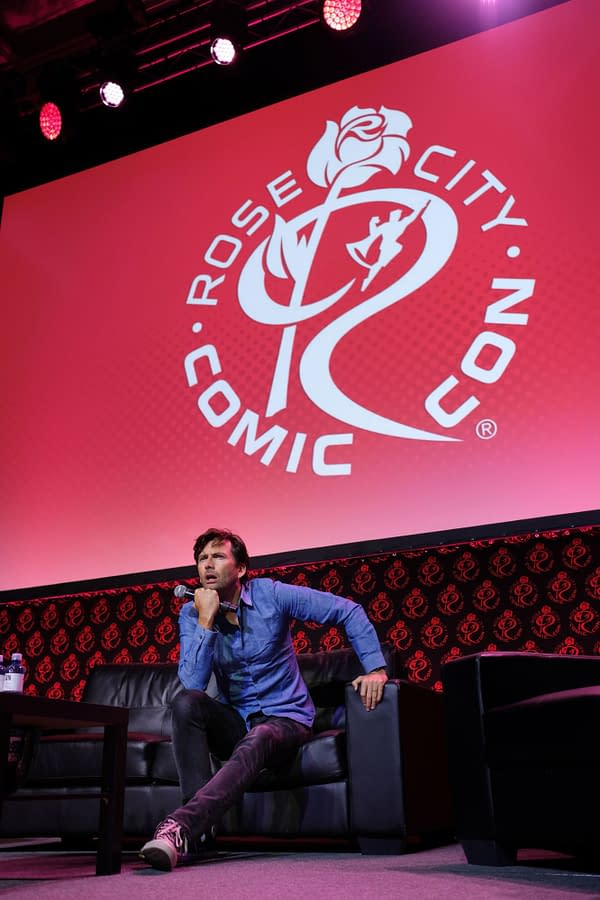 BC: Normally RCCC is the weekend after Labor Day in September, like clockwork. However, this year it is two weeks later, why the delay?
RB: Convention center dates, really. The center has been under construction for most of the year, these were the only dates in September that guaranteed us the most space. Next year we're on a similar schedule – just because of how things line up with the center.
BC: Now you mentioned The Princess Bride, how did that reunion come together? And what do you have planned special for that?
RB: It just worked out, a lot of these things are always seem to happen by getting one cast member and then another jumps on board. We have a nice long panel for them to talk about the film and also their other works. Should be fun. Of course we have group photo-ops with Cary Elwes, Wallace Shawn, and Chris Sarandon.
BC: Yes, and they have a lot of great works between the three of them. Particularly for Wallace Shawn and Chris Sarandon who have some very famous characters they have voiced some may not realize.
RB: Yeah, Jack Skeleton for Chris and Rex from all Toy Story for Wallace are great examples and all three of them are just about the nicest people.
BC: That's always what you hope, as sometimes fans can walk away with horror stories from meeting actors, intentional or not, because of so many different circumstances. In 7 years though, how many actual "complaints" have you gotten from people who come and have had a bad experience meeting an celebrity or creator?
RB: One or two at most, and yes, everyone has bad days, actors are no different, but they are genuinely very nice people. People have to remember, the person they are meeting isn't the character they love. But only 1 or 2 times did someone actually complain and it was really about the time they got to spend or how much the actor charged, not about the actor themselves.
BC: I'm sure as an organizer that's great to hear that there are few "bad interactions". I know feedback from attendents does help guide how you organize and run the convention year to year. In particular though how did the feedback help shape 2019?
RB: We really spend a ton of time after the show each year looking at feedback from attendees who answer our survey. Based on how things score, we adjust or invest in more or less of different things. We heard from last year that people really loved 80's nostalgia, as is evident right now in pop-culture, so that was why we looked to do some reunions. We also heard loud and clear that they wanted the 9th doctor, so we went after Eccleston. Mainly, we listen and do our best to provide the experience they want. So, it's always good to fill that survey out, it helps us put on the show people want.
BC: I'm sure people will be happy to hear that their opinion is listened to.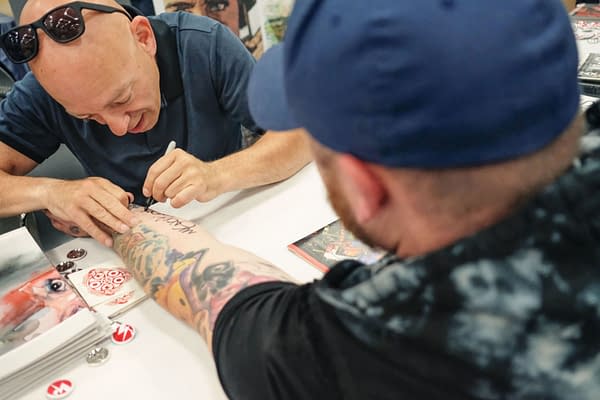 Now, what brought Leaky Con into the mix?
RB: Leaky Con – well, they are subject matter experts in all things Harry Potter and the fandom. We thought it would be wonderful if we could bring in some guests and content that would be highly curated for the HP fans. So this is a micro Leaky Con during RCCC. All anyone needs to enjoy the meet ups, panels, and of course our HP guests, is a regular RCCC pass.
BC: But Anime Bashi and Playfair are not returning? Can you share any reasons why?
RB: Playfair we just rebranded to RCCC Jr. I think we confused people last year with Playfair, the name, and some people in the survey mentioned they didn't know it was the same event and were surprised when they got there to see a comic con. Not upset, just confused. So we just rebranded that to have it better aligned.
Bashi – we loved experimenting with Anime Bashi at the event and we are still focused on that aspect as well, but mainly in programing and voice talent. Again, having such distinct and separate branding was confusing for people so we just want anime and manga to live within RCCC and not feel like a different event. Also, that was really focused on the Dragon Ball tour which was a one-time thing Bandai did last year.
BC: Makes sense, but then why do the specific branding for Leaky Con?
RB: They are a separate company and partnership.
BC: Well that makes total sense, but as someone who is not a huge Harry Potter fan, are there other Leaky Con's that happen elsewhere?
RB: Yeah, they happen around the country as stand-alone events. Dallas, Orlando, Boston to name a few places
BC: Okay, so we've talked before that RCCC has a great relationship and reputation with fans and creators, and like you mentioned you have some great creators lined up this year, Kubert, Brooks, and more, along with some returning favorites like Matt Fraction, Greg Rucka, and Kelly Sue DeConnick (who really don't attend many conventions). Do you feel any need to change how you approach creators, "if it's not broke don't fix it", or does the approach of talking with creators need to be "re-freshened" sometimes to make sure it keeps interest?
RB: That's an interesting question. Artist Alley is the most important part of the show, in my opinion. The feedback from fans is phenomenal so we do try to keep it fresh by having different guests from outside of Portland. Adi Granov is a great example, Steve Orlando is another. We try to bring fresh faces while also making sure we have city represented with the likes of Greg, Matt, Kelly Sue, etc. Basically, it's like piloting a ship, minor course adjustments but don't rock the boat, we want it to be smooth sailing. Many, many, of the creators ask to come to the show, and if we have the space and budget, we always try to make it work. Again, this is the heart and soul of RCCC so I just try to make sure we have a very broad cross section of professionals and guests, to cover our attendee's broad interests.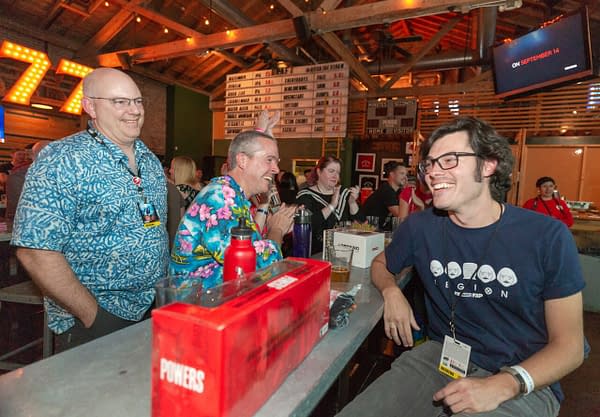 BC: In looking at the guest list this year though, there is a bit of difference … one I wasn't able to really put my finger on until I looked at the list of all the guests coming. Looking at it that way with the entertainment, voice actors, actors, cosplayers, and comic book creators all together alphabetically there is almost an even match of entertainment guests and comic book guests, as though there were less comic book guests then last year.
RB: Nah, we really have the same number. About 100 total guests and professionals. Artist Alley is about 400 tables about 100 of those are guests and professionals. I will say the website change this year has caused some folks to be confused; we're actually doing some important updates this weekend to it to make it a little more streamlined before next weekend.
BC: Is RCCC done announcing guests?
RB: No, never.
BC: (Laughing.) Well that always affects the total guest list and percentages.
RB: We'll officially announce Gail Simone this week along with a couple of others on Monday. The Helioscope Crew gets announced on Monday. Etc.
BC: Now my comment on the amount of different type of creators and guests wasn't a criticism. Again, RCCC is not SDCC where you would be accused of forgetting the CC is "comic convention", but it's interesting to see there is much more of a balance. It's rare to see any comic book convention where the comic creators don't outnumber all the other types of guests. So you did state the increase of 80's appeal, so having more entertainment guests of all varieties was very intentional? Or just happened by a happy accident?
RB: it was intentional and accidental. There isn't an exact science to it. Booking talent is the most labor intensive part of the job, but a lot of it is me sharing the vision and people (agents or talent) getting excited about it and deciding to do the show. Then we start to see who we can build around them with.
BC: It would seem then, and not in a bad way, that having such a different presentation each year is a happy accident. The convention remains familiar but presentation seems to change.
RB: Well, as an example. When we got Anthony Hall, we then started looking at his films and seeing who might be interested in being at the show with him. That led to the Kelly LeBrock and Ilan Mitchell-Smith, getting booked. And yeah, we do like to change the look and feel each year. That's why RCCC's social and site elements change each year. We come up with colors, design features, etc. to make it feel fresh.
BC: Now two of your entertainment guests that stand out for many reasons and don't seem linked to other guests are Weird Al and Pauly Shore. How did getting those two come about?
RB: We've had Weird Al before, in 2017. Fans loved him and they have been asking for him to come back since.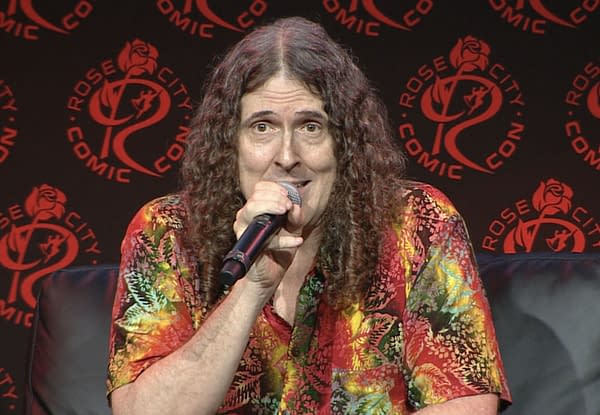 BC: He is a great guy and high energy. Hard to not want him around, plus he is coming off his huge tour.
RB: Pauly – that's kinda a funny one. He was in the Goofy Movie and we had Bill Farmer lined up (Goofy) and Jason. So, it made sense to us to add Pauly to round out the cast from that film.
BC: Now how is Rose City Jr. shaping up? What will be the main draws this year? Next to how RCCC treats creators, it is the thing I hear the most about, that RCCC's kid's area is better then any convention.
RB: Trackers Earth is running a rock wall, archery (form darts) and some other mini-camp related activities for kids. There will also be artists in the Jr area throughout the weekend, from artist alley – Jeff Parker, Ron Chan, Veronica Fish, to name a few, that will be doing quick sketches for kids. I love this especially for kids, artist alley can be overwhelming as well as the expo hall. With the artists coming to the junior area for 30 minute sessions that kids can interact 1:1 with our talented guests and hopefully building a lasting memory for a child.
BC: Very cool and not something I see or hear about from other conventions. Now is RCCC is any danger of growing out of the Portland Convention Center?
RB: Nah, we'll stay there and continue to do our thing. We may have to add a day at some point but for now we like that we sell out of space, it feels local but also big. If anything we'd expand to area hotels if we needed to but I like keeping it contained
BC: Now we are less than a week out, anything you'd like to emphasize or tease?
RB: We have the best merchandise we have ever had this year. I'm in love with it. An awesome lithograph by Ibrahim Moustafa, an Invader Zim variant by Drew Rausch, and Tim Curry will be there all weekend taking photos with fans. The main thing I want to remind everyone of is to get there early. We expect long lines and want to keep everyone safe so we'll have bag checks. Doors open at 11am on Friday, 8am on Saturday and Sunday. Gaming will be running early those days so get in the building, play some games and wait for it all to start! Most importantly, have fun and be kind.
BC: Thank you for taking the time to talk Ron, and look forward to seeing you at RCCC.