I shop fairly often at Asian grocery stores, which makes finding snacks based on cartoon characters fairly easy. In this case, these Thomas the Tank Engine chocolate-covered sticks (they're not official Pocky sticks) were basically begging me to buy them and take them home to consume.
I've seen Thomas episodes here and there thanks to various kids I've babysat over the years, but I wasn't raised on it. The stories and shows are cute, and Alec Baldwin narrating some of the episodes is kind of weirdly hilarious. Plus, the various memes based on Thomas are, uh, eye opening. Stay weird, internet.
Anyway!
The packaging is eye catching and obviously kid-friendly. If you have a child that likes Thomas, this seems like a no-brainer. I assure you, kids wont care if the packaging is in Japanese.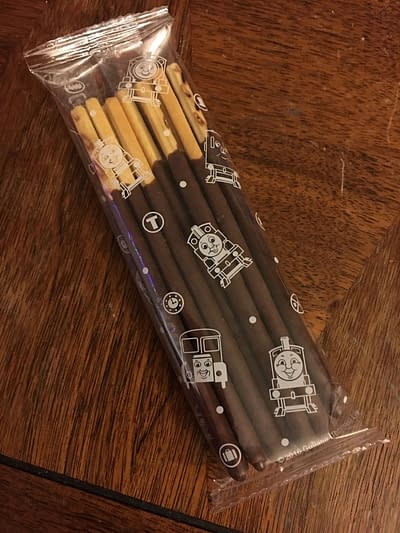 These cookies are fairly straightforward. They look like Pocky (they are not), they taste all right, and kids will love them. For $2, you can't go wrong. Even if you don't like Thomas, these are still a good mid afternoon snack.
Enjoyed this article? Share it!