We Learn 'How to American' with Silicon Valley's Jimmy O. Yang
You may know Jimmy O. Yang as his show-stealing on-screen alter ego, Jian Yang, from HBO's Silicon Valley. Or perhaps from his turn as real life Boston Marathon bombing hero Dun Meng in 2016's Patriots Day. Or if you're like me, you're eagerly awaiting his portrayal of Bernard Tai in the upcoming Crazy Rich Asians.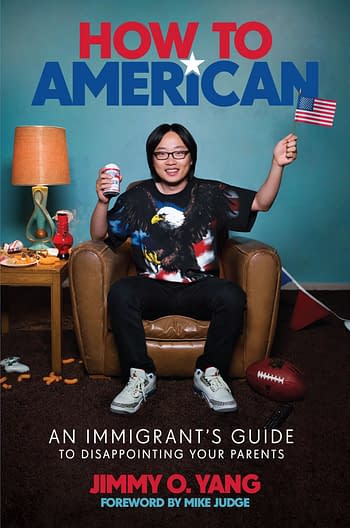 However, there's much more to Yang (or technically Ouyang) than meets the eye. He recently published the autobiography How to American: An Immigrant's Guide to Disappointing Your Parents. The book is a fascinating look into a career that was not an overnight success. Yang documents his over 100 auditions before he got his role on Silicon Valley. He explores what it was like moving to the US for the first time from Hong Kong at 13.
As a young immigrant he latched on to BET and in particular ComicView as a source of assimilation. Yang didn't exactly set out on the life of a model teenager/young adult (particularly an Asian/Asian American one, which he delves into in the book). In his post-college career he worked as everything from a used car salesman, a DJ in a strip club, and an Uber driver (in fact, he was still driving Uber during the first season of Silicon Valley as he hadn't been bumped up to a series regular yet).
The book is a fascinating read; it's funny but has heart. Yang doesn't shy away from putting it all out there. Whether you're an aspiring comic, actor or writer, or a fellow Asian/Asian American, or just looking for some well told stories, I highly recommend How to American.
I had the chance to speak to Jimmy O. Yang recently in San Francisco where he played six sold-out shows at the famous Punch Line San Francisco. Not too bad for a kid who a mere six years ago got his on-screen debut with one line in 2 Broke Girls.