Absurdly Long Lines, Over-Capacity Crowd at SDCC's Indigo Ballroom Today
Photo and Words courtesy of Bleeding Cool's Madeline Potts:
When I arrived at the Indigo Ballroom line at 8 a.m. on Saturday morning for SDCC's Steven Universe and The Good Place panels, I expected it to be long. What I didn't expect was for it to be Hall H long. With a capacity of 2663, the Indigo Ballroom is about half the size of Ballroom 20 and a fourth of Hall H's 6500-person capacity. Volunteer Kyle told me that "by 7:30 we were over capacity."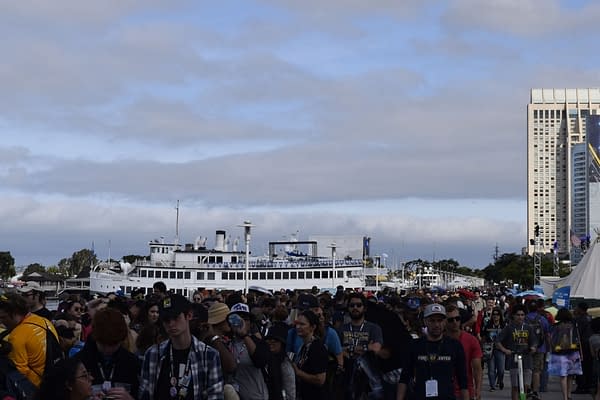 Lisa at the front of the line arrived at 5 a.m. when "there were probably about 50 campers and 100 people in front of us."
As I walked down the line, which wrapped around four or five times and extended from the Hilton and down the boardwalk, attendees told me that they believed these panels should have been moved to Ballroom 20. "I've never seen a line like this for this room. It's never gone past the Hilton."
In the span of about 10 minutes, I walked the line as it began winding down the boardwalk. When I finally reached the end I asked fans Evan and Amanda what they thought their chances of getting in were: "35% for the second panel [The Good Place]."
After the line for Brooklyn Nine-Nine on Thursday, it looks like the Indigo Ballroom may be the new Ballroom 20 or Hall H. Either that, or these panels need to be moved.