Why Did WWE's Jim Ross Call The Undertaker Booger Red? The Answer May Shock You!
There have been a lot of failed attempts to brand professional wrestlers with a bad nickname, but perhaps the most memorable is the one Good Ol' JR tried to give The Undertaker during his American Badass phase: Booger Red. The name still induces cringes today. It doesn't make any sense. Why associate a motorcycle-riding supernatural badass with picking your nose?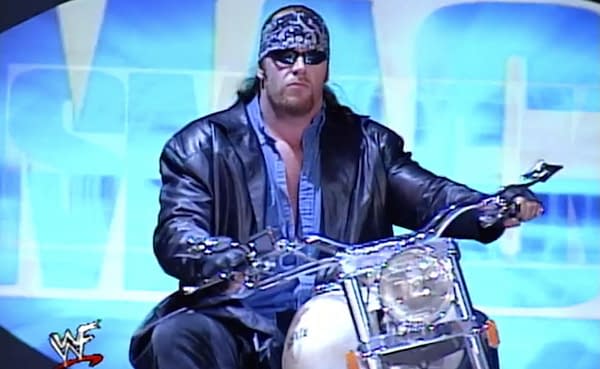 Ross has previously revealed that the name was stolen from former University of Texas linebacker Tommy Nobis, but on his podcast this week (transcribed by 411 Wrestling), Ross went into detail on the meaning behind the name, and as it turns out — you may want to sit down for this — it had nothing to do with nose nuggets!
Of all the names that I threw out there – that some stuck and some did not – this one did not obviously. If it did, it stuck in a bad way; but, the Booger Red definition is very simple… Booger Red was in reference to the great Texas linebacker, the late Tommy Nobis. Tommy Nobis wore number 60. He had like a 20 inch neck, red hair. So his all through school because this was such a fierce hitter at 6'3″ probably 245 middle linebacker – he was huge for that position – during that era. He unhinged people. His nickname was Booger Red. If you go look in the dictionary for what a booger is, other than something you go looking for with your index figure in your nose, booger means like a goblin or something like that, a scary person or scary entity, more specifically. I thought this might stretch out there or make something because Undertaker is a macabre type figure and Booger Red is kinda a tribute to his Texas heritage; but, basically what happened is it sh*t the bed, so that's where we are. Trying to use a little football and Tommy Nobis was the baddest of the bad. He'd tear you a part….Taker was the same way in his world. Taker of course had naturally red hair. Anyway, the more you explain it the crappier it is.
So there you have it. It doesn't make it any better, but at least we kinda get where the misguided Ross was coming from.