ABC's 'Grey's Anatomy' / 'Station 19' Set Crossover Event for May 2019
A deadly blaze leaves a member of Station 19 fighting for their life at Grey Sloan Memorial, as the worlds of ABC's Grey's Anatomy and its firefighting spinoff series Station 19 collide on Thursday, May 2, for a two series, two hour crossover event. The story begins at 8 p.m. ET with Grey's Anatomy episode "What I Did for Love," written by Mark Driscoll and directed by Jesse Williams; and concluding at 9 p.m. ET with Station 19 episode "Always Ready," written by Tia Napolitano and directed by Nicole Rubio.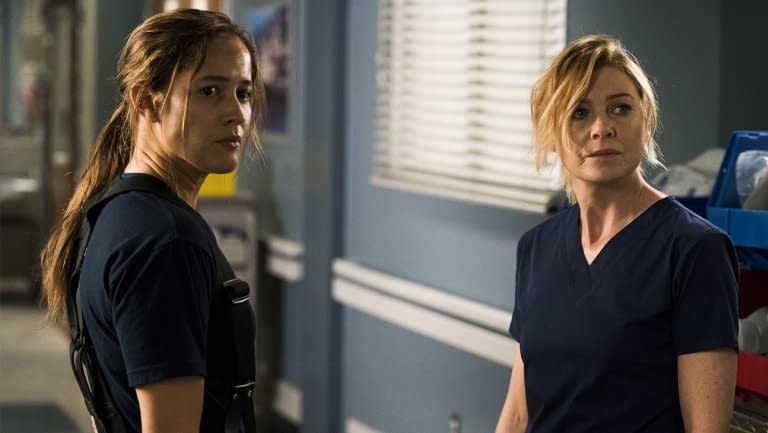 In Grey's Anatomy offering "What I Did for Love," Maggie (Kelly McCreary) treats one of Station 19's own while Jo (Camilla Luddington) learns a hard lesson. Meanwhile, Meredith (Ellen Pompeo) puts her career in jeopardy while attempting to help a family seeking asylum. In Station 19 chapter "Always Ready," the members of Station 19 find themselves on high alert following a deadly blaze at a coffee beanery – a call that landed a beloved member of their team at Grey Sloan, leaving the future uncertain in the face of a life-threatening situation.
Recipient of the 2007 Golden Globe® Award for Best Drama Television Series and nominated for multiple Emmys®, including Outstanding Drama Series, "Grey's Anatomy" is considered one of the great television shows of our time. The high-intensity medical drama, now in its 15th season, follows Meredith Grey and the team of doctors at Grey Sloan Memorial who are faced with life-or-death decisions on a daily basis. They seek comfort from one another, and, at times, more than just friendship. Together they discover that neither medicine nor relationships can be defined in black and white.
"Station 19" follows a group of heroic Seattle firefighters as they put their lives and hearts on the line. The latest series from the executive producers of "Grey's Anatomy," "Scandal" and "How to Get Away with Murder" takes us inside the tough, tight-knit and sometimes heartbreaking world of the city's bravest first responders.

Season 2 of "Station 19" will return with answers to all of our burning questions. With a massive skyscraper fire raging, can Andy (Jaina Lee Ortiz) lead her team to safety? Will her former flame Jack (Grey Damon) and teammate Travis (Jay Hayden) survive after an explosion sends them both into jeopardy? And when the dust finally settles, who will win the race for the captain position at Station 19?