Adventure Time: Distant Lands BMO Review: Magical, Bittersweet Return
HBO Max's Adventure Time: Distant Lands premiered its first episode this week, and "BMO" did not miss a beat. It was back as strong and magical and fun as ever. It was a real adventure. Adventure Time has been such an amazingly inspiring ride in my life that has brought amazing art and stories. It has also taught me so much about acceptance and most importantly accepting who I really am. Adventure Time has always been magical and sweet but always filled with gut-wrenching, deeper themes, moments, and realizations. The opening chapter to Distant Lands was no different, proving itself so incredibly bitter-sweet.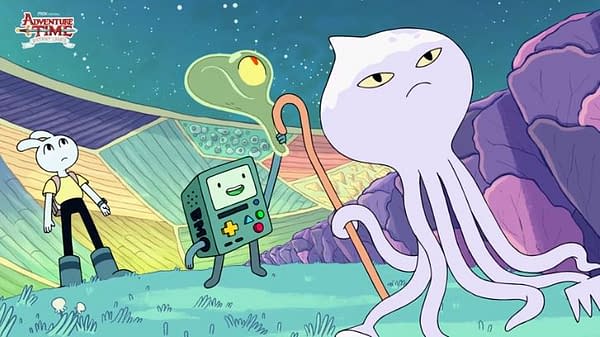 In this first episode, we get to go on a mission with BMO, a little sentient video console that lives with Jake and Finn in Adventure Time. We explore their past right before they crash into earth and meets Finn and Jake. It was endearing and just so BMO I could not stop smiling throughout the episode. Even though it was 45 minutes it felt like it went by so quickly. BMO is on a spaceship heading to Mars with their potatoes, but the mission takes a dangerous turn when a meteor-shower leaves the ship in bad condition. However, BMO gets saved by a new drone friend that BMO names Olive, since it was green and round. Olive then pushes the ship through space and they end up on a place called The Drift, which is made up of different hubs connected to one another.
The Drift turns out to be a very different place, filled with life-forms different than the ones BMO is used to. After saving the hub, BMO takes on the title of the sheriff and then goes on to explore The Drift excitedly with a rabbit girl named Y4 (loved this moment: after being renamed by BMO, Y4 admits she never liked her old name and BMO's name so she goes with Y5 instead). Despite BMO's seeming obliviousness to the increasingly dark, unsettling mood around them, they start heading toward some being named Hugo who is desperately searching for something. Along the way, they start meeting new characters and BMO makes it clear they are there to help and save everyone, never afraid to dive head-on toward where they are needed, where the danger is at. What's not to love about that, especially with BMO's earnestness?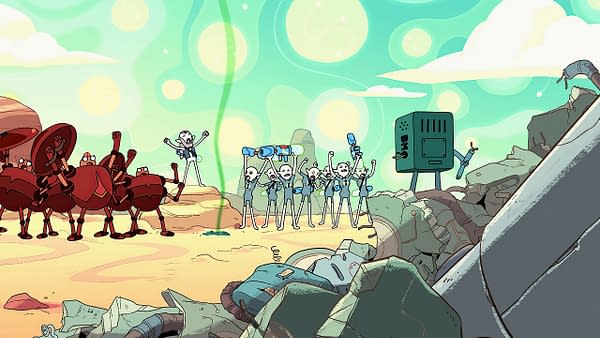 In a short time, BMO starts changing those around them. They willingly volunteer for everyone's task so innocently, even when we can see they're doing it with personal agendas we weren't aware of- at least not yet. Over the course of the story, we get a dysfunctional family, a betrayal, and a hero/redemption narrative. We are taught the importance of change and (even though it ends abruptly) we also get hope. Not only did BMO helped The Drift beings save their planet, but they also gave The Drift hope and brought smiles to them. BMO changed them and their lives. I am not going to lie, I got teary-eyed when BMO left and landed in the Land of Ooo to see Jake and Finn outside sword fighting. It filled me up with so much nostalgia and reminded me of how much I have been missing this show, but it also left me feeling for those BMO left behind. Probably one of the best compliments I can give the story: it had me feeling for the characters in less than an hour, with only our first visit.
BMO has always been one of my favorite characters in Adventure Time. At first, I was not sure how I felt about BMO, but their loyalty and protectiveness toward Finn and Jake moved me, with his little persona fascinating me. BMO claims they lack the capacity to feel, yet BMO is able to make decisions, say no, and tend to comment on how things can make them annoyed or happy. My favorite thing about BMO is how courageous and friendly they are, how they can also be cranky. I love how they always go around naming new friends and making up songs. Some of my favorite episodes of Adventure Time are BMO themed: "BMO Lost" and "BMO Noire," with Distant Lands just reminded me of how much love I hold for this character.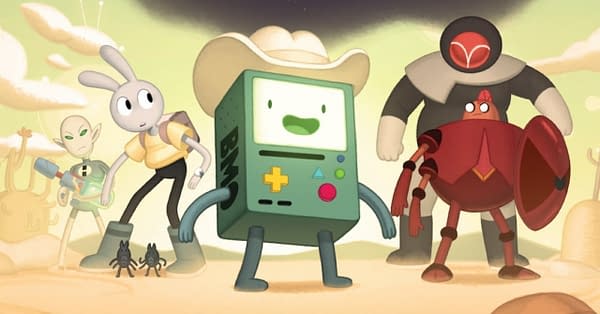 Adventure Time: Distant Lands started off with a bang and I really cannot wait to see what the next adventures will take the franchise. "BMO" brought back the magic without missing a beat. It felt like the show never ended, and it was only yesterday since we first watched the final battle. The characters were just as moving, the story just as action-packed, heartfelt, and bitter-sweet. The words had meaning and spoke of matters of both the mind and heart, and did so in a manner that made me think without being preachy or melodramatic. "BMO" stands as a proud continuation of the Adventure Time franchise while creating its own universe in the process. Making me cry and laugh like an idiot earns it extra points.