MJF Vs Jungle Boy: AEW Double or Nothing Results
AEW Double or Nothing is taking place tonight, and in early action the biggest heel in the business MJF took on Jungle Boy in singles action. MJF has not lost an AEW match in 2020 so far, as he would be quick to tell you. Jungle Boy is one of the bright young stars in wrestling right now, the real-life son of the late Luke Perry. This is not the first time they have met in the promotion, with MJF picking up a victory over JB in a Dynamite match back in February. Let's see who came out victorious in the AEW singles match.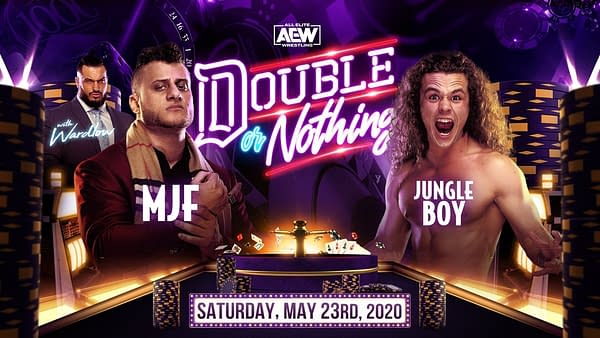 AEW Double or Nothing MJF Vs Jungle Boy
The match starts with some show of strength by MJF with the two quickly showing off the crazy agility they possess. Jungle Boy gets locked into leg scissors early as MJF looks to slow the quickness of JB, but JB quickly reverses it and gives MJF some slaps from the mount position. MJF eats some chops in the corner and hits the deck with a supposed leg injury.
Only the biggest heel in AEW was not injured at all, playing up the leg until he can take advantage and put a surprised Jungle Boy on his back in a headlock. Jungle Boy attempts to make a comeback, but MJF continues to fight him off and hits a huge backbreaker for a close two count. More offense before JB starts to make his comeback. MJF with a slide to the outside into a huge slap, before a suicide trifecta of moves to the outside by JB nets him a close two count. MJF begins attacking JB's arm before they decide to trade hard slaps in the center of the ring. Brutal stuff.
After the slap fest, they trade superkicks and a Canadian Destroyer put MJF in a daze. MJF then bites JB where the ref can't see and hits a weird piledriver that I have never seen before for a two count. JB hits a reverse "Frankensteiner" on the apron, and MJF sells the injury hard. JB drags him into the ring, with MJF not moving. JB goes to the top and is thrown off after MJF grabs the refs leg and she shakes the ropes. Jb with a huge powerbomb off the top rope for a two count. This is a great match. AEW staff in the crowd sure likes it.
The Finish
After a series of roll-ups, MJF scores the victory with a modified leg roll-up for the win. Both came to play here, looking to make some noise on the undercard of the second AEW Double or Nothing card, and they delivered. Very entertaining.