AEW Dynamite Kicked Off with Main Event Match and Didn't Let Up
This week, All Elite Wrestling (AEW) wasted no time in showing us a main event worthy match right off the bat. In the continuing saga to see who will become the first TNT Champion, we opened with Darby Allin against Cody. Allin has been making waves in AEW thanks to strong booking and excellent promotion work. His in-ring skills are solid as well, partially thanks to whom he's recently faced in the ring. In this week's episode, Allin progressed to the semi-final round for the new TNT Championship title and faced off against Cody. The two fought hard and rough — at one point Cody threw Allin into Brandi Rhodes, knocked her down. The match ended with Cody performing a coffin drop onto Allin (who successfully put his knees up to block Cody), and then Allin returning the favor. The coffin drop is one of my favorite wrestling moves, so seeing it performed twice within a manner of minutes was downright exciting.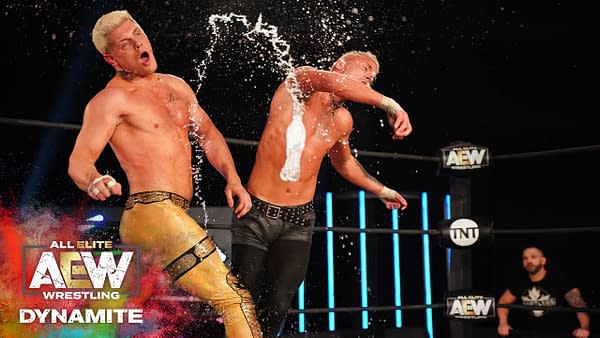 Despite that, Allin looked like he had the win in the bag, Cody rolled Allin onto his shoulders, stealing the win from underneath Allin. Cody will be going into the final match for the TNT Championship, but I don't think he should. Cody is the face of AEW, he's accomplished a lot in a manner of months. This match should have been used to shoot Allin into a higher stratosphere, instead of jobbing him off. Do I think this is the end of Allin? No. Do I think this was a cheap win? Yea.
Dustin Rhodes and Lance Archer had the other main event match of the night, again in pursuit of the TNT Championship. Archer and Rhodes are pretty equal in size, but Archer has the inevitable power of youth on his side, but the two worked well against each other. Rhodes's face was bladed open during this match too, adding a level of bloody drama. In the end, Archer won after beating the bloody hell out of Rhodes. This will in no doubt light a fire under Cody's ass in their match for the TNT Championship. Credit to Rhodes for making Archer look absolutely powerful, though.
This week's AEW was filled with some excellent matches featuring up and coming talent. AEW has been a consistent wrestling force week after week with a variety of matches and storylines, with a broad spectrum of talent. The Bubbly Bunch has probably become the most popular promo on AEW, with Chris Jericho's Inner Circle having fun self-isolation adventures. The character development for their wide cast of talent has been appropriate and enjoyable, allowing for organic growth. We say it every week, but AEW should be on your watch list if it isn't. They know how to put on an exciting show, and they do it every single week.