AEW Rampage: Eddie Kingston Turns on Ortiz in Worst Episode Ever
Eddie Kingston turned on Ortiz in an emotional episode of AEW Rampage, emotional for how much it CHEESED THE CHADSTER OFF!
---
Happy Saturday, everybody. Happy Saturday for everybody but The Chadster, whose life has been RUINED by yet another vicious mental assault on the part of the evil Tony Khan, or as it's otherwise known, another episode of AEW Rampage. The Chadster suffered through this show so that he could provide his objective, unbiased take on it and why it was the worst thing to ever happen to the sport of professional wrestling.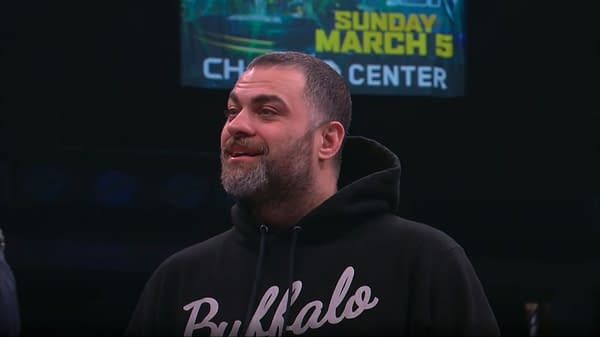 In the opening bout of AEW Rampage, Jungle Man got a rollup victory on Ethan Page after Page spent a lot of the match bickering with Matt Hardy, and with help from Hook. The Chadster is always extra annoyed whenever Jungle Man and Hook are onscreen because The Chadster's wife has a fascination with them equaled only by her love of texting that guy Gary. Tony Khan must know this, which is why he started booking them together. After Keighleyanne sees a Jungle Man or Hook match, she always gives The Chadster bedroom eyes, knowing that, thanks to The Chadster's crippling sexual impotence, he can't do anything about it. Once again, Tony Khan uses The Chadster's own wife against him! The worst part is, they're going to do it all again with a tag match on Dynamite next week!
Ortiz berated Eddie Kingston about nearly hitting Julia Hart with a steel chair, causing Kingston to turn on Ortiz. Great! Just what AEW needs! Another emotional rivalry for fans to become invested in. Doesn't Tony Khan understand that he's spoiling the audience and ruining it for everyone?
Willie Mack competed against Brian Cage in a very Impact Wrestling matchup on AEW Rampage. Cage got the win to build him up for his match against Bryan Danielson on AEW Dynamite. The Chadster was simply disgusted to see more talented wrestlers joining the ranks of AEW.
In her 49th straight victory, Jade Cargill, along with teammate Leila Grey, beat the Vanity Twins. Cargill forced Grey to tag out so she could be the one to get the pin. Jade Cargill is the perfect example of AEW really building a bonafide homegrown star, and it cheeses The Chadster off so badly! Cargill hasn't paid her dues by wrestling for WWE, so this is extremely disrespectful on the part of AEW.
Finally, in the AEW Rampage main event, Action Andretti scored another big victory, this time beating Daniel Garcia. That loss is sure to lead to more resentment from Garcia as he stepped up and failed, while Andretti is built up even further in this feud with the Jericho Appreciation Society. Everyone knows how The Chadster feels about Chris Jericho squandering all the star power he was given by WWE over the years to help get up-and-coming AEW stars over, so there's no need to rehash it. Actually, The Chadster changed his mind. Let's rehash it. It's just so disrespectful to the wrestling business and everything Vince McMahon has done for it!
As usual, The Chadster hated AEW Rampage. It was a terrible show matched only by AEW Dynamite in how much it's designed to personally attack The Chadster and destroy everything he stands for. The Chadster is holding out hope that 2023 will be the year that AEW finally dies, but sadly, if they keep producing shows like this, The Chadster could be waiting for a very long time.