Agents of SHIELD Season 5: Why the Best Episode was 'The One Who Will Save Us All'
Today we're going to take a look at the single best episode of the season in each of the superhero-related shows I cover for Bleeding Cool. These are, of course, based on my opinion, and you are welcome to disagree in the comments below. What I look for in an episode is how it moves the characters, plot, and/or universe forward, as well as how memorable the episode is and how I felt about the series after having watched it.
And finally we get to Marvel's Agents of SHIELD, which had some great episodes all season between the jump to the future, the return of Lance Hunter (Nick Blood), the battle with Ruby (Dove Cameron), and so on… but I've got to go with 'The One Who Will Save Us All'.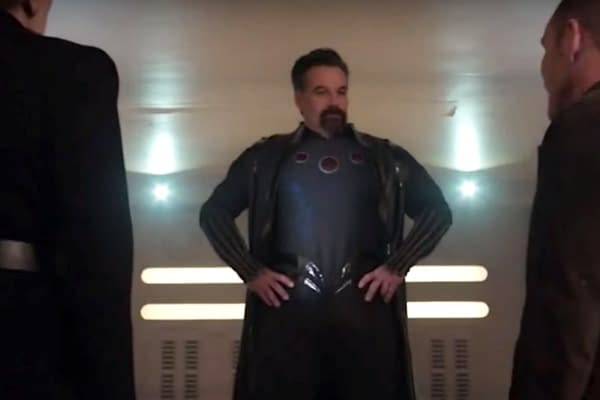 As I stated in the Gotham write-up, I love when writers circle around and pay off something from the first season. In this case, Brent Fletcher wrote a script that put Phil Coulson (Clark Gregg) and Glenn Talbot (Adrian Pasdar) on a buddy cop-style mission to confront aliens that are threatening Earth. But the twist is that Talbot isn't mentally stable anyway — he has taken all the gravitonium into his body, and he has the voices that come along with it. And while they are negotiating, the team is trying to figure out how to save Coulson and stop Talbot, all while dealing with a looming invasion and having to go get their people back.
The interaction between Coulson and Talbot is great, and how they deal with Qovas (Peter Mensah) is well worth watching, but the main thing we are seeing here is an Easter egg planted in the third episode of season 1 finally paying off. The introduction of Dr. Franklin Hall (Ian Hart) as the Asset who ends up being sucked into the gravitonium all those years ago was basically them introducing their first Marvel villain, Graviton. Now that the gravitonium, including Dr. Hall's consciousness, is in Talbot, he is becoming Graviton. And they even go so far to give him a shave and a new costume that looks damn close to what we got in the comics. This was top-level fan service and well worth the wait.
There was no guarantee that the series was going to come back when these episodes were written and filmed. I think the smart money was on it being the end of the line. The writers and producers even said they were going to end the season at a place that could work as a series ending. But nothing said indicated that they would go so far as to end the season with a titanic battle between Graviton and Quake (Chloe Bennet). And as fun as that episode was to watch, the buildup of Talbot to the villain was even more fun. To see him talking to aliens like they were nothing was a bit shocking to the viewer and to Coulson.
I'm happy that we'll be getting more SHIELD in summer of 2019, but I would've been satisfied with this ending if that had indeed been it.