Aggretsuko: We Wish You A Metal Christmas: Retsuko Runs Wild on Netflix for The Holidays (TRAILER)
Netflix released the trailer for the Christmas Special Aggretsuko: We Wish You A Metal Christmas this morning, and here's why that matters. Aggretsuko premiered worldwide on Netflix early this year to near-universal acclaim. It's one of those cute cartoons with an edge that taps deep into the zeitgeist. Retsuko is a twentysomething office lady in the form of a cute funny animal. Her boss and colleagues at the office are all cute funny animals.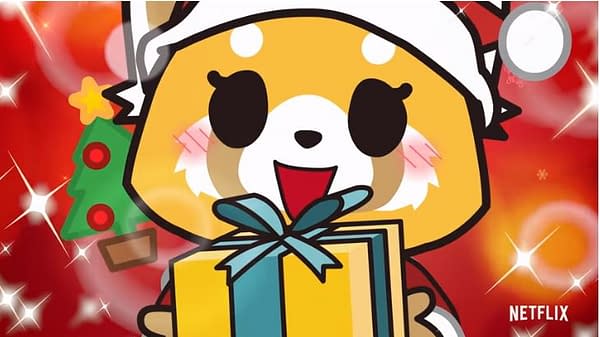 That's where the cuteness ends.
Retsuko's boss is literally a sexist pig who gives her a hard time every time he opens his mouth. Her best friend is a fox. Her gazelle co-worker uses her feminine charms to suck up to the boss to make her own life easier. Her Hippo co-worker is the relentless office gossip who gathers and dishes the dirt on everybody. Her supervisor is a komodo dragon and sadist who likes to put everyone down and watch them fail.
Retsuko is driven to despair. Her whole working life is not what she hoped it would be. It's an endless stream of stress and microaggressions conspiring to turn her into a wreck. She has a two senior colleagues, a gorilla and a bird who have taken her (not literally) under their wing to give her emotional support and sage advice.
But Retsuko has one outlet for all her stress and rage: Death Metal Karaoke.
That's right, the only thing keeping her sane is the opportunity to go to a karaoke bar after work with her personal microphone that she carries in her purse, order a couple of drinks and scream her lungs out to her favourite death metal tunes.
"Retsuko" is really a Japanese contraction of "aggressive Retsuko". She and the cast of characters are the creations of "Yeti" for Sanrio, the company that owns and puts out Hello Kitty. Aggretsuko became a cultural phenomenon in Japan, racking up over 100 episodes of the anime before Netflix bought the world streaming rights and compiled a best-of selection of ten episodes for its first season on the streaming service.
Retsuko became hugely popular on Netflix where apparently, lots of women could relate to her. Are we surprised about this? Lots of twentysomethings have unfulfilling jobs with horrible bosses, mean supervisors, and bitchy co-workers. There's catharsis in watching a cute animal cartoon who knows your pain and finds an outlet in Death Metal. For teenagers watching, Retsuko's lot is what they have to look forward to when they enter the job market. That's if they can find a job.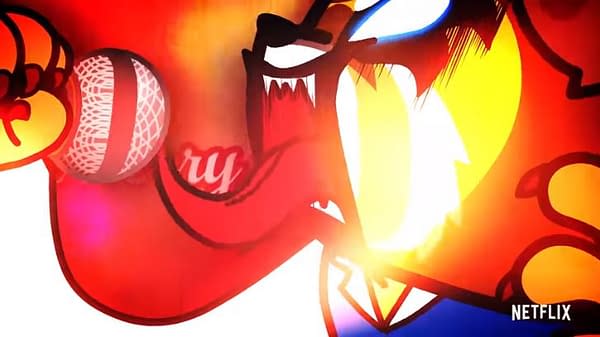 One thing that Netflix does a meticulous job of for the shows they pick up is the dubbing. Of course they offer the original Japanese soundtrack, but they also pay to have good translations for dubs in English, French, Polish and a range of other languages, European and Asia. I can't speak for the other languages, but the English language script is actually very good, replacing obscure Japanese slang and references with more relatable American references to you can understand what the characters are getting at. It's a pretty impressive policy on Netflix' part.
So now we have holiday specials for both Chilling Adventures of Sabrina and Aggretsuko: We Wish You A Metal Christmas to warm the dark, cold ambers of our souls this holiday.
In the crappy work economy of 21st Century late capitalism, Retsuko is the spirit animal of our hearts.