Ahsoka: Filoni on Animated/Live-Action Characters; Mando "Story Event"
Dave Filoni teased that Ahsoka "may or may not" have more characters crossing over from animation & a possible Mando universe "story event."
---
With Lucasfilm & Disney+'s The Mandalorian currently burning through its third season, fans' radars are starting to focus on the upcoming Rosario Dawson, Natasha Liu Bordizzo & Eman Esfandi-starring Ahsoka. Thankfully, Dave Filoni was kind enough to take a break from co-masterminding the "Star Wars" streaming universe with Jon Favreau to offer some insight into the upcoming spinoff. Filoni covers two big topics in the following highlights, beginning with sharing the thought process that goes into bringing a character over from the animated series side to the live-action side (while dropping an interesting Ahsoka tease). From there, Filoni addresses whether "The Mandalorian" universe is still leading towards that "climactic story event" alluded to a few years back.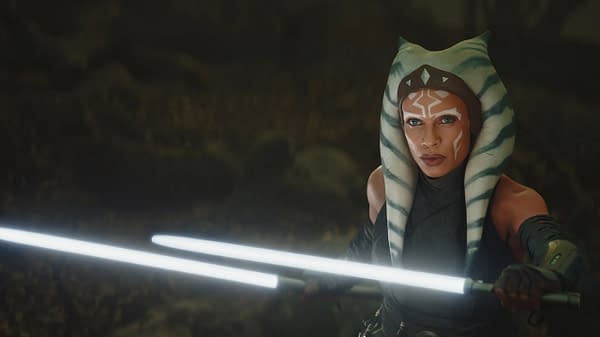 When asked if he's made it a point to try to get a number of animated characters over onto the live-action side of things, Filoni shared during an interview with The Wrap that "it's the other way around" and explained that although he may be comfortable with those characters, "it changes when they're suddenly in a different medium." Citing an example from The Book of Boba Fett, Filoni shared an example of the thinking that went into Cad Bane. "When we needed a gunslinger to go up against some of our characters in 'Book of Boba Fett,' Cad Bane's name came up. I think looking at that, the first thing I think is, 'Well, how do we do that and make it believable?' Like the character, he's so lean and gaunt in 'The Clone Wars.' And if we don't do that, is it all CG? How are we going to portray that? If we don't think we can do that effectively, then we shouldn't do it." So what does that mean for Ahsoka and more animated folks jumping to live-action? Filoni drops a very interesting ten-ton tease: "At the end of the day, I've been very happy with the ones that have gone over. There may or may not be more in 'Ahsoka,' if that's your thing. If you're excited about that, I'm just saying that one might have a few more, which makes sense, by the way. As you know, I wrote it. You can't fault me there."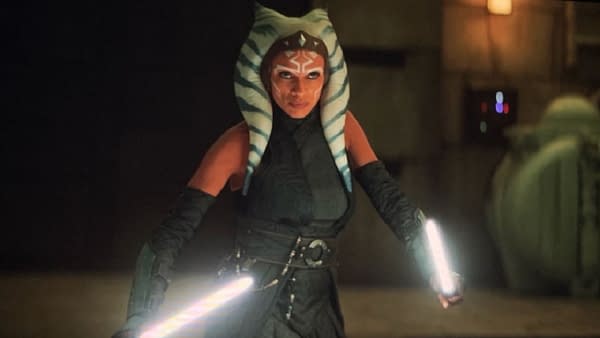 As for that 2020 talk from Lucasfilm's Kathleen Kennedy that "The Mandalorian" universe (along with Ahsoka, The Book of Boba Fett & Skeleton Crew) would eventually lead to a "climactic story event," Filoni cautiously shared that the possibility was "very real" for that to happen and continue telling "Mando" stories. "It's an interesting way to think about it. I tend to think, as we've been working on 'The Mandalorian' and then writing 'Ahsoka,' and then Jon Watts came in with 'Skeleton Crew,' there is an entire time period that is post-'Return of the Jedi,'" Filoni explained. "And I look at that time period, which before 'The Force Awakens,' is around 30 years of time. When you look at the original trilogy, it's a much less significant amount of time that those three movies take place in. And so, what I like is that we're really building very slowly an ecosystem of characters and politics and events in the post-'Return of the Jedi' time period. And that may or may not expand in a bigger way as we add more shows to it and add more characters to it."
And should that "big event" happen that needs to bring some major firepower together, Filoni reassures everyone that there are whiteboards in play, making sure timelines & storylines are kept straight. "The good thing is that we're all talking creatively together about where these stories are all going. And I love whiteboards, and I whiteboard everything and have timelines," Filoni added. "They always start back with 'The Phantom Menace,' and they always go out to 'The Rise of Skywalker.' I have all these slots in between where everybody's doing everything, so I can look at it all and commiserate with Kathy on what's going on here, what's going on there? It's very fun."