Altered Carbon Season 1, Episode 4 Recap: Force of Evil
This article contains spoilers for Altered Carbon episode 4 – Force of Evil.
.
.
.
.
.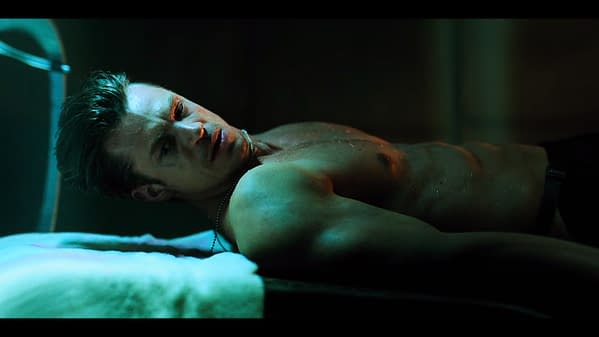 Having recently read the novel, I was anticipating this episode and how it might be very uncomfortable to watch. Kovacs (Joel Kinnaman) is captured and taking to a clinic where they do virtual torture. He is then confronted by Dimitri the Twin (Tahmoh Penikett), the guy who attacked Kovacs at the Raven. Dimitri double sleeves (copies his stack into two bodies at once), hence the nickname. But when doubled, they don't share memories going forward, so he wants to know what Kovacs killed the other Dimitri… except this one thinks Kovacs is a former cop named Riker. Dimitri goes through a long and sorted parade of tortures trying to break Kovacs. Meanwhile in the flashbacks we see Quell (Renée Elise Goldsberry) trying to teach the Envoys how to survive virtual torture and she foces on Kovacs (Will Yun Lee) specifically because he was part of a group that had tortured a friend of hers. Original Kovacs eventually figures out how to control the scenario and turns it against her because of her feelings for him. We see Modern Kovacs wait for his opening, stop his own heart to force them to bring him out of the virtual and then scare the hell out of the techs until they free him, where he grabs his gun and kills everyone around him including Dimitri, taking his head and stack with him.
To offset the intense torture scenes we get to see Ortega (Martha Higareda) celebrate the Day of the Dead with her family and she puts her grandmother into a gang-bangers body so she can come home for the dinner. Though her mother, Alazne (Marlene Forte) is catholic and doesn't believe in re-sleeving, her Abuela (Matt Biedel) renounced Catholicism before she died and enjoyed being brought back for the dinner and to see her family. It is one of the funnier moments as the older woman is running around as a large, bald man covered in tattoos. At once point she gets the children laughing as she yells out from the bathroom that she is peeing standing up.
And just so you don't forget them, Poe (Chris Conner) helps Vernon (Ato Essandoh) find Kovacs, but he arrives just as the Envoy is walking out of the building covered in blood. Ortega and Abboud (Waleed Zuaiter) are called to the scene and she is stunned to see the carnage and learn that Kovac found the tracker she placed on him… it was in the signal filter she gave him in the first episode. Ortega goes to confront Kovacs, but he turns the table on her. He realizes that she was onto him before she knew who he was, meaning it was the sleeve she was following. He threatens to harm the sleeve until she tells him who Riker is… she is about to explain as the episode ends.
This could've been an extremely intense episode if they'd done the torture as it appeared in the book. Kovacs is taken out of his Riker body and put into a young woman's body with no enhancements. He is then tortured over and over again in this body until it gives out, then he's put into a new body and the process is repeated. I can see two reasons why they changed it. One was to tone down the torture a bit and two him getting back into the Riker body was a bit convoluted in the book which is eliminated here. The Day of the Dead dinner is completely made up for the series but helps drive the religious aspect that is an important but under served aspect of the novel. The addition here helps expand on Ortega's character, the effect re-sleeving has on religious people and gives some humorous beats to what could've been a rough episode.
Back to the binge.