The Twelve Days of 'Sunny': Season 6, Episode 13 'A Very Sunny Christmas' (Day #6)
On The Sixth Day of 'Sunny,' The Gang from Paddy's gave to me…
…six stolen Omnibots…
…FIIIIIIIIIVE INCH WOUND ON CRICKET'S NECK!
Four times Charlie lost it…
…three huffs of spray paint…
…two months community service…
…and Dee Reynolds in a pear tree!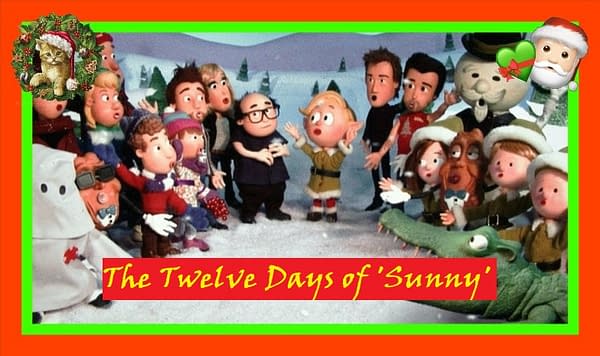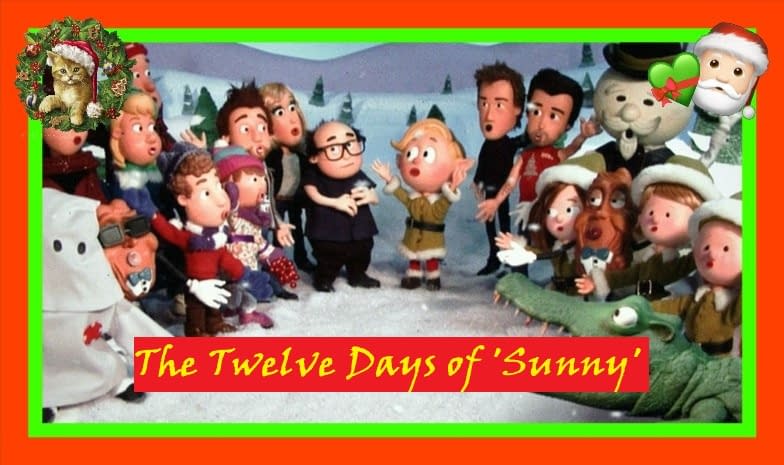 For the past thirteen years and thirteen seasons, The Gang from Paddy's Pub–Charlie (Charlie Day), Mac (Rob McElhenney), Dee (Kaitlin Olson), Frank (Danny DeVito), and Dennis (Glenn Howerton) – have quietly turned FX/FXX's It's Always Sunny in Philadelphia into one of the most shocking, tasteless, and subversive sitcoms to ever hit the airwaves. It's also one of the best.
Because for nearly 1-1/2 decades, The Gang's put themselves on the frontlines of major social and political issues with all the satirical subtlety of a hand grenade–with Dennis, Dee, Charlie, Mac and Frank usually finding a way to blow themselves up in the process.
"We immediately escalate everything to a ten… somebody comes in with some preposterous plan or idea, then all of a sudden everyone's on the gas, nobody's on the brakes, nobody's thinking, everyone's just talking over each other with one idiotic idea after another! Until, finally, we find ourselves in a situation where we've broken into somebody's house – and the homeowner is home!"

– Dennis (s07e09 'The Gang Gets Trapped')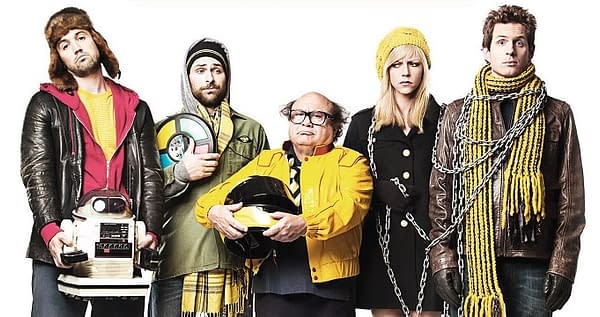 So with the holidays being a time to spend wih family and friends, the fine folks at Bleeding Cool are honoring South Philly's favorite sons (and daughter) with a rundown of our 12 favorite It's Always Sunny in Philadelphia episodes–one per season (sorry, season 13: you're sitting this one out until next year) – with "The Big Present" on Christmas Day as we crown an overall champ – and dump a little coal in your stocking in the form of the worst It's Always Sunny in Philadelphia episode of the first 12 seasons (spoiler: it's probably holding the crown next year, too).
It's Always Sunny in Philadelphia s06e13 'A Very Sunny Christmas': While Mac and Charlie attempt to rediscover the spirit of Christmas for themselves, Dennis and Dee attempt to convince Frank to change his ways. Writer: Charlie Day & Rob McElhenney / Director: Fred Savage
Once again, I could rattle off a gaggle of reasons why this episode deserves to be at the top of the list: the flashbacks to The Gang when they were younger (DeVito with the bad dye job/wig alone is worth it); the revelation that Charlie's Mom (Lynne Marie Stewart) was a one-woman "Santa's Little Helper;" Dennis and Dee proving they don't really get the meaning of A Christmas Carol; Charlie probably killing that mall Santa and getting away with it; and Frank's Rudolph the Red Nose Reindeer/Frosty the Snowman-inspired claymation nightmare.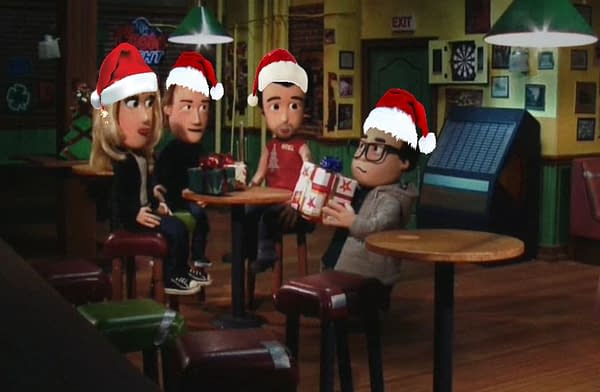 But instead, I'm sticking with Mac's journey…
Turns out Mac's "sweet holiday memories" of Christmas with the family were actually altered and repressed memories of robbing other families at Christmas. Mac's dad Luther (Gregory Scott Cummins) made that their annual "family tradition" and convinced Mac that's how the real Christmas worked: taking stuff from others while they're asleep. As anyone who's familiar with the show knows, this had to be some deeply ingrained s–t when it takes Charlie of all people to bring Mac back around to reality. So what do Mac And Charlie do when they feel like there's a "wrong" that needs to be righted? Oh, they'll right it…and sweet baby Jesus help anyone who gets in their way.
So let's just say that Mac's "road to salvation" involves returning a stolen Omnibot, a malicious, near-deadly encounter with a department store Santa, and convincing Ricky Falcone (American Gods' Pablo Schreiber) that his life's been a tragedy ever since his toy was stolen…whether Ricky wants to believe that or not.
Because Ricky soon realizes one thing we've grown to love and appreciate about Charlie, Mac, Dennis, Dee, and Frank – as he's yelling at them out of his bedroom window in the middle of the night: for these lovably narcissistic sociopaths, it's always about The Gang first. Even if it means caroling to people against their will in the middle of the night just to make themselves feel better…
But as the final scenes show us, as the rest of The Gang joins Charlie and Mac in a little rock-throwing holiday tradition, we get the biggest truth that shines out from this episode: turns out "family" isn't necessarily about those you're related to – but those you relate to.