American Dad!: Stan and Roger Seem a Little "Tense" in TBS Season Trailer
After a slightly-longer-than-fans-were-expecting hiatus, TBS is giving us a sneak preview of the new season of American Dad. As if that wasn't good enough, the cable giant also announced the new season's return date: Monday, February 11, at 10 p.m.ET/PT. Created by Seth MacFarlane, Mike Barker, and Matt Weitzman, the nearly twenty-year-old series is executive-produced by co-showrunner Brian Boyle alongside MacFarlane and Weitzman.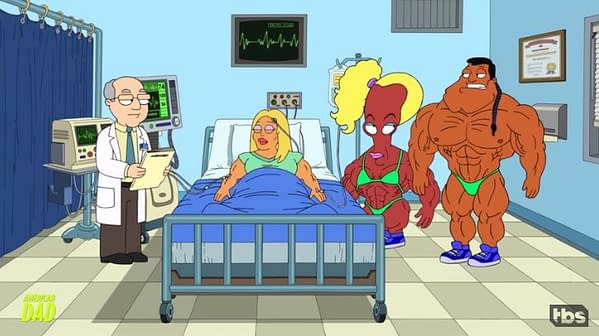 While the teaser below doesn't yet give us a sense of what exactly the entire season will target topic-wise (probably get an official trailer in two weeks), we can see that at least one of the storylines finds Stan, Francine, and Roger caught up in the "dark web" of professional body-building. Between Francine's aneurysm, Stan's inability to turn off his "pose mode," and Roger's bout of 'roid rage, you'll see why the doctor's question at the end of this teaser makes sense:
American Dad! centers on super patriotic CIA agent Stan Smith (voiced by Seth MacFarlane) and the misadventures of his unconventional family in Langley Falls, VA. Stan applies the same drastic measures used in his job at the CIA to his home life, where Stan's blissfully unaware wife, Francine (Wendy Schaal), has an unfaltering loyalty that makes her blind to his unabashed arrogance.

His left-wing activist daughter Hayley (Rachael MacFarlane), however, doesn't let him off so easily – and knows just how to push her father's buttons. Hayley's brother is the geeky-yet-confident Steve (Scott Grimes), a kid who spends his time playing video games and obsessing about the opposite sex.

The Smith cabinet is rounded out by two rather unconventional members: Roger (MacFarlane), a sassy, sarcastic and routinely inappropriate space alien, and Klaus (Dee Bradley Baker), an attention-starved goldfish with the brain of a German Olympic skier.
American Dad premiered on FOX in 2005 before a move to basic cable with TBS in 2014, where it's been a major player for the network: the first half of the season reached 12 million viewers across linear, video on-demand, and TBD digital platforms.