American Gods, Heels & More: STARZ Offers a Look at 2021 & Beyond
One of the best things about this time of the year is that we can expect the broadcasters, cable networks, and streaming services to offer their "Best of 2020" year-in-review videos. Is it because we're nostalgic for a look back at the year that's been? Nope. Not at all. Especially not this year. No, we like those clips because they almost always include a sneak preview of what's in store for the next year and beyond. Perfect example? STARZ, who released their version on Sunday that not only offers viewers a number of looks at the third season of American Gods but also officially lists the Stephen Amell (Arrow) and Alexander Ludwig (Vikings)-starring indy wrestling-set series Heels. In addition, we grabbed two screencaps of what was shown, one of Ludwig and one of Amell. We're assuming they're from the series, but sometimes footage gets used as background filler so take with an arched brow.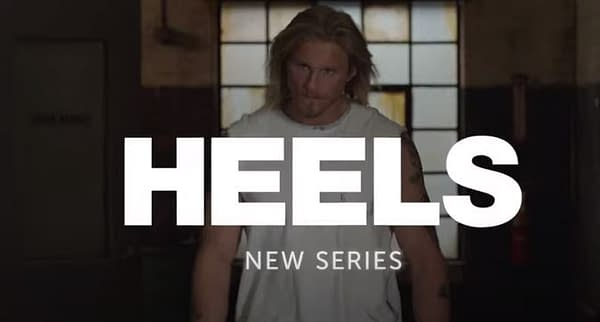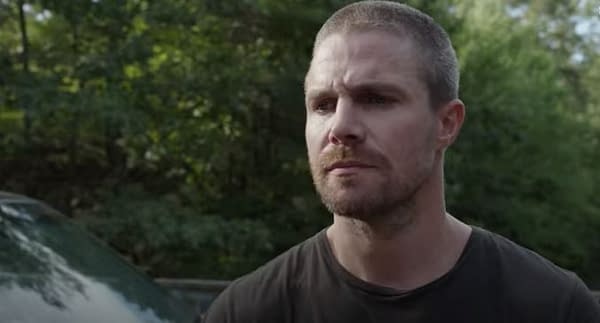 Here's a look at the full clip, which begins with a look back at STARZ's programming year before offering viewers a look at what's on the horizon. Along with Heels and American Gods, the cable network also has The Girlfriend Experience, Confronting a Serial Killer, Men in Kilts, Hightown, Blindspotting, Power Book III: Kanan, Power Book IV: Force, and Run the World– as you're about to see:
Here's a look back at the official trailer for the third season of American Gods– with the series set to return to STARZ on Sunday, January 10, 2021:
"American Gods" is the epic story of an inevitable war building between the Old Gods of mythology and our New Gods of technology. Whittle stars as ex-con Shadow Moon, a man pulled into the service of the mysterious Mr. Wednesday, played by Ian McShane ("Deadwood", John Wick) — only to discover that not only is his charismatic but un-trustable boss actually the Norse All-Father god Odin, he's also…Shadow's father.

In Season Three, Shadow angrily pushes this apparent destiny away and settles in the idyllic snowy town of Lakeside, Wisconsin — to make his own path, guided by the gods of his Black ancestors, the Orishas. But he'll soon discover that this town's still waters run deep, and dark, and bloody, and that you don't get to simply reject being a god. The only choice — and a choice you have to make — is what kind of god you're going to be.
STARZ'S American Gods stars Ricky Whittle (The 100, Austenland) as 'Shadow Moon,' Ian McShane (Deadwood, Ray Donovan) as Mr. Wednesday, Emily Browning (Sucker Punch, The Affair) as Laura Moon, Yetide Badaki (Aquarius, This Is Us) as Bilquis, Bruce Langley (Deadly Waters) as Technical Boy, Omid Abtahi (The Mandalorian, Damien) as Salim, Ashley Reyes (Night Has Settled) as Cordelia, Crispin Glover (Back to the Future) as World, Demore Barnes (12 Monkeys, Waco) as Mr. Ibis, Devery Jacobs (Cardinal, The Order) as Sam Black Crow, and Blythe Danner (Huff, Will & Grace) as Demeter.
The series also stars Marilyn Manson (Salem, Sons of Anarchy) as Johan Wengren, Julia Sweeney (Shrill, Saturday Night Live) as Hinzelmann, Iwan Rheon (Game of Thrones, InHumans) as Liam Doyle, Danny Trejo (Machete) as World, Peter Stormare (Fargo, Prison Break) as Czernobog, Denis O'Hare (True Blood, Dallas Buyers Club) as Tyr, Lela Loren (Power, Altered Carbon) as Marguerite Olsen, Dominique Jackson (Pose) as World, Wale (American Honey, Godfather of Harlem) as Chango, Herizen Guardiola (The Get Down) as Oshun, and Eric Johnson (The Girlfriend Experience, Vikings) as Chad Mulligan.

In Heels, the focus is on the men and women who chase their dreams in the world of small-town pro wrestling. Set in a close-knit Georgia community, it follows a family-owned wrestling promotion as two brothers and rivals — Jack Spade (Amell) and Ace Spade (Ludwig) — war over their late father's legacy. In the ring, somebody must play the good guy and somebody must play their nemesis, the heel. But in the real world, those characters can be hard to live up to — or hard to leave behind.
In the ring, Amell's Jack Spade is the charismatic villain, or heel, of the Duffy Wrestling Association (DWA). In the real world, he's its hard-working owner, a husband, and father trying to make ends meet while fighting to realize his impossible dreams. He has the mind of an artist in the body of a warrior, and a Steve Jobs-ian need for perfection — and for control. He says he'll do whatever it takes to build the DWA into an empire. Will he go so far as to risk his marriage – or his relationship with his brother, Ace?
Ludwig's Ace Spade is the beloved hero and star of the DWA. Things are more difficult in the real world, where he struggles to reconcile his town idol status with his insecurities and demons. He's brash, cocky, and self-destructive — yet so damn charming and good-looking that you can almost forgive him. If he can keep it together, he'll have a ticket out of Duffy and to the big time. But that's a big if…
Written by Michael Waldron (Loki), directed by Peter Segal (Shameless), and with Mike O'Malley serving as showrunner, the series also stars Chris Bauer (For All Mankind), Kelli Berglund (Animal Kingdom), Broadway actress/musician Alison Luff, Allen Maldonado (The Last O.G.), James Harrison (S.W.A.T.), and Mary McCormack (The Kids Are Alright). Waldron and O'Malley are also set to executive produce, alongside LBI Entertainment's Julie Yorn, Chris Donnelly, and Patrick Walmsley. STARZ and Lionsgate TV produce.