"American Horror Story: 1984" – "The Lady in White": Lily Rabe Channels Her Inner "Pamela Voorhees" [SPOILER REVIEW]
Combine our professional obsession with uber-creative genius Ryan Murphy (Glee, Pose, 9-1-1, Feud, and a billion more) with our love for 80's horror/slasher film, and it's easy to understand why we're excited for FX's American Horror Story: 1984. In fact, executive producer Tim Minear only confirmed our excitement when he said this about the current season of Murphy and Brad Falchuk's horror anthology series American Horror Story:
"I think it's awesome. I think it's gonna be really scary but a lot of fun, like it always is. And that if you have a taste for '80s horror, you're in for a treat."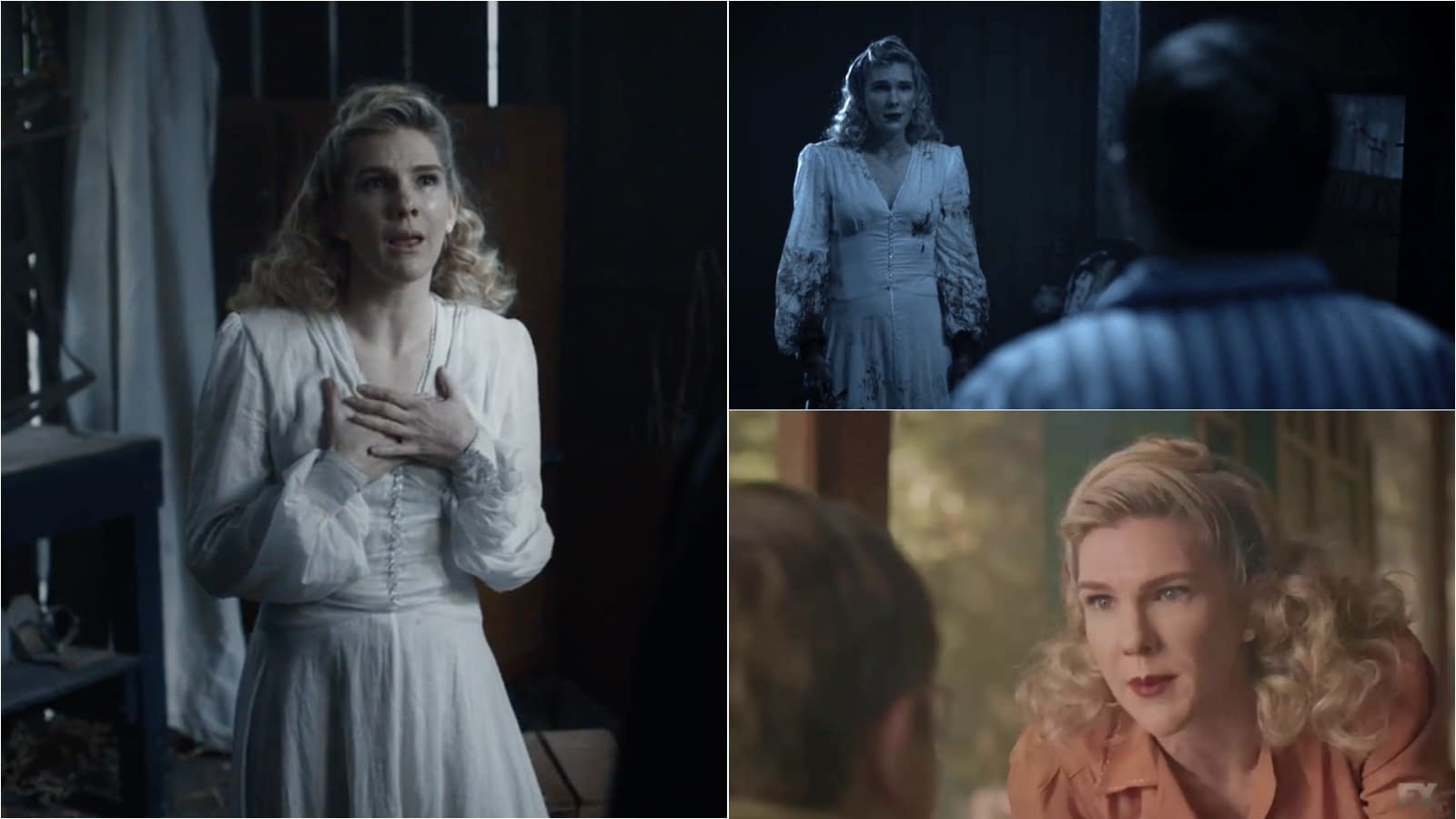 When we reviewed season opener "Camp Redwood," we made a connection to both Shaun of the Dead and The Cabin in the Woods when describing how the season's initial tone and vibe made us feel. Then "Slashdance" happened and… wow. We're talking false identities, double-crosses, hidden alliances, impalements, and our first major counselor death (sorry, Ray).
Last week's "True Killers" (our review here) was a fun frightfest that confirmed our worst suspicions about Margaret while actually starting to feel(???) for Richter/Mr. Jingles – and Trevor went RIP. "Red Dawn" got our brains back into "WTF?!?" conspiracy theory mode… and then "Episode 100" celebrated the franchise milestone with an episode that time-jumped to 1989 – and tied all nine seasons together.
Which brings us to the final-third of the season – three episodes to go, with all roads leading back to Camp Redwood for what looks like a righteous slaughter fest… beginning with "The Lady in White".
MAJOR SPOILERS headed your way…
"American Horror Story: 1984" season 9, episode 7 "The Lady in White": A hidden chapter of Camp Redwood is revealed. The survivors help a stranded hitchhiker. Written by John Gray; directed by Liz Friedlander.
"Blood is thicker than water."
If you had any doubt about the scientific accuracy of that statement, you need look no further than the 12, 287 gallons of the stuff American Horror Story: 1984 has spilled over the past seven episodes.
Yes… we know… "But it's fake blood, Ray!"… just play along….
In the "Murphyverse", the saying has more literal importance than metaphorical. When it comes to the concept of "family", Murphy has made it a point time and again of showing that our "mothers" and "fathers" and "sisters" and "brothers" don't have to share our genes to share that familial bond. In fact, "blood relations" in Murphy's hands tend to result in pain, regret, and abuse – a trifecta of suffering that ends up driving that person or those individuals into the arms of their true "family" – even if said "family" is barely the lesser of two evils.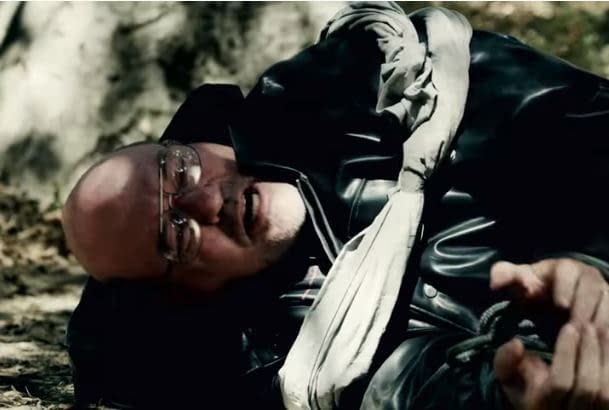 Looking over Murphy's filmography, we see examples of this theme going back to Popular and Nip/Tuck, through current series 9-1-1 and Pose, and including new as well as upcoming series such as The Politician and Hollywood. Within the AHS universe, you would be hard-pressed to find a season that didn't redefine the family dynamic – from cults and covens to freak shows and asylum mates.
Which brings us to AHS: 1984, where the theme's heart beats as strong as ever, from the comraderie of the camp counsellors and Margaret's (Leslie Grossman) screwed-up "insta-family" of Travis (Matthew Morrrison) and Courtney (Leslie Jordan) to Brooke (Emma Roberts) and Donna's (Angelica Ross) night out at the roller rink. Even Richter/"Mr. Jingles" (John Caroll Lynch) formed a twisted kind of "nuclear family" with Ramirez (Zach Villa) after escaping Camp Redwood… at least for a little while.
But the true heart of "The Lady in White" is the woman in question in the title: Richter's mother Lavinia Richter (guest star Lily Rabb). A chef at Camp Golden Star (pre-Camp Redwood) in 1948, Lavinia is protective of her one son Bobby – at the expense of young Richter. When Bobby asks their mother if he and Richter can go to the lake, Lavinia agrees – but swears Richter to keep a watch on his brother and not let him out of his sight.
Needless to say, he stops keeping an eye on his brother and lets him out of his sight.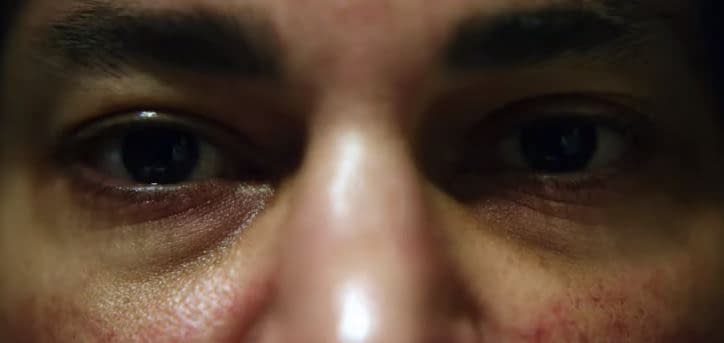 When the dust settles, Bobby is dead – victim of a horrific boat accident by the dock – and Lavinia is cursing Richter and the camp counsellors for her son's death. From there, Lavinia goes Friday the 13th/Pamela Voorhees on the counsellors – and almost on Richter, who's forced to kill his own mother.
Except she didn't technically die: she's pretty much the place's "big bad" who even scares the living Hell out of the dead counsellors and visitors cursed to roam the grounds. When she's not doing that, she's whispering in Margaret's ear to convince her to pull off a "sequel" to her slaughterfest – and she obliges.
From there, Richter's life begins an endless downward spiral of horror, loss, and regret. His mother's lust for revenge against the man she blames for her son's death was so strong that it blinded her to the man in front of her who is also her son – and who mourns the loss of his brother.
And that's what my biggest takeaway was from this chapter: Rabe offered us an understanding of Lavinia's rage in a way that will have us watching the original Friday the 13th differently from this point, forward. Rabb – along with some brilliant writing from John Gray and a sharp directorial effort from Liz Friedlander – never asks us to side with Lavinia. But they do ask us to understand her – to step in her shoes and see what life was like for a woman on her own in the late 1940's. Again, not excuses but context – something that has helped this season be both a bloody fun homage to 80's slasher-horror and something more.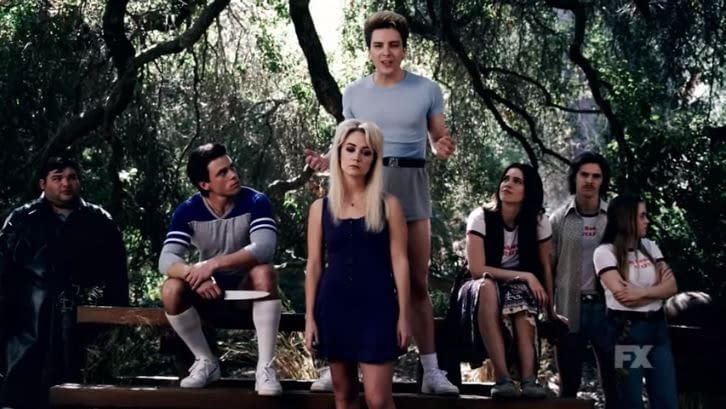 Interestingly enough, by the end of the episode it seems like the complete destuction of Lavinia and Richter's "real" family dynamic might be the one thing that can help Richter "save the day", so to speak. Once Richter finds a way to quiet Lavinia's rage – even for just a moment – he relates to her the pain he's felt over the loss and his guilt. In doing so, he tells Lavinia he named his son (her grandson) after Bobby, and it almost seemed in that moment that Lavinia saw Richter as her son for the first time – even if she lost him a long time ago.
So by the time Lavinia convinces Richter that he needs to shuffle off this mortal coil by his own hand if he wants to take down Ramirez, we realize that it no longer comes from a place of rage and revenge. Lavinia becomes a mother making the best with what she has in the time she has – she may not see it as atoning for "past sins" but there is that moment of connection she feels with Richter. She sees that his life is pretty much over – but sees a soul in him that might still be worth saving.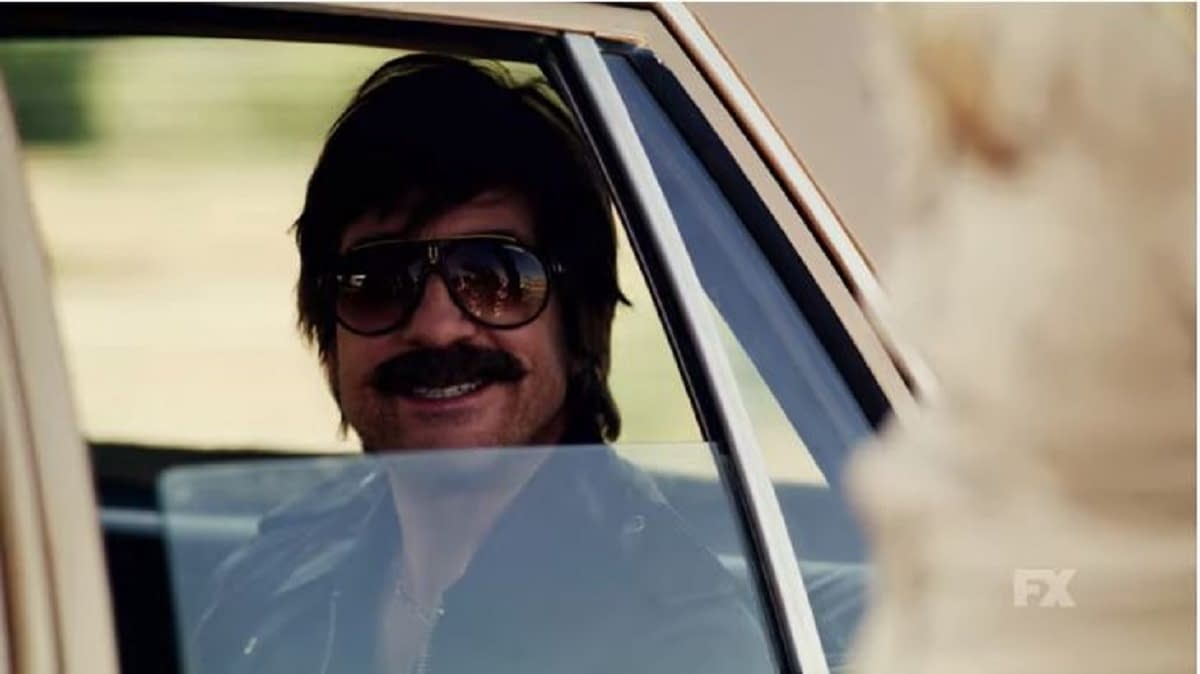 ● Let me just say for the record that as bloody as Montana's (Billie Lourd) plan sounds, killing that many people in that manner would definitely unleash any and every person who has a flashlight and considers themselves a "paranormal investigator".
● Who knew the dude from The Practice could do evil and vile so well? Dylan McDermott's murderous hitchhiker "Bruce" reminded us once again why McDermott remains an MVP in Murphy's AHS ensemble.
● Rabb and Lynch's time together on screen is amazing to watch – a lethal give-and-take between two skilled actors who continued to elevate each other's performances. A genuine "master class" in hate, heartbreak, and an odd sense of hope.
● Yup, you heard and saw that right: Ramirez killed this British new wave pop group:
● Murphy already dropped a tip that there might big a big clue to the tenth season's theme in next episode "Rest in Pieces" – here's a look at the trailer:
"American Horror Story: 1984" season 9, episode 8 "Rest in Pieces": A deadly trio emerges, hell-bent on unleashing a new era at Camp Redwood. Our former counselors desperately try to keep history from repeating itself. Directed by Gwyneth Horder-Payton and written by Adam Penn.

https://youtu.be/9wcEiFIM3mM
In case you're like us and you need to see it for the 166th time, here's a chance to see the cast in all their '80's slasher-film-audition glory:
American Horror Story: 1984 stars Emma Roberts (Brooke), Billie Lourd (Montana), Cody Fern (Xavier), Angelica Ross (Nurse Rita/Donna Chambers), Leslie Grossman (Margaret), John Carroll Lynch (Benjamin "Mr. Jingles" Richter), Gus Kenworthy (Chet), Glee's Matthew Morrison (Trevor), DeRon Horton (Ray), Zach Villa ("The Night Strangler" Richard Ramirez), Alhan Bilal (Jamie), and Tara Karsian (Chef Bertie).
FX's American Horror Story: 1984 slashes its way onto our screens every Wednesday at 10 p.m. EDT.