Fans eager for Arrow to return will be happy that the show will be back on March 1st with an episode called 'Collision Course' involving the original Team Arrow and new Team Arrow going head-to-head and we find out what's up with Earth-2 Laurel Lance (Katie Cassidy). Then on March 8th we get the return of Roy Harper (Colton Haynes), in an episode called Doppelgänger. This is the first of a short, multi-episode arc for the character that will have a dramatic effect on him and Thea Queen (Willa Holland). But then the show is taking another night off.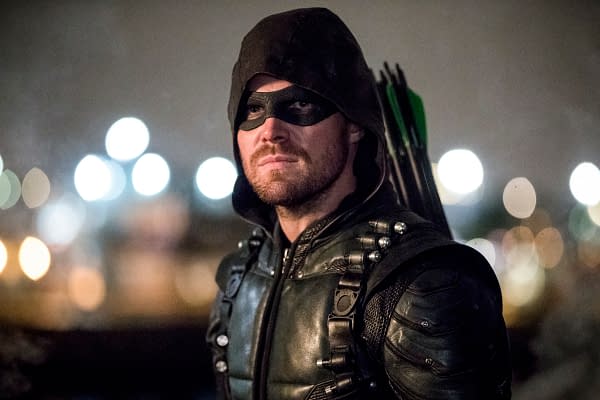 On March 15th, Supernatural is being replaced by something called Tough Mudder: Tougher Together. Following that special, the Arrow episode 'All For Nothing' will be re-aired. This will push the highly anticipated next episode back to March 22nd. 'The Thanatos Guild' features the return of Nyssa al Ghul (Katrina Law) as she comes back to Star City to warn Team Arrow about an approaching danger and someone who is extremely serious about protecting the Legacy of Malcolm Merlyn (John Barrowman).
The Arrowverse tends to be tightly scheduled so the series run somewhat on the same path so crossovers make sense, even ones as small as The Flash (Grant Gustin) speeding Green Arrow (Stephen Amell) and Spartan (David Ramsey) out to confront Cayden James (Michael Emerson). It only worked because two days earlier, the episode of The Flash had him getting out of prison. It may mean a re-run night for The Flash in the near future.
Enjoyed this article? Share it!