Arrow ended the first part of their sixth season with the team breaking up, leaving only the original three: Oliver (Stephen Amell), Felicity (Emily Bett Rickards), and Diggle (David Ramsey). This happened because it was discovered that Rene (Rick Gonzalez) agreed to testify against Oliver in order to get his daughter back. Curtis (Echo Kellum) and Dinah (Juliana Harkavy) left because of the distrust Oliver showed in them. Not the best moment all around, really. Mind you, this all happens just as Cayden James (Michael Emerson) has pulled his team together.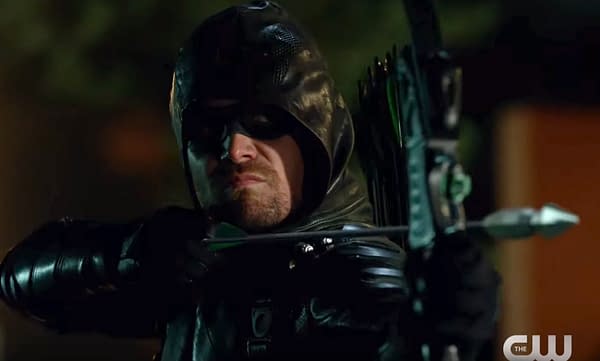 The trailer is an extended version of the one we got going into the hiatus. We see Oliver trying to deal with Cayden's team on his own, and when you come right down to it, he's still a badass. One quick clip has Black Siren (Katie Cassidy) proclaiming she's tired of people not killing Green Arrow when they have the chance, then a moment later we see her being silenced by a clothesline arrow wrapping around her throat. We also see that Diggle, who is not ready to get back into the field, is going to push to get the team back together. Oliver will, of course, be resistant, because he's Oliver. Looks like the team will be divided for at least another episode — maybe much longer.
Arrow returns from its mid-season break on January 18th at 9 p.m. on the CW.
https://youtu.be/SrxYQmnuOkE
Enjoyed this article? Share it!