Arrow Season 6: Roy Harper Returns, but Not by His Choice
A clip from tonight's new episode of Arrow shows Thea (Willa Holland) has suited back up to try to rescue Roy Harper (Colton Haynes). It's been a while since we've seen Roy, and word is he's back for a couple episode story arc that begins here. The character started off as a kid from the narrows who stole Thea's purse one day — she tracked him down, and he gave it back. The two became involved, and he was rescued by the Hood after being kidnapped.
He became obsessed with being like the Hood until Oliver finally agreed to train him. Before he got too far, he ended up being injected with Mirakuru and went a bit crazy. Once that got cleared from his system, he became Arsenal and worked with Team Arrow until he sacrificed himself in place of Oliver as the Arrow, going to jail and faking his death. He moved on to Bludhaven at one point to start fresh, even though he still loves Thea.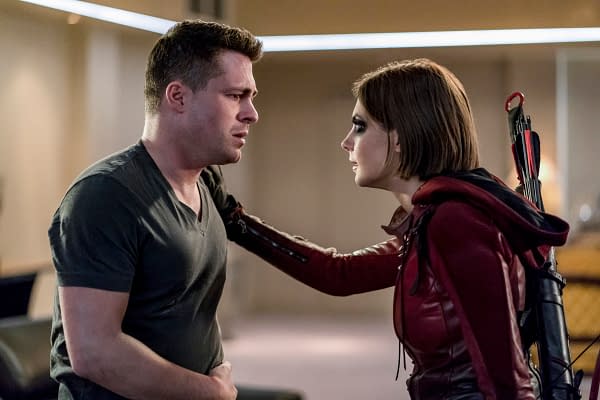 The clip below shows Roy being held hostage and it looks like he's been roughed up bad. He tells Thea that the Star City police came for him and knew everything. Since the new captain and D.A. work for Ricardo Diaz (Kirk Acevedo), this is probably part of the plan to take down Oliver (Stephen Amell). Thea tries to get him out of there, but the Star City SWAT show up and Green Arrow uses a bola line to pull her out but Roy is caught. I'm sure that's not going to go well with Thea.
Arrow airs tonight at 9 p.m. ET on the CW.