If you're headed down to SDCC this year and are a fan of any of the Warner Bros. Television series, here is the list of panels you'll need. From animated series like Young Justice and DC Superhero Girls to new series like Manifest and Castle Rock, and the classics like Arrow, The Flash, Riverdale, and Supernatural… this is the information you need.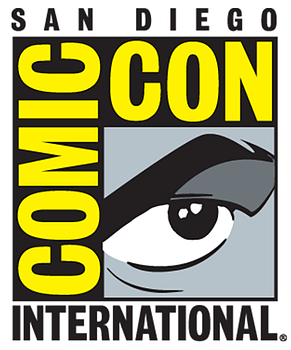 FRIDAY, JULY 20
10:00–11:00 a.m. Young Justice: Outsiders Special Video Presentation and Q&A — The fans have waited long enough and it's time for a first look at one of the most highly anticipated shows of the year. In Young Justice: Outsiders, the teenage Super Heroes of the DC Universe come of age in an animated world of super-powers, Super-Villains and super secrets. This time, the team faces its greatest challenge yet as it takes on meta-human trafficking and the terrifying threat it creates for a society caught in the crossfire of a genetic arms race spanning the globe and the galaxy. Join producers Greg Weisman, Brandon Vietti, art director Phil Bourassa, voice director Jamie Thomasson and members of the voice cast, Troy Baker and Stephaine Lemelin as they give you an inside look at what it means to be an outsider. Produced by Warner Bros. Animation, Young Justice: Outsiders is coming soon to the DC Universe digital streaming service. Room 6DE
10:15–11:15 a.m. Inside The Big Bang Theory Writers' Room — Join The Big Bang Theory writers and producers as they return to San Diego to take you inside the biggest moments of season eleven, and behind the scenes of television's smartest comedy! From the engagement to the wedding, and all the moments in-between, find out what goes into making the hit series each week, and how the writers keep things fresh after more than 250 episodes! Join the show's executive producers and writers as they take you inside the Writers' Room for a lively discussion and special video presentation. From Chuck Lorre Productions, Inc. in association with Warner Bros. Television, The Big Bang Theory returns for season 12 this fall, airing Thursdays at 8/7c on CBS. Ballroom 20‪
12:30-1:30 p.m. DC Super Hero Girls Special Video Presentation and Q&A –– The DC Super Hero Girls universe continues to expand with new original graphic novels Out of the Bottle and Search for Atlantis and an all-new animated action-comedy series featuring fresh character designs and storytelling from Emmy®–winning producer Lauren Faust (Super Best Friends Forever, My Little Pony: Friendship Is Magic, Foster's Home for Imaginary Friends). The world may know them as Wonder Woman, Supergirl and Batgirl, but not-so-typical teenagers Diana, Kara and Barbara, alongside their Super Hero friends have much more to deal with than just protecting the citizens of Metropolis from some of the most sinister school-aged Super-Villains of the DC Universe. After all, being teens is tough enough, what with school, friends, family and the chaos that comes with managing a social life. But add super powers and a secret identity to the mix, and things can get a lot more complicated. Join DC Group Editor Marie Javins for a sneak peek at upcoming books, and producer Lauren Faust and other members of the creative team for a first look at this upcoming series. DC Super Hero Girls is coming soon to Cartoon Network. Room 6DE.
12:45-2:00 p.m. World Premiere of Hulu's Castle Rock –– Escape the summer heat for a chilling world premiere screening of the first episode of J.J. Abrams and Stephen King's psychological horror series about the hometown of some of your favorite nightmares. You've read the books, you've seen the movies, you know the characters, but you've never heard the story of Castle Rock. Following the screening, join the creators and executive producers Sam Shaw and Dustin Thomason (Manhattan) along with stars Sissy Spacek (Carrie), Bill Skarsgard (It), Melanie Lynskey (Togetherness) and Jane Levy (Suburgatory) as they discuss the most tragic and disturbing town in America. Prepare to sleep with the lights on. From Bad Robot Productions in association with Warner Bros. Television, Castle Rock premieres Wednesday, July 25 on Hulu. Ballroom 20.
SATURDAY, JULY 21
10:00-11:00 a.m. Unikitty! New Episode Premiere and Q&A –– Your favorite character from The LEGO® Movie, Unikitty, is bringing her joyous kingdom to Comic-Con! Make sure to bring plenty of sparkle matter, positive vibes and all your questions as producers Lynn Wang and Ed Skudder, animation director Anna Hollingsworth and the voice cast, Tara Strong, Grey Griffin, Eric Bauza, H. Michael Croner, Roger Craig Smith will be there to share a brand-new episode and answer your questions. Produced by Warner Bros. Animation, Unikitty! airs Fridays at 6:30/5:30c on Cartoon Network. Room: 6DE
11:00–11:45 a.m. Black Lightning Special Video Presentation and Q&A — Jefferson Pierce (Cress Williams) made his choice: he hung up the suit and his secret identity years ago. But with crime and corruption spreading like wildfire, and those he cares about in the crosshairs of the menacing local gang The One Hundred, he must return as Black Lightning — to save not only his family, but also the soul of his community. Join series stars Cress Williams, China Anne McClain, Nafessa Williams, Christine Adams, Marvin "Krondon" Jones III, Damon Gupton and James Remar and producer Salim Akil for an electrifying look at season two! Based on the characters from DC, Black Lightning is from Berlanti Productions and Akil Productions, in association with Warner Bros. Television, with executive producers Greg Berlanti, Salim Akil & Mara Brock Akil, and Sarah Schechter. Black Lightning returns to The CW on Tuesday, October 9 at 9/8c. Ballroom 20.
‪12:00–12:50 p.m. SYFY Panel: Krypton Special Video Presentation and Q&A — After a mind-blowing season one finale that saw Krypton's history drastically rewritten, the future of Superman has never been in greater jeopardy. Join series stars and executive producers of SYFY's hit series as they discuss the many surprises of the first season and provide an inside look into what fans can expect in season two. From Warner Horizon Scripted Television and executive produced by David S. Goyer (Man of Steel, Batman v Superman: Dawn of Justice, The Dark Knight trilogy) through his Phantom Four banner, along with Cameron Welsh, Krypton is based on characters created by Jerry Siegel and Joe Shuster, published by DC. The series will return in 2019 on SYFY. Indigo Ballroom
1:00-2:00 p.m. Manifest Pilot Screening and Q&A –– When Montego Air Flight 828 landed safely in New York after a turbulent but routine flight, the crew and passengers were relieved. Yet in the span of those few hours, the world had aged five years and their friends, families and colleagues, after mourning their loss, had given up hope and moved on. Now, faced with the impossible, they're all given a second chance. But as their new realities become clear, a deeper mystery unfolds and some of the returned passengers soon realize they may be meant for something greater than they ever thought possible. Join executive producer Jeff Rake (The Mysteries of Laura, The Tomorrow People, Boston Legal, Miss Match, The Practice) and series stars Melissa Roxburgh (Valor, Diary of a Wimpy Kid movies), Josh Dallas (Once Upon a Time, Thor), for an emotionally rich, unexpected journey into a world grounded in hope, heart and destiny. Manifest premieres Monday, September 24, at 10/9c on NBC and is produced by Compari Entertainment in association with Warner Bros. Television. Indigo Ballroom
2:00–2:50 p.m. Legacies Exclusive Video Presentation and Q&A –– Continuing the tradition of The Vampire Diaries and The Originals, Legacies is the third installment of this supernatural series about witches, vampires and werewolves. The story follows 17-year-old Hope Mikaelson, daughter of Klaus Mikaelson along with Alaric Saltzman and his twins at the Salvatore School for the Young and Gifted as they come of age in the most unconventional way. Join executive producer Julie Plec and series stars Danielle Rose Russell and Matthew Davis for a special video presentation followed by a Q&A. From My So-Called Company, Alloy Entertainment, Warner Bros. Television and CBS Television Studios, Legacies premieres Thursday, October 25, at 9/8c on The CW. Indigo Ballroom.
3:30–4:15 p.m. Supergirl Special Video Presentation and Q&A — Season three saw Supergirl stop Reign and the other Worldkillers' threat to humanity and our planet, and in the process, Kara was shocked to find her mother Alura alive and living in a salvaged Argo City that survived the destruction of Krypton. Reconnecting with her past caused Kara to realize that her true home is now here on Earth, where big changes are taking place for her and all of her friends in National City – and also, it appears, for a doppelganger in Russia! Season four promises to be full of surprises, action, adventure and lots of big revelations for Supergirl, Alex, James, J'onn, Lena and Brainy. Join the series' cast, Melissa Benoist, Chyler Leigh, Mehcad Brooks, David Harewood, Katie McGrath and Jesse Rath and executive producers Robert Rovner, Jessica Queller and Sarah Schechter for a special video presentation, followed by a Q&A where they'll discuss what's to come and more! From Berlanti Productions in association with Warner Bros. Television, Supergirl's fourth season will premiere in its new Sunday 8/7c time period on The CW starting October 14. Ballroom 20
4:15–5:00 p.m. Arrow Special Video Presentation and Q&A — There has been no shortage of close calls for Oliver Queen when it comes to protecting his Super Hero identity, but in the season six finale, he was finally backed into a corner and forced to reveal himself to the world as the Green Arrow. Now, Oliver will come face-to-face with many of the criminals he placed behind bars, as he makes a new home for himself at Slabside Maximum Security Prison. Oliver will find himself vulnerable in a way unlike ever before when a mysterious new enemy begins to unravel his work as Green Arrow, challenging him to redeem his name or risk losing everything. Join series stars Stephen Amell, David Ramsey, Emily Bett Rickards, Katie Cassidy, Echo Kellum, Juliana Harkavy, Rick Gonzalez and Colton Haynes and executive producer Beth Schwartz at their annual Comic-Con panel to be among the first to learn more about what this means for Oliver and the rest of his team. From Bonanza Productions Inc. in association with Berlanti Productions and Warner Bros. Television, Arrow will return to The CW on Monday, October 15, at 8/7c. Ballroom 20
5:00–5:45 p.m. DC's Legends of Tomorrow Special Video Presentation and Q&A — After defeating Mallus by cuddling him to death with a giant stuffed animal named Beebo, the Legends were ready to ease off the gas. That was until Constantine arrived to inform them that, in solving one major problem, they have created another, much larger one. When the Legends let time crumble in order to release and defeat Mallus, the barrier between worlds softened. History is now infected with "Fugitives" – magical creatures from myths, fairytales, and legends. Having been expelled throughout time by people like Constantine, these Fugitives are now returning to our world in droves and making a real mess of things. So when all hell breaks loose, who ya gonna call? That's right, the Legends! Join the cast and creators of The CW's zaniest Super Hero series – stars Caity Lotz, Brandon Routh, Dominic Purcell, Nick Zano, Maisie Richardson-Sellers, Tala Ashe, Matt Ryan, Jes Macallan, Courtney Ford, showrunner Phil Klemmer and producer Keto Shimizu – at their annual Comic-Con panel for an in-person look at what makes this time-traveling crew tick. From Berlanti Productions in association with Warner Bros. Television, DC's Legends of Tomorrow will return to The CW on Monday, October 22 at 9/8c. Ballroom 20
5:45–6:30 p.m. The Flash Special Video Presentation and Q&A — Matching wits with The Thinker, who by season's end had harnessed the powers of all twelve bus metas he created, stretched Team Flash to their limits, but with the help of some new allies, Barry Allen (aka The Flash) and company were able to put a stop to the Enlightenment and save Central City once again. However, with the arrival of Barry and Iris' speedster daughter, Nora, who arrived from the future admitting to having made a "big mistake," things are anything but status quo. Will parenthood be the challenge that finally slows The Flash down? For answers to this, and all your other Season five questions, please join the cast and creators of The CW's highest-rated series – stars Grant Gustin, Jesse L. Martin, Tom Cavanagh, Candice Patton, Danielle Panabaker, Carlos Valdes, Hartley Sawyer, Jessica Parker Kennedy, Danielle Nicolet and executive producer Todd Helbing – at their annual Comic-Con panel. From Bonanza Productions Inc. in association with Berlanti Productions and Warner Bros. Television, The Flash will return to The CW on Tuesday, October 9 at 8/7c. Ballroom 20
SUNDAY, JULY 23
10:30–11:30 a.m. Supernatural Special Video Presentation and Q&A — Join the series' stars Jensen Ackles, Jared Padalecki, Misha Collins, Alexander Calvert and executive producers Robert Singer, Andrew Dabb, Eugenie Ross-Leming and Brad Buckner in Hall H to answer questions about the shocking events in last season's intense finale, as well as what's in store for the 14th season of this exciting series, when the show will reach the rare milestone of 300 episodes! Fans will also be treated to an exclusive video presentation featuring series highlights! The 14th season of Supernatural will return to The CW on Thursday, October 11 in its 8/7c time period. The series is produced by Kripke Enterprises Inc. in association with Warner Bros. Television. Supernatural: The Complete Thirteenth Season is available now on Digital, and will be released on Blu-ray™ and DVD on September 4. Hall H
11:45a.m.–12:45p.m. Riverdale Special Video Presentation and Q&A –– Following yet another drama-filled season and shocking season two finale, don't miss Riverdale when it returns to San Diego for its third appearance at Comic-Con – this time in Hall H! Join Archie and the gang as they continue to dive into the secrets that loom and keep emerging from the shadows in a town that once seemed like a quiet, ordinary place. The circumstances surrounding Archie's arrest kick off the drama of season three as the gang tries to #FreeArchie and Hiram Lodge continues to flesh out his plans to control not only Riverdale, but the ever growing SoDale. Based on the characters from Archie Comics and produced by Berlanti Productions (The Flash, Supergirl, Blindspot, Arrow, DC's Legends of Tomorrow) in association with Warner Bros. Television, this one-hour drama is a bold, subversive take on the surreality of small-town life. Join us for a special video presentation followed by a Q&A with series stars KJ Apa, Lili Reinhart, Camila Mendes, Cole Sprouse, Marisol Nichols, Madelaine Petsch, Ashleigh Murray, Mark Consuelos, Casey Cott, Skeet Ulrich, Mädchen Amick, Luke Perry and Vanessa Morgan and producers Roberto Aguirre-Sacasa, Sarah Schechter and Jon Goldwater. Riverdale's season three returns Wednesday, October 10 at 8/7c on The CW. Hall H
Enjoyed this article? Share it!