Astrid & Lilly Season 1 E10 Review: Monster-Hunters & Prom Battles
SYFY's Astrid & Lilly Save The World put on a school dance to remember as our favorite monster-hunting duo attend ready for their biggest battle yet against The Guardian. As per usual, here's your warning for spoilers being plentiful ahead for this episode.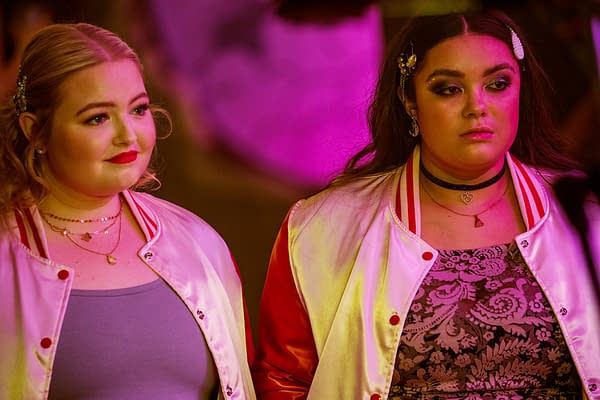 Astrid & Lilly Save The World has shown that Astrid and Lilly have grown so much as not only characters but also have done so in their roles as monster-hunters in the beginning of the episode. In order to truly stop The Guardian they end up needing to take away the "Master key" which acts as the monster's key and necklace all-in-one. I have to admit I love the dark scenes mixed with such casual lines, for example the half an arm being ingested by the big bad and then seeing the poor guy with half an arm just standing there. The Guardian is eating like he's set up at a renaissance fair for creepy youth pastors, meanwhile Christine continued to be the oblivious church lady and keep to the idea no harm could ever come to her or Candace.
(l-r) Michael McCreary as Eggs Walczak, Christina Orjalo as Valerie — (Photo by: Alex Stead/Blue Ice Pictures/SYFY)
(l-r) Jana Morrison as Astrid, Julia Doyle as Candace Powell — (Photo by: Alex Stead/Blue Ice Pictures/SYFY)
(l-r) Christina Orjalo as Valerie, Michael McCreary as Eggs Walczak — (Photo by: Alex Stead/Blue Ice Pictures/SYFY)
Valerie looks adorable and I was loving her wardrobe in this episode, as well as her and Eggs having an awkward but realistic interaction. I love his character's personality and how he works to better socialize with those he cares about, truly being able to shine in this episode. Speaking of interactions, my heart broke when Sparrow said to Astrid, "What do you want??" and "Why would I wanna talk to you?" as she and Lilly approached him and the other cultists in the school hallway. With observing Sparrow leaving and going to the church, Astrid and Lilly followed in order to find The Guardian early. Thinking he's asleep they approach him and the pendant necklace, but that dude is like a Furby, evil and always ready to strike or say creepy shit in a darkened basement.
Astrid & Lilly Save The World does a good job at call-backs to previous scenes in the season. For example, in this episode Astrid and Lilly are back on the library floor similar to the beginning of the season with Brutus popping up out of nowhere to talk about what's needed next. The difference here was Brutus appeared sad and uneasy. What would end up breaking my heart would be the care package/gift they gave to him. It's telling of the writing and the talented acting I've seen that I have become so attached to his character and the friendship he has had with the girls.
(l-r) Samantha Aucoin as Lilly, Jana Morrison as Astrid — (Photo by: Alex Stead/Blue Ice Pictures/SYFY)
(l-r) Kolton Stewart as Tate, Megan Hutchings as Michelle Knight — (Photo by: Alex Stead/Blue Ice Pictures/SYFY)
(l-r) Samantha Aucoin as Lilly, Julia Doyle as Candace Powell — (Photo by: Alex Stead/Blue Ice Pictures/SYFY)
What was fantastic was seeing how much obvious fun was had, like Lilly's impression of Michelle over the school speaker system or the bathroom meeting about defeating The Guardian. Both Astrid and Lilly looked beautiful and it was great to include a moment between them as they got ready in Lilly's room. I can't even begin to describe the love I have for their matching jackets, including the adorable one they gave to Brutus. With Brutus' reveal and confession about missing his love and needing to find her, the conflicting emotions came up in waves like they should with a loved character and the concept of betrayal.
Astrid & Lilly Save The World has their main characters balance each other out so well, pulling up one another from the ground and when they need each other's help. I felt for Candace standing up to her mom because it was so important, as well as giving Astrid a corsage. What she ended up going through later on was growth but also her mom coming to terms with her decisions and how her blind faith and self-absorption had gone in a deadly direction.
I adored the choice to have Frank Frick, our favorite science teacher, stand up against Michelle for Lilly Fortenberry being awarded the title of Prom Queen. What oddly made it even better was Tate revealing he voted for Lilly, making his character arch absolutely one of my favorites in the season. I of course began my ugly sobbing when Lilly and Candace started dancing together, because they're everything and I'm incredible queer.
During the whole ordeal with The Guardian, I started to see Christine's death as inevitable only when it became too late. I have mixed feelings on her death, I can see both pros and cons to how it affects the story going forward. What was most impactful was how Candace's body could tell something traumatic occurred in front of her yet she was frozen both in body and mind with others at the dance and unable to process anything. I believe the resolution to The Guardian as a threat was good and I'm happy they didn't resort to Brutus coming back to solve things for them. Brutus signing off his letters like Gossip Girl was something I cherish and still laugh about.
With resolutions comes heartbreak and coming together, it's what I saw with Candace seeing her mother's body and Sparrow coming back as himself again and reuniting with Astrid. Around the end of this season finale of Astrid & Lilly Save The World, some new powers have headed their way and Michelle is about to get much worse via a literally shocking possession scene. I've come to deeply love this show, both in how things are approached and what it means for television. I'm very happy with this season finale and the risks they took with both the storyline and their characters. Let me know in the comments what you thought!
Astrid & Lilly Save the World Season 1 Episode 10 "Guts"
---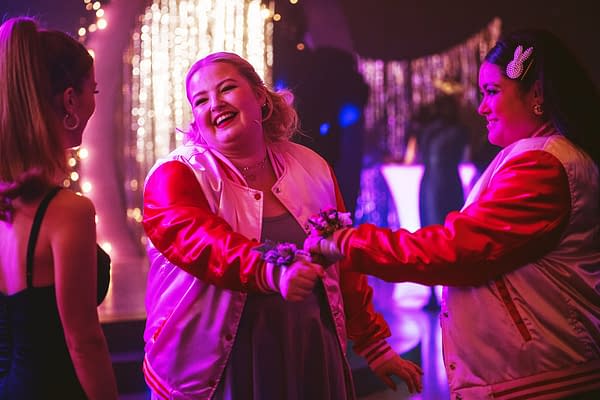 ---
SYFY's Astrid & Lilly Save The World S01E10 "Guts", brings together references from past episodes and works very well with the stories they've continued to the season finale. Characters have been thoroughly developed over the season to who they are in this episode, making it impossible to not want to witness what they become in another season.
Credits
---