'Batwoman': CW Releases Official Teaser for Ruby Rose-Starring DC Series
Greg Berlanti-produced, Ruby Rose-starrer Batwoman has officially received a series order and will join the CW's DCU line-up of The Flash, Supergirl, Black Lightning, and DC's Legends of Tomorrow (with Arrow ending its run in 2019-2020 with an abbreviated eighth season). Now we're getting our first official teaser for the series, which also stars Dougray Scott, Elizabeth Anweis, Meagan Tandy, Camrus Johnson, Nicole Kang, and Rachel Skarsten.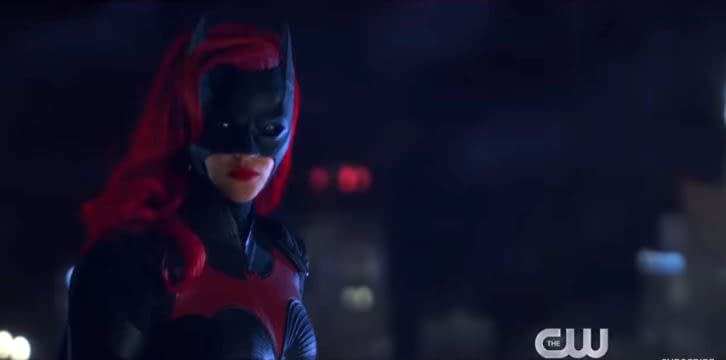 Written by series showrunner Caroline Dries and based on the DC Comics characters, the series marks the first gay lead character — male or female — of a live-action superhero series. Armed with a passion for social justice and a flair for speaking her mind, Kate Kane (Rose) soars onto the streets of Gotham as Batwoman, an out lesbian and highly trained street fighter primed to snuff out the failing city's criminal resurgence. But don't call her a hero yet. In a city desperate for a savior, Kate must overcome her own demons before embracing the call to be Gotham's symbol of hope.
https://youtu.be/CzNYUWX2eYY
Here's what we know about the new cast members:
Jacob Kane (Scott): A former military colonel with a chip on his shoulder for Batman, Jacob Kane now commands Gotham's private security firm The Crows, and has made it his mission to protect his city better than the Dark Knight ever could. But it's only a matter of time before his unwavering disdain for vigilantes puts him at odds with Gotham's new caped crusader…who also happens to be his own daughter.
Catherine Hamilton-Kane (Anweis): Kate Kane's step-mother. Catherine made her fortune as a savvy, bullheaded defense contractor, and all those billions position her as one of Gotham's most powerful residents. For Catherine, it's a matter of the bottom line: Batwoman is bad for business.
Sophie Moore (Tandy): After graduating from military academy, Sophie rose through the ranks to become a high-level private security agent and one of Gotham's staunchest protectors. Despite her bite and regimented outlook, Sophie has a soft side, illuminated by Kate Kane's return.
Luke Fox (Johnson): A Dark Knight loyalist and son of Wayne's R&D director Lucius Fox, Luke works to keep Wayne Tower secure in his boss's absence. While Luke considers himself the guardian of all things Batman — specifically his symbol — he also recognizes the city's need for a new hero.
Mary Hamilton (Kang): Excitable, talkative, and an influencer-in-the-making, Mary is Kate Kane's step-sister and polar opposite. But what Mary lacks in a filter, she makes up for with her compassion for Gotham's underserved communities, proving she has more in common with Kate than she thinks.
Alice (Skarsten): If Batwoman had a Joker, it would be Alice, the leader of her Lewis Carroll–inspired Wonderland Gang. Swinging unpredictably between maniacal and charming, Alice has made it her mission to undermine Gotham's sense of security.