Better Call Saul Season 5 Previews "Something Unforgivable" Coming
If anyone out there in AMC's Better Call Saul land was still wondering what Kim (Rhea Seehorn) was doing still trying to make a god of things in Jimmy's (Bob Odenkirk) new world as Saul Goodman, you need to look no further than last week's episode, "Bagman." Kim is a dangerous woman who is only now is just starting to realize just how dangerous she is. We've watched Kim "break bad" slowly over the course of four seasons, but this season decided to stop being subtle and instead show us a Kim who is second to no one when she's looking at them eye-to-eye (Jimmy's tied with her, no clear winner). When Lalo (Tony Dalton) realizes there are some raging questions surrounding Jimmy's story of how he got the bail money, Lalo pays the couple a visit with no good intentions (just ask the fish).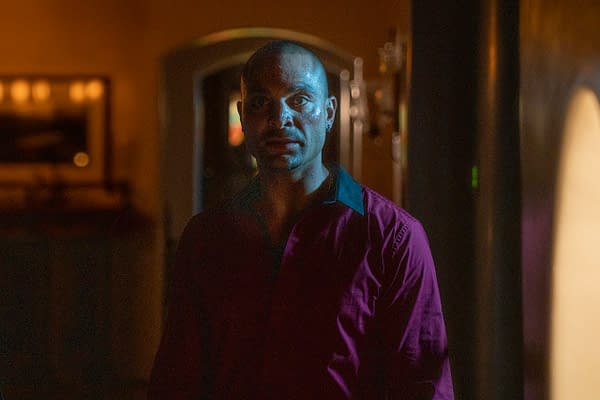 With Jimmy sweating bullets and Mike (Jonathan Banks) aiming his sniper rifle at Lalo, things looked like they were going to get very ugly, very quickly. Then Jimmy's clearly better half (at least in this situation) steps up, works the con, and actually makes Lalo feel bad (for only a hit second) for not trusting Jimmy after everything he went through to get Lalo's bail money. We can debate whether Lalo was convinced or intimidated, but Kim saved the day. Now what? With season finale "Something Unforgivable," Kim is looking to pro bono cases as she and Jimmy begin looking to the future. Unfortunately, we're not sure the concept of a "future" is in Nacho's (Michael Mando) future after Lalo invites him down to Mexico, as you're about to see in the following preview images (above and below) and promo clips that follow:
Better Call Saul season 5, episode 10 "Something Unforgivable": Jimmy and Kim make a sideways move that takes a serious turn; Nacho gets closer to the cartel. Directed by Peter Gould, and written by Gould and Ariel Levine.
Created by Vince Gilligan and Peter Gould, the fifth season of the critically acclaimed and award-winning drama Better Call Saul finds Jimmy's decision to practice law as "Saul Goodman" creating unexpected and profound waves of change throughout Albuquerque's legal and illegal circles. Kim finds herself at a crossroads as her connection with Jimmy deepens. Wracked with guilt and regret, Mike hits rock bottom. Meanwhile, Nacho tries to survive as Gus's covert war on the cartel becomes a life-and-death chess match with the mercurial and relentless Lalo. The long-running AMC series stars Bob Odenkirk as Jimmy McGill aka Saul Goodman aka Gene Takavic, Rhea Seehorn as Kim Wexler, Jonathan Banks as Mike Ehrmantraut, Patrick Fabian as Howard Hamlin, Michael Mando as Nacho Varga, Tony Dalton as Lalo Salamanca, and Giancarlo Esposito as Gus Fring.