'Big Little Lies' Season 2: Full Trailer Warns That Secrets Always Surface
Big Little Lies, HBO's prestige series based on the novel by Liane Moriarty, is returning for a second season on June 9th, and they have just revealed a new trailer. After an emotionally draining first season that culminated in the death of a Nicole Kidman's abusive husband (played by Alexander Skarsgård) this season the secrets are threatening to come out about the events surrounding his fatal fall from the finale. Joining the cast this year is Meryl Streep as his mother, looking for answers.
Check out the trailer below:
https://www.youtube.com/watch?v=eCWevZV945M
Season 2 picks up right from the end of the first, which was a huge hit for HBO when it aired in 2017. The series was nominated for a whopping 16 Emmy Awards, winning 8 of them, including Outstanding Limited Series and acting awards for Kidman, Laura Dern, and Skarsgård. It also won 4 Golden Globes, 2 Screen Actor Guild Awards, and was named one of AFI's Top 10 programs of the year. So, it has a lot to live up to this season. From the looks of it, it will answer the challenge.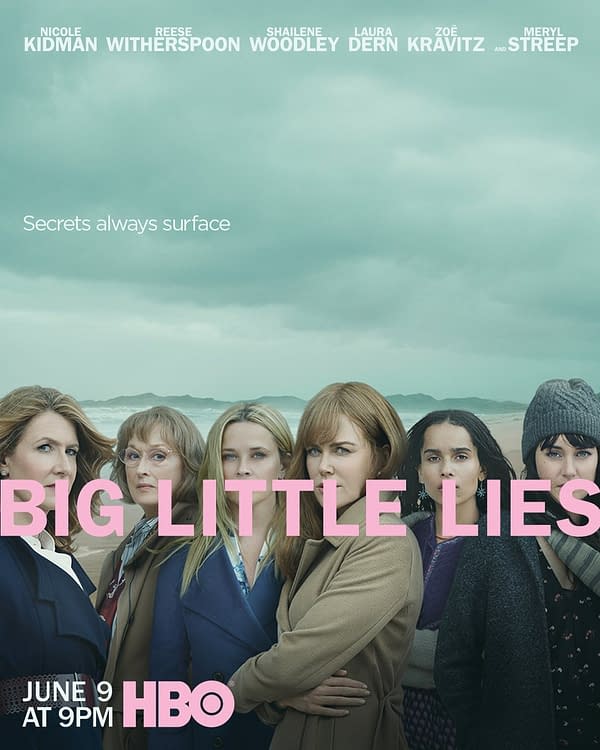 Big Little Lies Season 2, written by David E. Kelley and directed by Jean-Marc Vallée, stars Nicole Kidman, Reese Witherspoon, Shailene Woodley, Laura Dern, Zoe Kravitz, Meryl Streep, Adam Scott, Jeffery Nordling, James Tupper, Dennis O'Hare, and Crystal Fox debuts on HBO Sunday, June 9th at 9 PM.