We Spent Some Time Hanging Out With the Cast of Big Mouth at NYCC
by Amanda Gurall
Netflix's Big Mouth returned for a second season October 5th and we sat down with some of the talented cast at NYCC to discuss the show. Jason Mantzoukas, Jenni Slate, Nick Kroll, Jessi Klein and Fred Arminsen were all hilarious and sincere.
The first question seemed simple enough: What is it like working on the show?
Jason Mantzoukas answered, "This show is just like hanging out with your friends, making each other laugh. There's something truly delightful that a huge part of my year is spent with these dummies in a room saying very funny stuff. I'm so glad that that is the majority of my career, actually."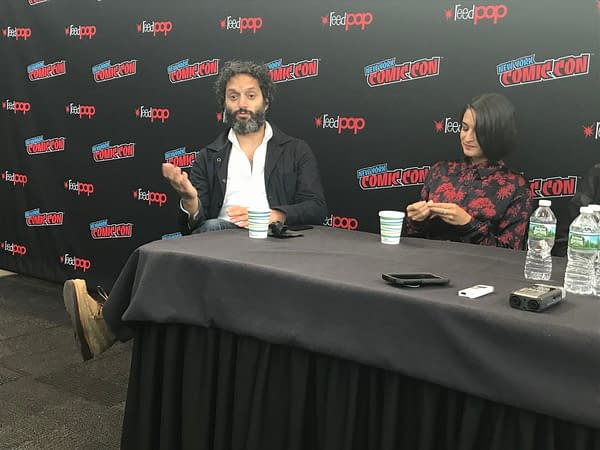 Jenni Slate added, "I feel exactly the same way. It's just a big…..big load of fun. Exploding in your face. Sometimes you think you're in love with the fun but it turns out you just wanted it that one time. It's really fun and thats all I have to say!"
Season two introduces the Shame Wizard voiced by David Thewlis and a girl who developed early, Gina, who is voiced by Gina Rodriguez. The shame wizard is the mortal enemy of the hormone monsters because he teaches the kids to know shame and to develop lower self esteem.
Fred Arminsen wanted to make sure we all check out Netflix sometime.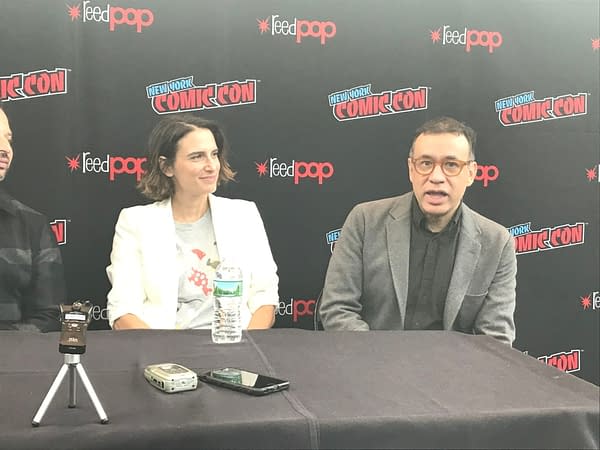 The graphic nature of the show sometimes walks the line between exploitation and positivity towards sex, puberty and body issues. One number from this season thats getting a lot of attention takes place in a Korean spa that Missy's mom has taken Missy (Jenny Slate) and Jessi (Jessi Glaser) and for those not familiar, nudity is required. The girls are shocked at both the different types of bodies they are seeing for the first time as well as the older women's confidence about their bodies. This could have been a cheap joke but Big Mouth decided to take on female body positivity when the Hormone Monstress (Maya Rudolph) breaks out in a song about accepting the different body types we see in animated glory.
Nick Kroll was asked about the scene and their intentions and responded, "We are celebrating all the different types of women's bodies in the song…that's what we are trying to do with the show which is to take some big swings, do some really raunchy dirty stuff and show these nude woman animated form. We are also saying these larger things about trying to get people to fall in love with their own bodies and who they are and what's happening to them to demystify a lot of that stuff."
Is there any subject that is off limits?
"No, I think the whole idea of the show is that we take things that seem to be off limits and find our way of telling the funniest, most truthful version of that. There have been certain jokes or visuals that you see and you're like- I don't know if I need to see a thermometer taken out of coach hormone monster's penis?"
I don't think we do either.