Black Lightning Season 1: Peter Gambi is Already Designing Thunder's Suit
They shows us the suit pretty early on, but never said when we'd see it. And while it may or may not debut during tonight's new Black Lightning, we know that Peter Gambi (James Remar) is already working on the designs for Anissa (Nafessa Williams) to suit up as Thunder. And since the clip below has Gambi talking with Lynn (Christine Adams) about the suit he's making and how it will keep Anissa safe, then it's a pretty easy bet that Lynn knows there is no stopping her daughter from becoming a superhero — and a latex body suit won't be enough to make sure she comes home at night.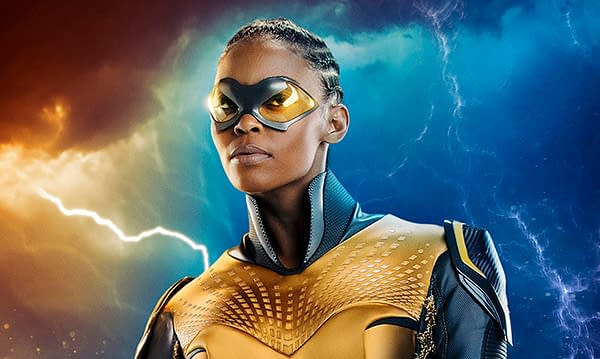 The vibe between Gambi and Lynn is lopsided. He seems to have no problem with her, while she seems to blame him for Jefferson (Cress Williams) being Black Lightning again. And while Gambi did facilitate the move by creating a new suit, it was the danger to his daughters that made Jefferson suit up again. I'm guessing there is a lot more to the animosity Lynn feels towards the tailor, but no idea how soon we'll find out what it is. And with Gambi, he has so many secrets that it could be anything.
Black Lightning airs tonight at 9 p.m. ET on the CW.
https://youtu.be/gIJuavxQ3Gk