Black Lightning Season 1, Episode 2 Recap: LaWanda the Book of Hope
This article contains spoilers for the Black Lightning season 1 episode – LaWanda: The Book of Hope.
.
.
.
.
.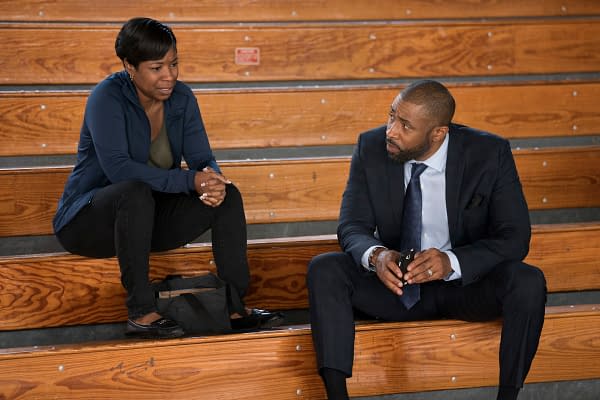 Black Lightning followed up it's strong premiere episode with an even stronger and emotional second outing. The episode picks up the same night with Jefferson (Cress Williams) going through a lot of pain from using his powers. It's not clear if this was the hits he took from the bad guys or something the electricity does to him, but from his Lynn's (Christine Adams) reaction, she has seen it many times before. Lynn says she feels guilty that she agreed with him suiting up again. They kiss and she stay the night… but he sleeps on the couch. The next day there is a meeting at the school and the parents are upset about the 100 just coming on the school and kidnapping people. We also here from one of his former students, LaWanda White (Tracy Bonner), whose own daughter is working at the Seahorse hotel for the 100 against her will but the cops can't do anything as the girls never press charges and just go back. LaWanda wants to know why Black Lighting saved Jefferson's girls and not her daughter.
With Lala (William Catlett) still on the street and Will (Dabier) in the wind, the police are watching the Pierce house when a kid comes up and shoots red paint on Jennifer (China Add McClain) as a message from Lala. Tobias (Marvin 'Krondon' Jones III) has motivated Lala to deal with the mess before he has to. Jefferson tries to speak to Lala, but that doesn't go well at all. Anissa (Nafessa Williams) is spending her time with her girlfriend Chenoa (Shein Mompremier) who she tries to talk to about what happened with the sink, but Chenoa brushes it off as an old sink and that Anissa needs to find a therapist to help her through this. We also see that their relationship is on a bit of an edge already. Jennifer on the other hand gets into a relationship with Kahlil (Jordan Calloway) who seems like a good kid and asks her what it's like to have seen Black Lightning. She explains that it actually hurts to look at him, like you're looking into a spotlight.
Lala's boys track down Will who bring him to their boss, and he shoots him. Then they go to dump the body. LaWanda sets up across from the Seahorse where she is taking video of everyone coming and going. Jefferson tries to talk her out of it, but she persists and when Lala shows up, she leaves her phone filming from her car while taking another camera with her to confront him. And he shoots her dead. Same boys go to dump her body but miss the camera in the car. Jefferson hears about LaWanda and it's one death too many. He tells Lynn that he can't live the fantasy that they might put their family back together. The he could've save her and many more. That the idea he's saved more lives as a principal is a lie. She tells him that it's the addiction to using his powers that is talking, but he says there is no addiction. That his powers are a gift from God and he should be using them. That Black Lightning is back.
Gambi (James Remar) finds Will's body before the police and tracks down where Lala lives. Black Lighting literally walks up to the building and the door man not only tells him which floor Lala is on, but he holds the door for him. He takes a few of Lala's goons out in the lobby, while a guy holds the elevator for him. But he passes, saying he will take the stairs as he needs the exercise. He fights thugs all the way up to the penthouse where he confronts Lala and is about to finish him off (maybe) when Inspector Henderson (Damon Gupton) arrives with a few officers. Black Lightning tells him it's been a while then leaps off the balcony and disappears. The cops found LaWanda's phone and Lala is going down.
Lynn goes to visit Gambi to ask him to help talk Jefferson out of being Black Lightning, but Gambi wants him out there bringing hope back to the city. These are the angel and devil on his shoulder, but which is which? Tobias arrives at the police station where he is allowed to just walk in and kill Lala. And we end with Anissa, not able to sleep, going to a 24-hour drug store which gets held up. When the guy tries to force her to the ground, she tosses him over two aisle and renders him unconscious.
The second episode has a lot of heart. We see how much Jefferson has been holding back because of his love for Lynn and his daughters. But now he chooses Freeland over his personal desires. Tobias' has been held back a bit in the first two episodes, allowing Lala to be the main bad guy, but now that he's out of the way I expect we'll see the character of Tobias more explored. Krondon brings a great presence to the character, now we just need to get to know him better. Cress Williams spends very little time in the costume this week and that is perfectly fine. At one point LaWanda asks Jefferson to go get her daughter, not Black Lighting, but the high school principal. She talked about how everyone felt he could do anything and that they called him Black Jesus. The strength of this show is what Jefferson Pierce can do and that Black Lightning is only a last resort.
The show continues to keep the time line close as next week deals with the community reaction to LaWanda's death and it looks like Tobias wants to deal with what he believes is a copycat Black Lightning.
https://youtu.be/AoTNdlzlX6o