Bob's Burgers Set to Serve Up Season 11 on FOX This Fall
Looks like Bob (H. Jon Benjamin) and the rest of the family will be working the grills of Bob's Burgers for another season, with FOX officially confirming the show's fall return on Monday with the release of the network's fall schedule. The series returns for its 11th season as part of a Sunday night animation block that also includes recently-renewed series Family Guy, The Simpsons, and Bless the Harts. In addition to Benjamin, the series features the voices of John Roberts, Kristen Schaal, Eugene Mirman, Dan Mintz, and Larry Murphy. Created and executive-produced by Loren Bouchard and Jim Dauterive, Bob's Burgers is produced by 20th Century Fox Television with Bento Box Entertainment as the animation studio. Nora Smith, Dan Fybel, Rich Rinaldi, Greg Thompson, and Jon Schroeder also serve as executive producers.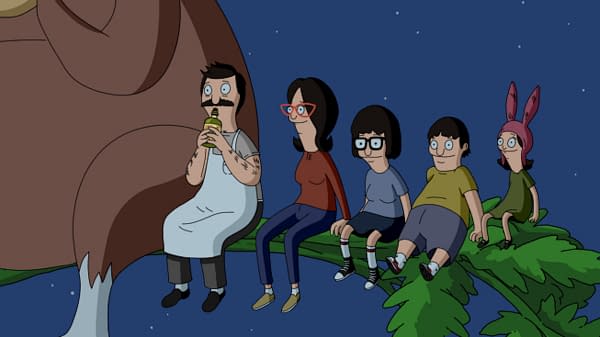 Speaking with Deadline Hollywood back in January, Fox Entertainment president Michael Thorn made it clear that Bob's Burgers has a long-term "lease" at the network: "Bob's Burgers is going to be on Fox for a long time". FOX has had a long-running relationship with animation, one that Thorn would like to see grow to include new content to complement the modern classics they currently have: "It's twofold –- it's part of our business and programming strategy but also preparing for that day (in which Fox says good-bye to The Simpsons, Family Guy and Bob's Burgers) whenever it comes".
Viewers should expect to see the network deepen its commitment to animation: "Animation is a key part of our business; we are really looking to growing our slate and potentially even adding another hour of animation on our schedule in a targeted section of the year. We are looking to take our legacy and build on it," he added. "Part of that is tied to our programming goals and our Fox Entertainment goals in terms of having an ownership stake in those animated series. When they work, they work extremely well financially as well."