"Brooklyn Nine-Nine": It's "Glitter Out" As Boyle Goes Poirot [REVIEW]
This week on NBC's Brooklyn Nine-Nine, Clue meets the Pink Panther as we are sucked into a plot so devious, so horrific, that hearts are broken, egos bruised, and evidence is compromised. Most important, J.K. Simmons guest stars as Dillman aka "Mr. Clean" – the best detective Captain Holt (Andre Braugher) has ever worked with. He interrogates, accuses, looks quickly and deeply into the souls of everyone at "The Nine-Nine," and within .02 seconds he knows every single thing about all of them as a person. And now without further ado, a whodunnit… or rather "Who has done this?"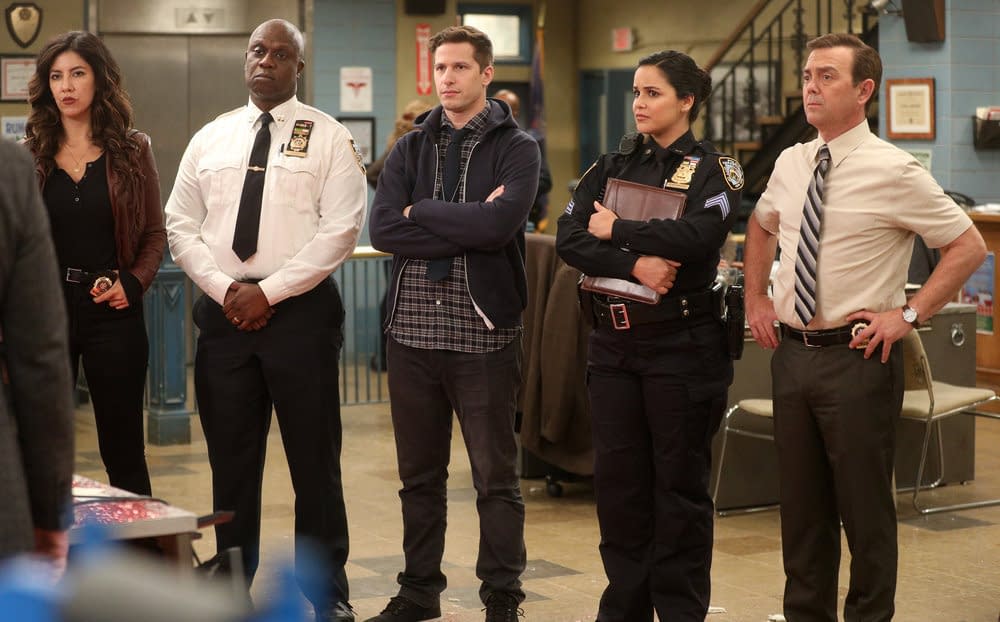 [rwp_box id="0"]
Jake (Andy Samberg) pleads his best case resume and all to Holt to try to get on the special task force that has like 12 different words that I can't begin to remember right now. In a nutshell, it's the "Emergency Investigation Unit Task Force" – but before Holt can decide an explosion rocks the precinct.
Windows are shattered, crimson everywhere, or rather Skully (Joel McKinnon Miller) covered in red glitter; why he remained a giant Christmas ornament for the duration of the investigation is beyond me but it's one of those little details that makes Brooklyn Nine-Nine such a funny show. Holt quickly calls in Dillman to get to the bottom of who planted the glitter bomb on Jake's desk that also damaged some evidence in the process.
Seven possible suspects, all with means and motive – so whodunnit? It was fun that this week had one plot focus and was refreshing to just indulge in the comedic anecdotes of the cast, and Jake's very competitive nature. Dillman interrogates the team with his stoic demeanor – the man is so brilliant he can even name the type of glitter; what a strange nonsense skill to have, turns out it's because he currently works at a Yarn Barn – did not see that coming and so utterly degrading and funny.
Jake tries his hardest to solve the mystery before Dillman but fails miserably, as does Dillman when he accuses Jake of orchestrating the whole thing to prove to Holt that he is the best candidate to get on special task force. Jake accuses Dillman who too wants to get on the task force and be let back in on the job, hating his current supervisor and Yarn Barn employment – cue Holt who is so disappointed at Dillman.
Out comes Boyle (Joe Lo Truglio) to the rescue, and quietly and logically solves the case. The perpetrator? Howard Booth, a street cop related to the evidence on Jake's desk. He orchestrated this entire op to damage the incriminating evidence. Kind of creepy that this guy knew so much about the crew and strategically and quite brilliantly planned this all out. He unfortunately gets arrested, and Holt appoints Boyle to the special task force.
Important Life Lessons:
● Always blame someone else whenever possible.
● Dillman will smoke you out – always.
● Good detective work is weird.
● Diaz is innocent.