Brooklyn 'Nine-Nine' Rang Through the Halls of SDCC18
Words and Photo courtesy of Bleeding Cool's Madeline Potts:
SDCC is all about the underdog. Yes, there's Marvel and DC and tons of other major networks. But at the core of all this, underneath the 30 ft. tall banners and huge installations are the fans. The fans that will do anything to see their favorite TV show renewed. So when Brooklyn Nine-Nine was canceled, fans were absolutely devastated. How could our favorite TV goofballs just disappear forever? In a Hail Mary like never before, NBC swooped in and gave the fans what they wanted, another season.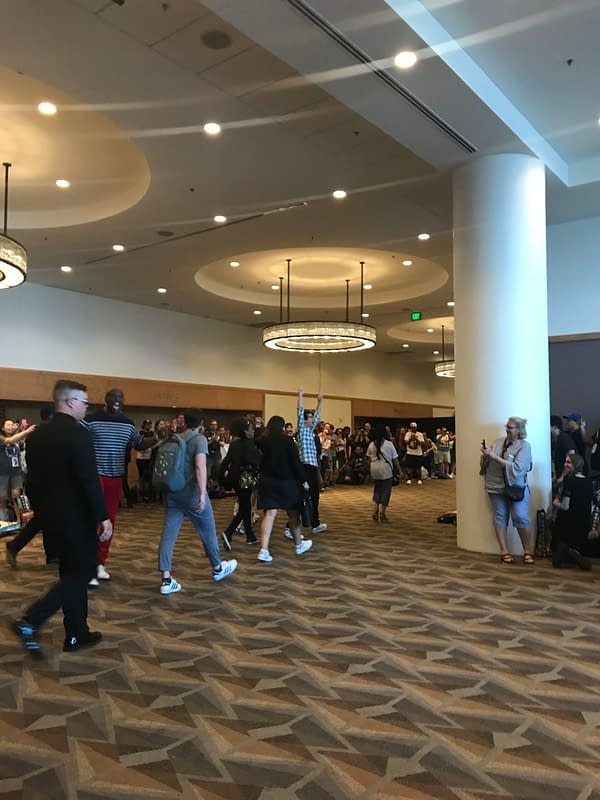 I, like, hundreds of other fans was unable to attend the panel. I stood outside of the indigo ballroom as we waited, hoping, that we would be able to see the Nine-Nine in real life. Fans, who had been waiting since the early afternoon, periodically shouted "NINE-NINE!" never giving up hope that they would get into the Indigo Ballroom.
So when the Nine-Nine themselves walked across the Indigo line; fans jumped to their feet, clapping, and of course shouting "Nine-Nine!" It felt like a win. Not just for B99 fans but for TV in general. The underdog finally had a panel at Comic-Con and enough fans that I'm sure they could've filled Hall H.