Chris Evans' desire to explore other acting ventures outweigh his need to suit up as Captain America for the Marvel Cinematic Universe. At the conclusion of Avengers: Endgame, Steve Rogers opted to enjoy his life after resetting items in their proper place than return to the present. His decision introduced an elderly version of the super-soldier passing his iconic vibranium shield to Sam Wilson/Falcon (Anthony Mackie) as his successor to the name.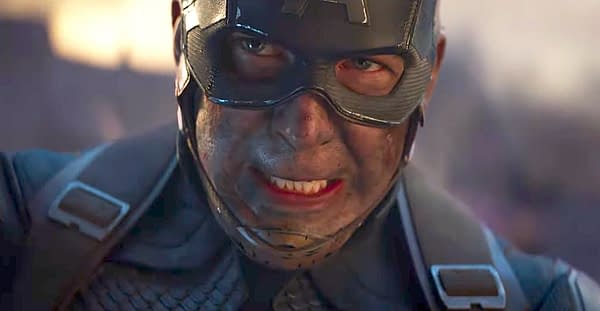 Will Chris Evans Return as Captain America Steve Rogers for "The Falcon and the Winter Soldier"?
Promoting his latest film Knives Out, Evans spoke with Entertainment Tonight if there's any hope of seeing Rogers make an appearance on the upcoming Disney+ MCU television series The Falcon and the Winter Soldier.
"No, probably not. I mean it was really tough to say goodnight. There were a million ways that whole tenure with Marvel could have gone wrong and it didn't, and so to stick the landing so well they would be ashamed to kind of revisit unless there was something very unique and we felt the need to reveal. So for now, it just feels like let's just let's be content with how well it ended."
In Variety's Actor on Actor series, Evans expanded on the positive experience as Captain America in the MCU with co-star Scarlett Johansson.
"Yeah. I feel unbelievably lucky to have been a part of something like that. It will be one of my treasured memories of life. Even when we went on to do 'Avengers,' the first one, I think everybody was feeling very uneasy about the concept. It was just so absurd. It was a big endeavor. If this doesn't work, the pipe dream that we've been hearing about could derail very quickly."
Perhaps Some Day
When Johansson asked if he'd return, Evans said he hasn't closed the door – but he's not in any hurry.
"To Marvel? Wow. Everything clicks when I get up. Recovery is not the same. You never say never. I love the character. I don't know. It's not a hard no, but it's not an eager yes either. There are other things that I'm working on right now. I think Cap had such a tricky act to stick the landing, and I think they did a really nice job letting him complete his journey. If you're going to revisit it, it can't be a cash grab. It can't be just because the audience wants to be excited. What are we revealing? What are we adding to the story? A lot of things would have to come together."
Evans admitted he's pleased how Captain America's story ended and developed an organic appreciation for the resolution.
"It'd be a shame to sour that. I'm very protective of it. It was such a precious time, and jumping onto the movie was a terrifying prospect to me. I said no a bunch of times, and there's a million and one ways it could have gone wrong. It almost feels like maybe we should let this one sit."
Rian Johnson's Knives Out comes to theaters nationwide on November 27.
Enjoyed this article? Share it!