Charlie Brooker, Armando Iannucci Rebrand Twitter Accounts to FactCheckUK After General Election Debate
Great Britain has just had our first national TV debate between the two main party leaders, Prime Minister Boris Johnson and Leader of the Opposition Jeremy Corbyn, ahead of the General Election in three weeks' time.
During the debate, the Conservative Party totally rebranded their Twitter account to read FactCheckUK with purple livery. And proceeded to cite every statement by Corbyn as a lie and every statement by Johnson as the god-given truth. At the end, they declared Boris Johnson the winner of the debate. Even Guido Fawkes considered this a tad on the cheeky side.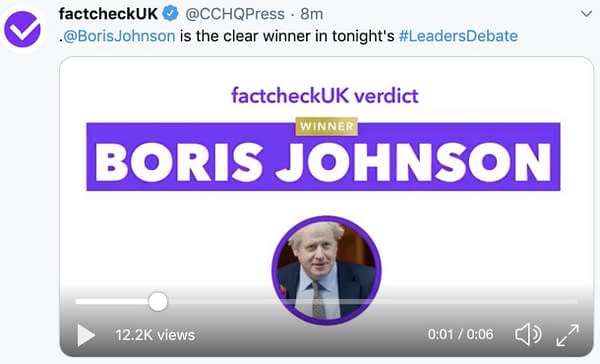 The reaction? Well for media's great and good to also rebrand their Twitter accounts as FactCheckUK but deliver messages in the opposite direction. Including Black Mirror creator Charlie Brooker…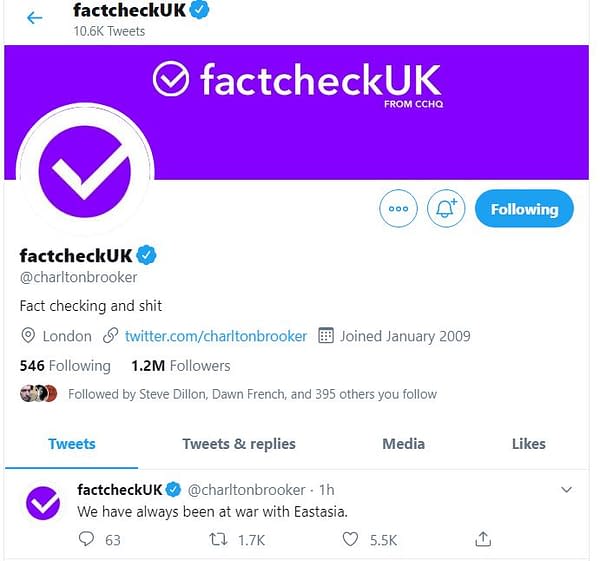 … and The Thick Of It and Veep creator Armando Iannucci…
…and a few other people, principally journalists, who haven't created generation-defining television. The Conservative Party have now changed their name and branding back. But screencaps last forever…