Was A Charlie Brown Thanksgiving a 'Get Out' Warning for Franklin?
Did you know that animated holiday classic A Charlie Brown Thanksgiving first aired on November 20, 1973, on CBS (and now on ABC since 2001) – and that it's celebrating its forty-fifth year on the air?
Did you also know that there's a scene in the special that at best just looks wrong – and at worst is a not-so-subtle-after-nearly-a-half-century sign that maybe Charlie Brown, Linus, and the rest of the Peanuts clan were (to quote a line from musical Avenue Q) just "a little bit racist"?
Mot of you know the backstory by now, so I'll jump ahead to the moment in question. Charlie, Linus, and the gang – with Snoopy and Woodstock as the designated chefs – arrange a friends' Thanksgiving so they can all be together before Charlie Brown and his sister Sally head to their grandmother's for the "official" feast. Before we know it, their "Friends-giving" feast menu begins to resemble something that was built off the sugar fever-dreams of every 8-year-old out there: pretzel sticks, popcorn, jelly beans, ice cream sundaes, and…buttered toast(???)
Everything's great! Friends are together! Good times to be had! Happy endings all around…right?
Take a look at the image below – notice something odd about the following image?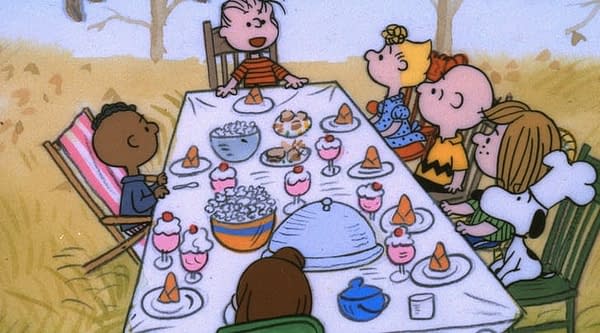 So, two important questions that spring to mind…
● Why's Franklin sitting by himself on one side of the table, while everyone else crowds horseshoe-style around him?
● Why did everyone else get solid chairs while Franklin got a lawn chair – when everyone knows eating while sitting in a lawn chair like that one is usually an annoying pain in the a$$?
Hmmm…lots of ways to look at that. Let's leave it with a very savy, tongue-in-cheek observation that Oscar winner Jordan Peele would be proud of: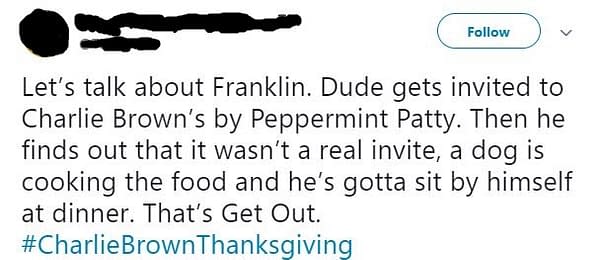 First introduced by Peanuts creator Charles M. Schulz in July 1968, Franklin (Armstrong) was the first African-American character in the long-running comic strip. A classmate of Peppermint Patty and Marcie, Franklin and Charlie Brown became friends after both found themselves at the beach on family outings.