'Charmed' Season 1, Episode 15 "Switches & Stones": A 'Freaky Friday' Redux [PREVIEW]
You would think The Vera Sisters – Maggie, Macy, and Mel – would have enoughto deal with, between battling inner and outer demons, trying to piece together their mother's true backstory, and seeing what the truth is behind what The Elders have been sharing with them.
I mean, we all know there's a lot more going on here than either side has been letting on to… right?
This week's episode of the CW's Charmed "Switches & Stones," "The Charmed Ones" have a Freaky Friday situation thrown their way when Mel and Maggie end up swapping bodies – which means some secrets arent' going to remain buried for long. Meanwhile, Macy turns to The Elders for help with the darkness inside her – but are we sure they want to repress it… or is something else at play?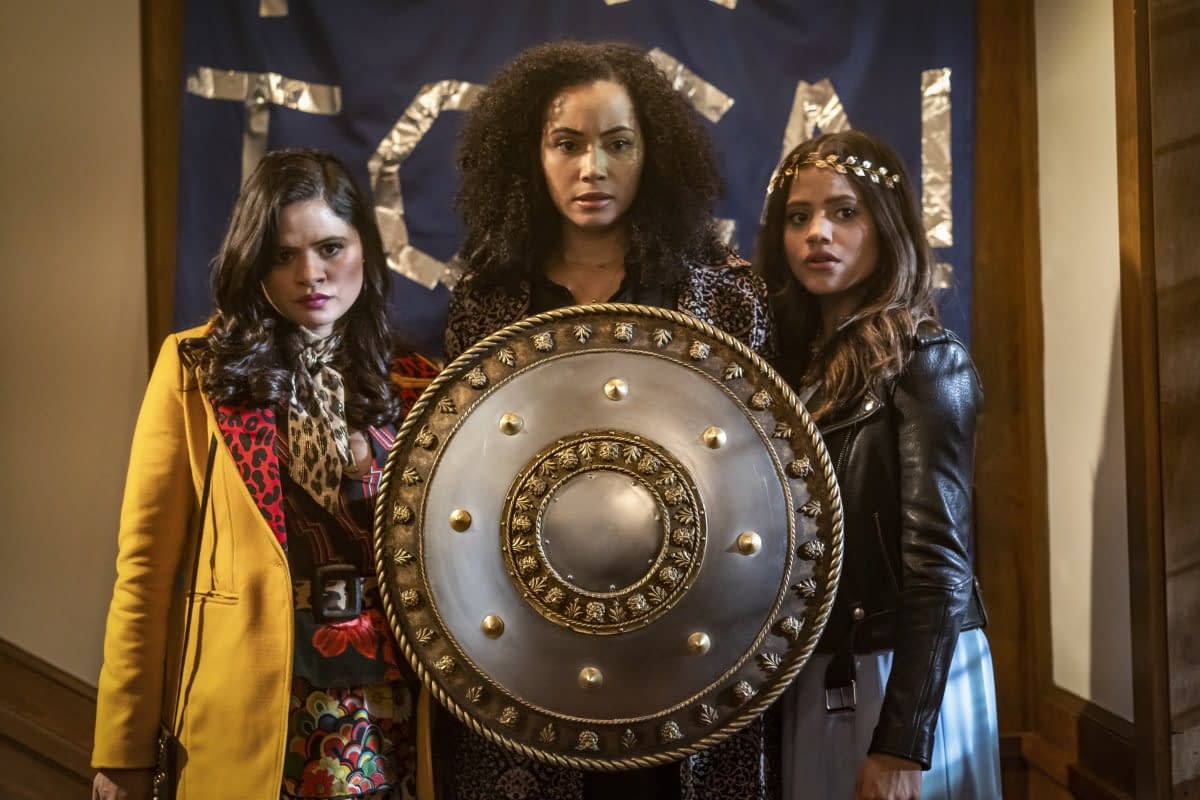 In the following scene from this week's episode "Switches & Stones," Maggie, Macy, Mel, and Harry take a moment to assess where things currently stand – and if that Banksy-wannabe currently on campus display doesn't have a more dark origin to it:
https://youtu.be/xf8Kdy0DNaw
Charmed s01e15 "Switches & Stones" (Ep# 115): FREAKY FRIDAY — Maggie (Sarah Jefferey) shows Macy (Madeleine Mantock), Harry (Rupert Evans) and Charity (guest star Virginia Williams) the strange room under Vera Manor but they quickly learn just how dangerous it is when Mel (Melonie Diaz) and Maggie switch bodies and powers. Macy turns to The Elders for guidance about how to overcome her inner demon, which in turn leads her to have an eye-opening experience. Meanwhile, Maggie learns the secrets that Mel has been keeping from her sisters. Nick Hargrove also stars. Claudia Yarmy directed the episode written by George Northy.
https://youtu.be/lYY5aMEUlqc
Of course, where there are promos there are also promo pics – and considering we're looking at a "body swapping" storyline, the following images could end up having a whole bunch of different meanings:
The CW's Charmed stars Melonie Diaz as Melanie Vera, Sarah Jeffery as Maggie Vera, Madeleine Mantock as Macy Vaughn, Ser'Darius Blain as Galvin Burdette, Ellen Tamaki as Niko Hamada, Nick Hargrove as Parker, and Rupert Evans as Harry Greenwood. Jessica O'Toole & Amy Rardin, Jennie Snyder Urman, Ben Silverman, Brad Silberling, Howard Owens, and Carter Covington serve as executive producers.