Chris Rock, Netflix Offer "Road to Live" Ahead of "Selective Outrage"
With Chris Rock: Selective Outrage live-streaming in a few hours, the actor/comedian & Netflix are offering a look back at Rock's comedy tour.
---
When it comes to live-streaming, Netflix & Chris Rock are set to take a very deep dive in just a few hours with the streamer and actor & comedian's stand-up special, Chris Rock: Selective Outrage. Before we pass along all of the information that you'll need to know (including intel on the pre-show & post-show), Netflix & Rock have put together a mini-documentary highlighting (with images) what Rock's past year has been like while he's been on tour – including appearances from Dave Chappelle, Adam Sandler, Kevin Hart, and others.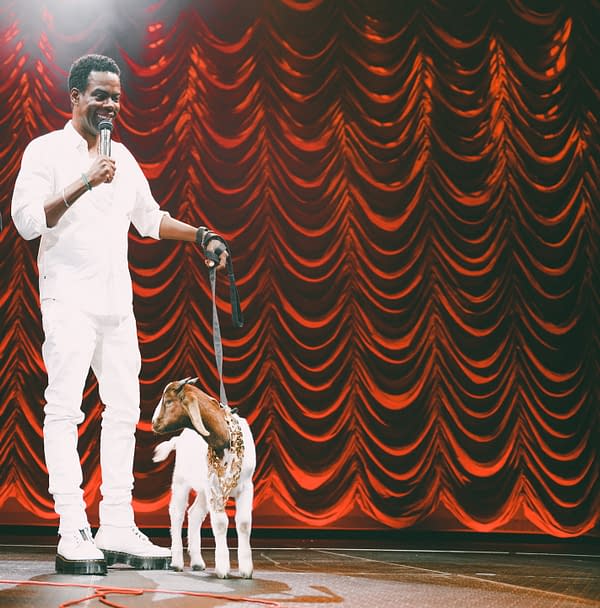 Here's a look at a featurette that does an excellent job of getting everyone up-to-speed on what went down during Rock's comedy tour over the past year as a lead-up to tonight's "Selective Outrage":
And just a quick reminder that while Rock's special will be available on-demand after the livestream, both the pre-show & the post-show will be one-and-done (meaning they're not being archived). So with the global live event set for March 4th at 10 pm ET/7 pm PT, here's a look at the date announcement teaser for Netflix's Chris Rock Live: Selective Outrage (followed by a look at what you need to know about the pre-show and the post-show specials):
Chris Rock Live: Selective Outrage Pre-Show & Post-Show Info
Beginning at 6:30 pm PT, "The Show Before the Show" will be hosted by Ronnie Chieng, feature Leslie Jones, Deon Cole & Arsenio Hall (among others), and include appearances & commentary from Amy Schumer, Cedric the Entertainer, Ice-T, Jerry Seinfeld, Kevin Hart, Paul McCartney, Sarah Silverman, and Wanda Sykes. Following Rock's performance, Dana Carvey & David Spade will host "The Show After the Show, featuring NBA legends Kareem Abdul-Jabbar, actor JB Smoove, and more.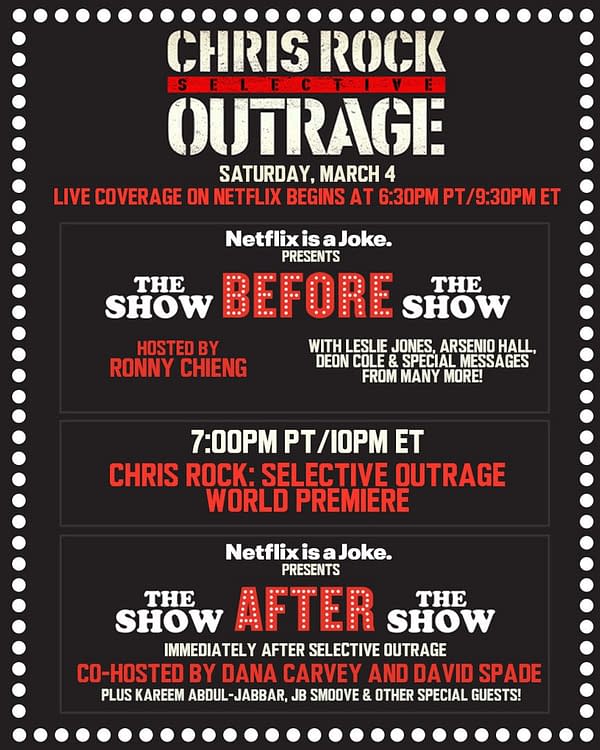 Both the pre-show and the post-show specials will be produced by Den of Thieves and directed by Joe DeMaio, with Jill Leiderman and Den of Thieves' Jared Morell serving as executive producers. Now, here's what you need to know to check out the show this Saturday, March 4th. First, Netflix will have a "Watch Live" button on the streamer's interface beginning at around the 6:20 p.m. PT on March 4. Once the show starts, viewers will be able to rewind, pause and jump to Live. If you jump into things late, you can opt to play from the beginning or drop into the show live. And if you have to drop out for a minute, the show will remain listed under "Continue Watching."